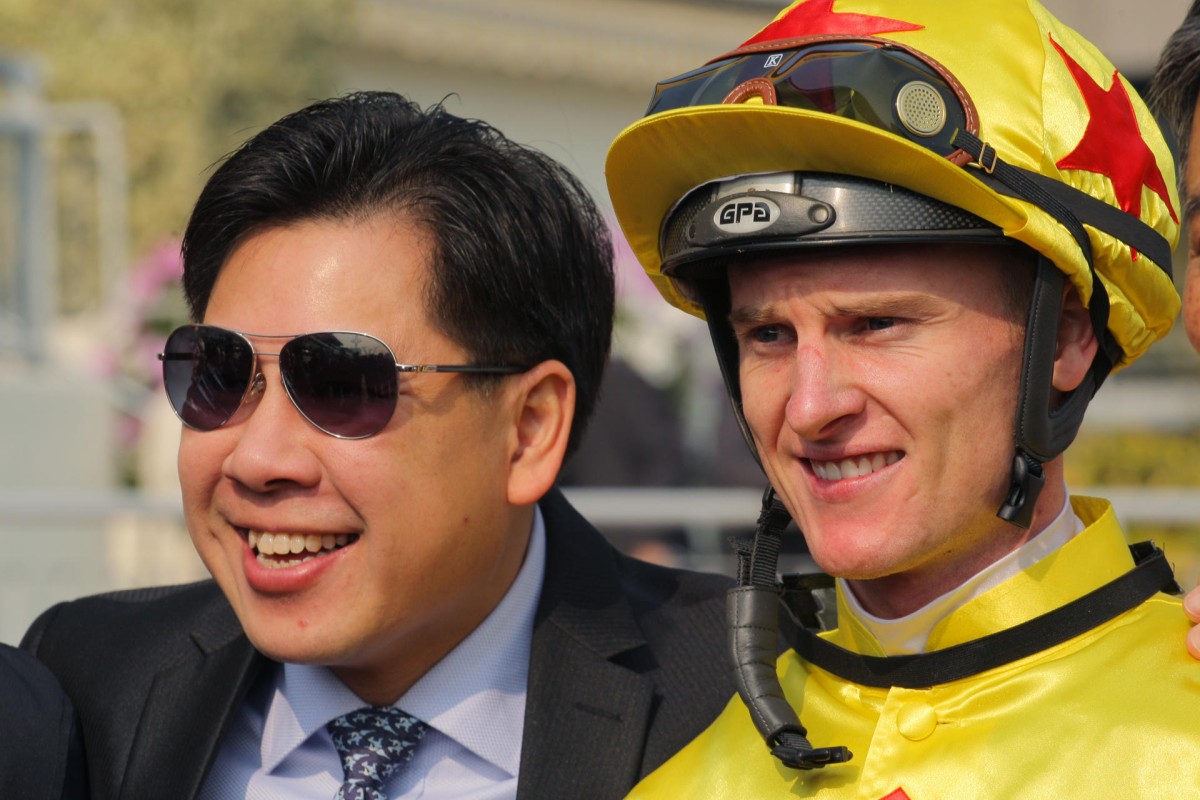 By the time the last race was run and won Zac Purton already had his feet up enjoying a well-deserved beer and a barbecue, but earlier he had struck with a lightning quick four-timer that snapped a recent wretched run of outs and extended his Jockeys' Championship lead.
There's a long way to go yet, you guys want to keep writing about it, but I'm not talking it up
Purton only had six rides, all coming in the first six races, and made the most of his relatively limited opportunities with four wins in the first five races to break out of a mini-slump that had included a horror day last Wednesday, where he was beaten on four short-priced favourites.
Although Purton started the season with 41 wins from the first 241 races of the term, he had won just seven times in the 85 races since leading into Sunday, and just four times since International Day. Having turned 31 on Friday, and sporting a clean-shaven crew cut at the request of wife Nicole, Purton returned to the early season dominance by extending his Jockeys' Championship lead to 23 - with his four nearest rivals coming up empty - but he still wouldn't talk titles.
"There's a long way to go yet, you guys want to keep writing about it, but I'm not talking it up," he said.
Purton now has 52 winners from 33 meetings, a lead of 23 to Douglas Whyte, who was winless, with Tye Angland (29) in third and Joao Moreira - who many see as the biggest threat to Purton - 28 wins behind the Australian on 24.
Purton's four-timer started in the first with Bold Tack for Francis Lui Kin-wai, and ended with an impressive victory on Archippus for Peter Ho Leung, but it was the two winners in between for Dennis Yip Chor-hong that the Australian rider saw as most significant.
Purton played a key role in Yip's remarkable charge to a trainers' title last season, riding 25 of his 69 winners, and he hoped a double would spark the stable back into gear. This season Purton had won just two races for the trainer, but had been placing at a strike rate of 46 per cent, before Telecom Prince and Joy Together gave Yip 11 winners for the term.
"Dennis' horses have been high up in the handicaps after winning the championship last season," Purton said. "But those horses that were high up seem to be coming down to marks where they are competitive - I think the stable will have a good back-end to the season."
Yip took Joy Together to the dirt without so much as a trial on the surface after a string of consistent efforts on the grass and the move paid off, Purton feeling that the four-year-old had found his "niche" over 1,200m on the all-weather track.
"It was his call to come back to the dirt and it was the right one, in the turf races he just lacks a turn of foot, but in the dirt races where they just work through their gears and grind it out more, it suited him," Purton said.