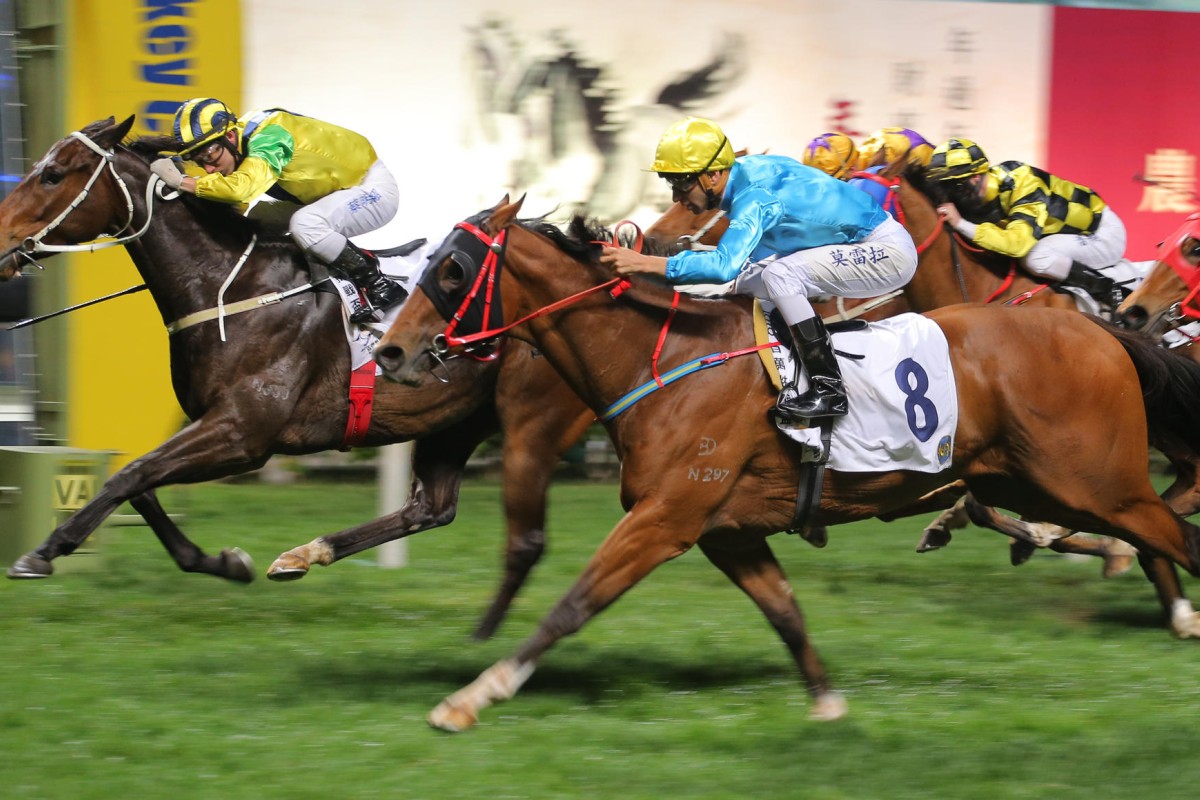 Zac Purton rode a winner, but fell foul of stewards for the first time this season, as rival Joao Moreira one-upped the Australian on two counts - snaring a double and narrowly avoiding a suspension of his own.
Purton, who rode his 55th winner from 36 meetings, was charged for careless riding in the first race and will become the first jockey to benefit from the 150-rides incident-free discount that will see him serve two meetings rather than the usual three.
The Australian had ridden 281-races without a charge before he failed to leave sufficient room when crossing on Mobile King, and will serve his ban starting from the Chinese New Year meeting on February 2.
At first we thought he looked terrible on the training track, but being a three-year-old we took our time and progressed him up in distance and it has paid off
Moreira's double took him to equal third with Tye Angland, who also had a double, with the pair 24 wins behind Purton. Stewards scrutinised Moreria's ride on Tour De Force, which shifted in late, probably costing the five-year-old a win in the last - before settling on a reprimand.
Moreira had earlier led all the way on Ricky Yiu Poon-fai's You Are The One, which was first-up after an early season setback, before a sit-and-sprint effort on Danny Shum Chap-shing's International Sales Griffin Redwood Baby. "He was the cheapest horse at the March sale," Shum said.
"At first we thought he looked terrible on the training track, but being a three-year-old we took our time and progressed him up in distance and it has paid off."
Purton's cool-headed, come-from-behind effort on My Name Is Bond brought up the second leg of a double for Caspar Fownes, who had earlier won with Braveness - both of the winners overcoming obstacles.
"My Name Is Bond is a horse with internal haemorrhaging problems - so it is a relief to get a win with him, and everything else from now on is a bonus. The last two runs from Braveness were dismal and he does have some issues with his legs. That was a perfect ride from Tye and it was nice to see the horse win with a bit of zest."
Angland earlier scored on Step High, which made it three on the bounce, with trainer Benno Yung Tin-pang suggesting he might not be done with yet.
"He is still improving, getting more mature all the time and with each win he is growing in confidence," he said.
Bullish Friend (Matthew Chadwick) is another star flying the flag for the Hong Kong International Sale - Tony Cruz's iron horse winning his seventh race from 21 starts and pushing his rating into triple figures. "I think he is probably just a Group Three horse, but he is tough and a real fighter," Cruz said. "But the key was a good draw, he has been drawing badly and been off the track."
Jamesina eked out another win, giving Italian Mirco Demuro his fourth winner of the term, with trainer David Ferraris marvelling at the 10-year-old's seemingly cast iron legs.
"This horse has never had a joint injection in his life. He has the most amazing legs and has been a wonderful horse to train - to keep going as he has on these hard tracks is remarkable," he said. Jamesina has now won eight from 69, but Ferraris believes he could win again before compulsory retirement at the end of the season. "He is only at the bottom of Class Three, he was a Group Three winner when he was younger," he said.