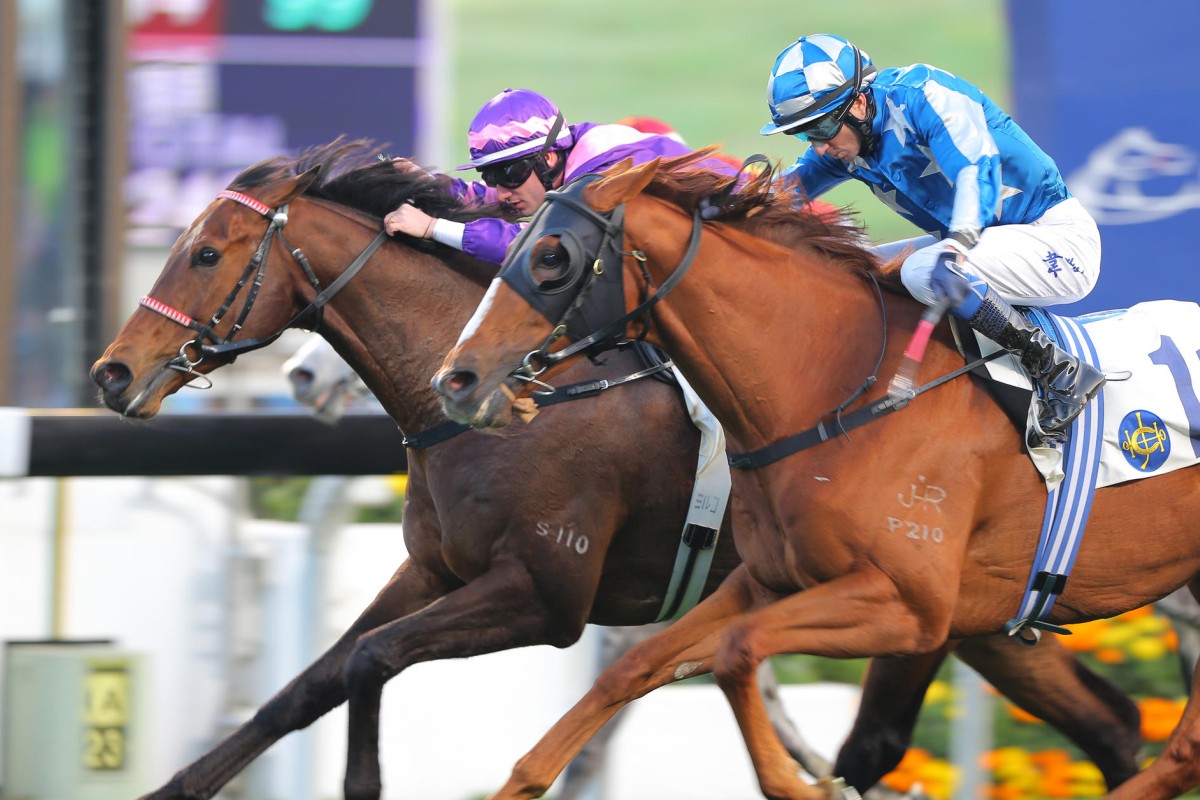 Ricky Yiu Poon-fai breathed a sigh of relief when Dundonnell broke through for a maiden local victory which ensured the highly-rated import stayed in his yard, but has no plans to push on to a Group One Hong Kong Derby start with the talented four-year-old.
Dundonnell - a Group Three winner and fourth in the Breeders' Cup Juvenile Turf at two before winning a Listed race at three - arrived in Yiu's yard with high expectations and a 93 rating. But after three unplaced runs, including a flop in the Group One Hong Kong Classic Mile, Yiu sensed rival trainers circling, stable transfer papers in hand. That was before Dundonnell found some form when second to Super Lifeline last start and then held on in a tight finish in the Citibank Insurance Services Handicap (1,400m) yesterday.
"That takes the pressure off - some other trainers were trying to get the horse," Yiu said with a chuckle. "He came here with a big rating and big form."
Even though Dundonnell holds a Derby entry and has the necessary rating to find his way into the field, Yiu said he won't push down that path, pointing to the fact the horse never raced beyond 1,600m for previous handler Roger Charlton and claiming the son of First Defence has "too much speed" to be stretched over further - for now.
"I think he will turn into a very good miler. Maybe we will see the best of him next season," Yiu said.
Jockey Mirco Demuro ended his abbreviated, but successful, Hong Kong stint earlier than expected - but at least on a high - with his last race of the day victory on Dundonnell. The Italian jockey had been suspended for careless riding earlier in the day on Blazing Speed and with a suspension already set to begin next meeting, his new ban stops him from returning for the meetings on March 1 and 6, and he will serve some of the time when he arrives in Japan next month.
Demuro agreed with Yiu's assessment that Dundonnell needed time to get over more ground, and said the removal of sheepskin cheek pieces had helped the horse relax, after he had raced too keenly previously. The horse's improved race manners were given a test though when he missed the start and Demuro made use of him to gain a midfield position.
Yiu said it was a race winning move to bustle forward after the tardy beginning.
"It was a good decision by Mirco to get him up somewhere in the race," Yiu said. "He got pushed wide the last turn but he was good with the big weight, he got to the front, then you could see him prick his ears and switch off, and that's when the second horse made ground on him."