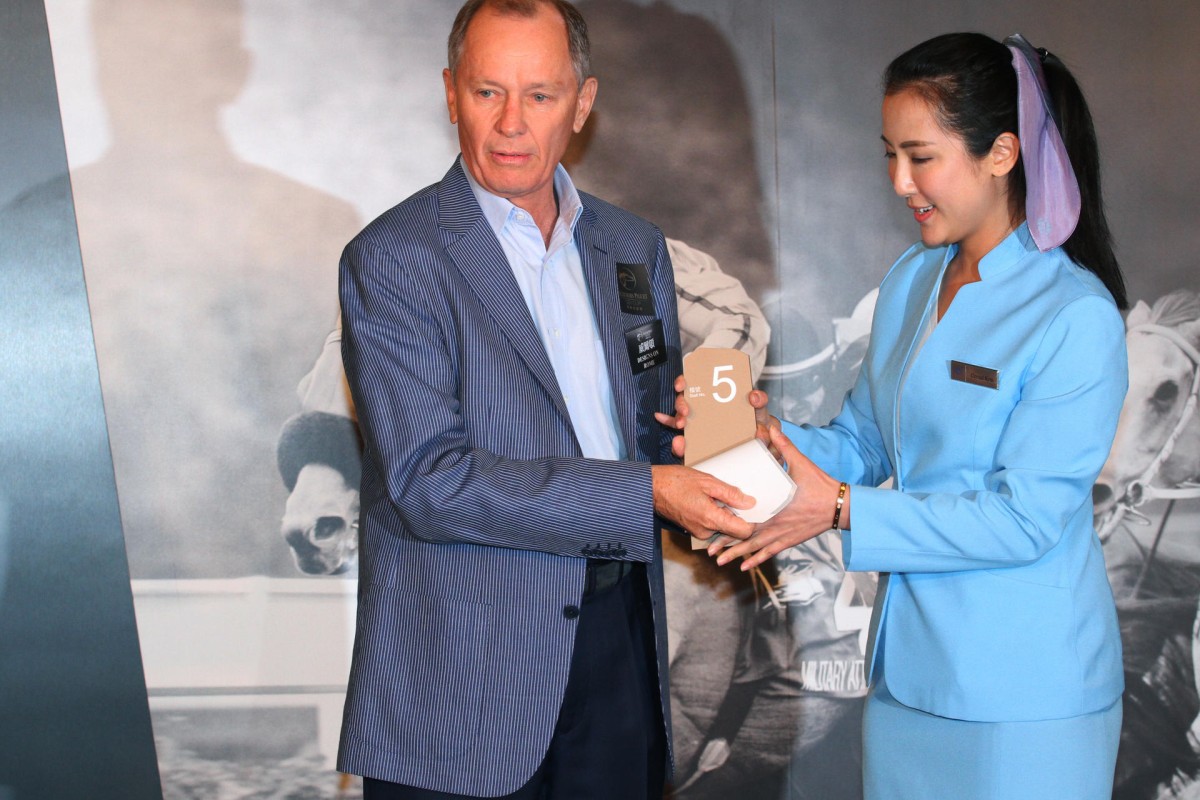 There may have been others playing "find the leader" after the barrier draw for Sunday's HK$14 million Audemars Piguet QE II Cup at Sha Tin, but Uncoiled's trainer Yoshito Yahagi was not one of them.
"We will lead. We want to use the good draw and put him in the race," declared Yahagi after the Japanese dark horse emerged with pole position for the Group One. "We're very happy about his form at the moment. Of course, this is a very tough race and he is an outsider, but 2,000m is suitable for him and Sha Tin looks like it will suit."
Only two horses - Jim And Tonic (1999) and Eishin Preston (2004) - have won the race from gate one since it moved to its current configuration in 1997, but Yahagi's statement at least settled an order of running.
I would like to have a fairly forward position, but I think it is an ideal draw - from there I can be wherever we want to be
With four of the 10 runners, John Moore is seeking his fourth win in the past eight editions.
His 2013 winner from gate three, Military Attack, came up with four and Derby hero Designs On Rome starts next to him in five, but the trainer was dismissive of the influence of the draw on this year's race as there looks to be no horse drawn out and looking to race forward.
"You have Dibayani in 10, and he goes straight back to the rear, Packing Whiz likewise from nine and Dominant will go back from seven, although he might be a little closer than he usually is," Moore said.
"From barrier two Same World will be forward and we know he can lead if that's the way the pace turns out, but I've been told Vercingetorix races forward and I believe Uncoiled, from gate one, may even take it up, and the others will slot in just behind them."
Epiphaneia's Japanese jockey Yuichi Fukunaga is no stranger to Sha Tin success, having won the QE II Cup twice on Eishin Preston, and was positive about starting from gate six. "I would like to have a fairly forward position, but I think it is an ideal draw - from there I can be wherever we want to be," he said.
Top South African trainer Mike de Kock, another past winner with Irridescence and Archipenko, was represented by his travelling foreman, Trevor Brown, who said he was leaving the tactics in the hands of his jockeys, Anthony Delpech (Vercingetorix) and Olivier Doleuze (Sanshaawes).
"It doesn't look like there's much pace. John Moore has four and I'd presume one of them goes forward, but which one?" said Brown, after Vercingetorix (gate three) and Sanshaawes (eight) had mixed fortunes.
"Still, the draw shouldn't be a great issue in a field of 10 and I'm not that worried about the pace, although we'd prefer a decent, fair-run race. Sanshaawes is more likely to go back from there, but I've left it up to the guys. They are two top riders and they know Sha Tin very well, and both horses are fairly versatile."
Overseas bookmakers setting ante-post markets have posted odds on the race with little separating Epiphaneia, Designs On Rome and Military Attack at the head of the betting.