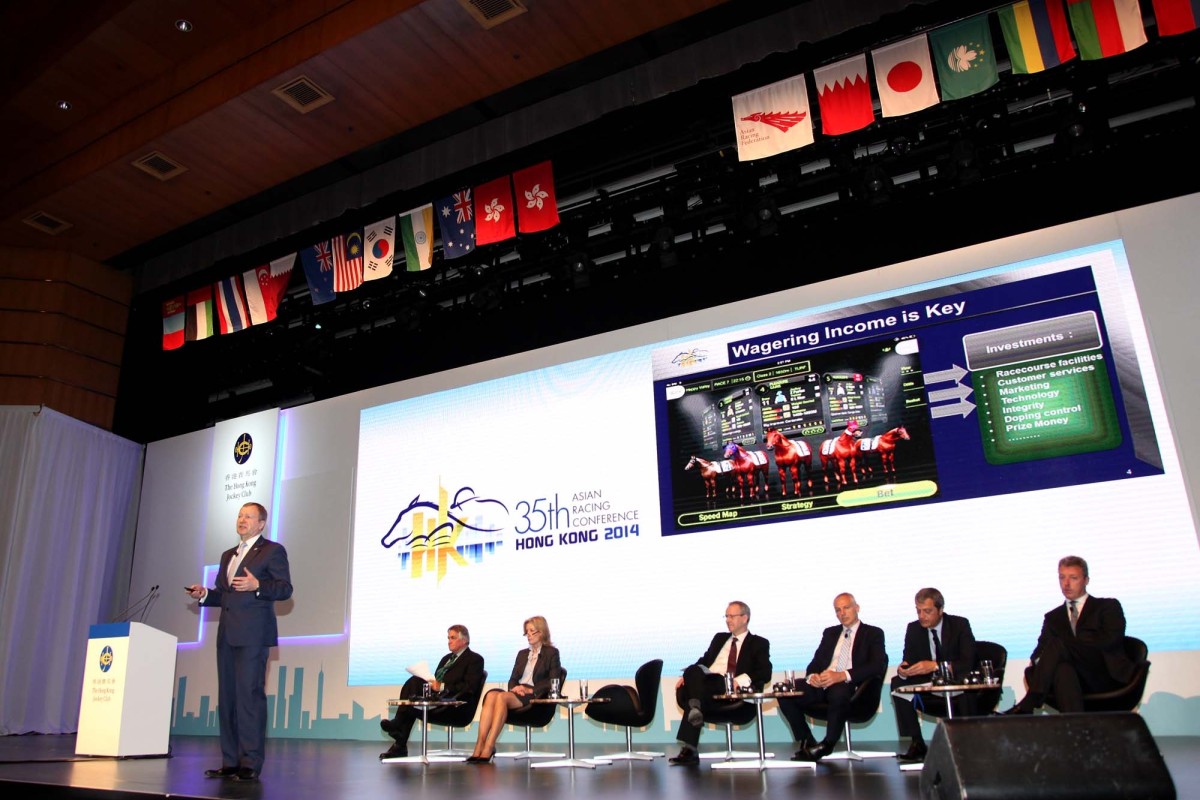 Sports betting will overtake global racing turnover this year and that only a "customercentric" approach can maintain racing's relevance, Hong Kong Jockey Club chief executive Winfried Engelbrecht-Bresges has warned.
Engelbrecht-Bresges opened the 35th Asian Racing Conference in Hong Kong as the keynote speaker in an opening session entitled "Racing's lifeblood - the future landscape for wagering" and said that addressing the needs of the customer was a vital approach if a sustainable model for racing was to be maintained.
Click here to watch all the presentations from the 35th Asian Racing Conference
Since 2007, racing's US$130 billion turnover has largely remained steady, while the 2007 figure of US$108 billion in betting on sports has continued to rise.
In 2014, sports betting turnover will, for the first time, exceed that of horse racing, and the gap will keep widening
"In 2014, sports betting turnover will, for the first time, exceed that of horse racing, and the gap will keep widening. To put it simply, we are losing market share in the global gaming market and as a result have to be very careful we don't lose relevance, not only to our customers but to independently run wagering operators," Engelbrecht-Bresges said.
Crucially, while other major global sports like football were able to get the largest share of their revenues from broadcast rights, which had a link to the rise of sports betting and also significant incomes from commercial sponsorship and match-day activities, racing relied on wagering for 65 per cent of its revenue.
"For most racing jurisdictions, the revenue sources of commercial, broadcasting and match-day contributions collectively account for only 15 per cent," he said.
David Attenborough, chief executive of Australia's major wagering operator, Tabcorp, noted the expansion of its fixed-odds business, which is a move away from its traditional pari-mutuel foundation.
"We are now Australia's biggest corporate bookmaker with A$1.66 billion [HK$12 billion] in fixed-odds wagering and we expect that to be over A$3 billion next year," he said. That represented a rise, as a percentage of Tabcorp's business from 29 per cent in 2010 to 42 per cent in 2013.
Jennifer Owens, a research consultant specialising in gaming, said: "In stronger racing nations, field sizes are larger. In the nations showing the most troubling trends, field sizes are low or even falling."
Engelbrecht-Bresges said the shift in business from a pari-mutuel model to fixed odds has a link to the issue surrounding field sizes, but that Hong Kong's customer-driven approach puts it in an ideal position.
"It seems a worldwide trend that in jurisdictions which are breeder-driven, and not as focused on the wants of the customer, that field sizes are a significant issue," he said.
"Especially if you have so much product, the pari-mutuel has a problem that it has not significant depth in pool size. We don't have this issue in Hong Kong.
"For racing, pari-mutuel is the more attractive proposition but you have to ensure field size, which creates value for wagering potential and then you have to ensure all your liquidity goes into this pool, which is why we advocate commingling.
"In the future, the customer will look for quality - in this sense that means the quality of racing, integrity, competitiveness and field size. And the top quality product will put the lower quality racing out of the market."