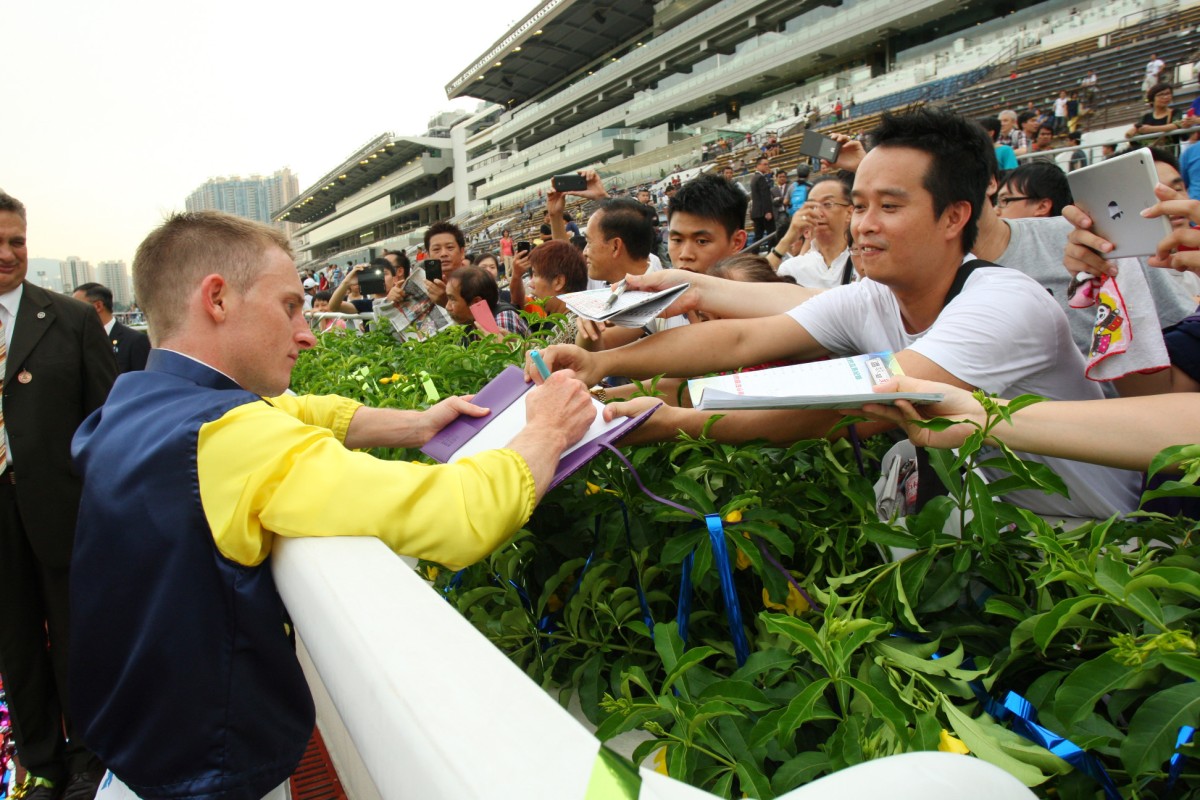 Just when the change came was never really clear, but there was a moment in Zac Purton's career in Hong Kong when he slipped quietly into a state of belief.
The statistics were straightforward. Opening in 2007-08 with a respectable 29 wins, the Australian improved his tally every year. The post-racing walks home gradually shed the frustration that characterised them early and he stopped asking himself what he was doing here.
Change came somewhere before linking up with Ambitious Dragon as a headline act, before he won at Royal Ascot on Little Bridge in 2012. Before even the character-building HK$300,000 fine a year earlier for rejecting the advances of a punter, but failing to inform the stewards.
The timing isn't clear but somewhere in that 2010-11 season Purton stopped being a good jockey waiting for the pinch to wake him, and became a good jockey who belonged and believed it. The tide of his confidence stopped rolling in and out, Purton's form solidified.
He knew championships were beyond him - he wasn't the lightest and had no big stable - until an unexpected link last season with Dennis Yip Chor-hong's spike year, Caspar Fownes shifted his backing and that was cemented as Brett Prebble started later this term.
Over three prior seasons, Purton had six winners for Fownes. In the past two, 42 wins and the champion trainer's support was vital in his rise from trash-talking runner-up to title holder.
Another factor, and season highlight, was Joao Moreira. Every rider says the "Magic Man" made good rides vanish but his impact on Whyte was greater than on Purton. Moreira gobbled up mounts from John Size and John Moore - infrequent suppliers for Purton, if ever, but yards that would have had opportunities for Whyte, even allowing for the folding of the Dream Team.
Whyte almost kept pace with Purton for two months, then a suspension just after Moreira's arrival saw Purton surge, the Brazilian nipping Whyte's heels and it wasn't about whether the king was dead, but who held the knife.
Purton gunned into January with 47 wins, a record pace. Moreira surged to within five by mid-February, but his "inevitable" victory dissolved in a wave of suspensions while Purton stayed in play and that was the decider.
Can he hold the title? Moreira is brilliant, lighter and better for the run. And more popular with most of the big yards. He rode for two-thirds of a season to finish three wins short of being only the third jockey to ride a century - it reads ominously, provided he stays on horseback. But Purton, slayer of Whyte, the first non-South African champion since Tony Cruz in 1995 and the first Australian winner since 1991, has never had it the easy way.
Karis Teetan finished with a half century in one of the best debuts on record. He and Moreira, as lightweights, impacted on the Chinese jockeys, as did injuries to Howard Cheng Yue-tin and Keith Yeung Ming-lun. The apprentices remained a concern.
Alvin Ng Ka-chun stalled and a transfer to Tony Cruz has not restarted him, while Dicky Lui Cheuk-yin won a hollow junior title against his only rival, and stories filtered back from overseas that the next juniors weren't ready, weren't good enough and weren't getting much of a chance of being either.
The once-vaunted apprentice training scheme has come to a grinding halt.