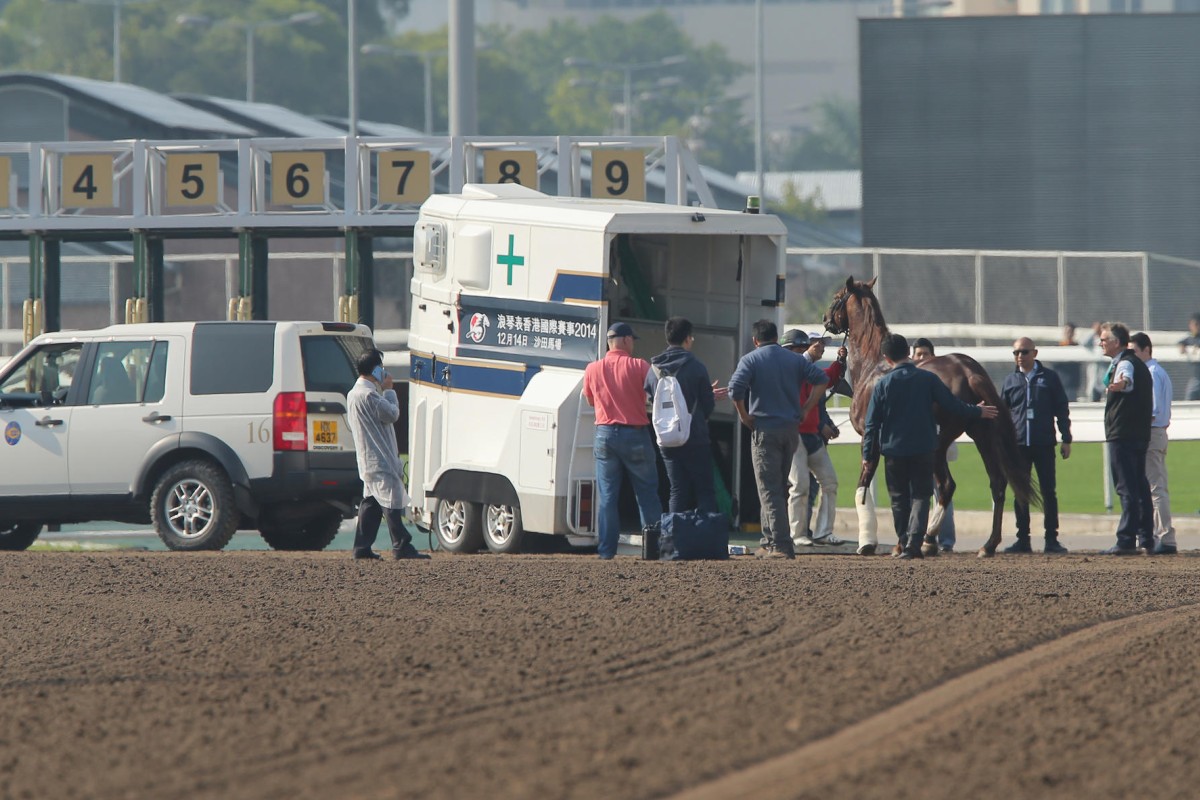 Former Horse of the Year Ambitious Dragon is under a cloud with a foot infection as Australian sprinter Buffering "dodged a serious bullet" with a hoof abscess scare, but Japanese entry Meiner Lacrima will miss the Longines international meeting after going amiss at trackwork.
In 2012, Ambitious Dragon was lame in a hind pastern less than 24 hours before a remarkable all-nighter from trainer Tony Millard got him to the post to win the Hong Kong Mile, but the trainer didn't take the right front foot abscess as a good sign.
I hope the result is the same as 2012, but I can't say I like these sorts of omens
"I hope the result is the same as 2012, but I can't say I like these sorts of omens," Millard said last night after reporting considerable improvement in Ambitious Dragon's right front foot during the day.
"This morning he was on three legs and I was devastated, but we've worked on him all day and it looks like he has turned the corner.
"We walked him two laps of the training complex tonight and you wouldn't know he had a problem the way he was moving.
"I believe it's like the problem that the Australian sprinter has but a little further in, so at first we weren't sure if it was an abscess or a puncture wound, so we had to be a bit careful.
"But it looks like an abscess. We still have a couple of days and once they blow, the foot can clean up quickly and the horse will be fine. Luckily, he finished all his fast work on Monday."
Rob Heathcote-trained Buffering still had one piece of work ahead of him and was due to do it yesterday morning until the trainer walked in at 7.30am to see the gelding struggling to support weight on his right front foot.
"He couldn't put his foot down. He was five out of five lame," Heathcote said.
"The most important thing was that once the vets and the farrier got to him we found the source of the infection quickly. If you can't find it and you have to wait for it to come out by itself then you can be stuck like that for a week or 10 days.
Missing the work this morning wasn't the end of the world. He's a very fit horse, we just need to have him sound
"But the farrier quickly got the shoe off and we found it. It's what they call a dirty nail hole in the hoof, where the nails go into the hoof to shoe him, a bit of dirt gets in the hole and a germ gets in and it gets infected."
And late yesterday afternoon, Heathcote was already thinking in positive terms again looking towards the Sprint. "It could have been a lot worse. We've dodged a pretty serious bullet there and his improvement in a short time has been remarkable," he said.
"In the half hour after we'd drained the hoof and bathed it, he could put weight back on it. An hour and a half later, the farrier couldn't believe how much he had improved. He was probably back to 80 per cent and, by the afternoon, after we'd repoulticed it, 90 per cent."
Heathcote said the same Jockey Club staff were confident Buffering would be fully sound again by tomorrow morning and the trainer may consider giving him a "breeze" down the track.
"It obviously depends on the horse. Missing the work this morning wasn't the end of the world. He's a very fit horse, we just need to have him sound," Heathcote said.
"If there's anything positive to it, it's that this is something that can resolve itself quickly and it looks like he'll be OK to run."
The news was not as good for Japanese stayer Meiner Lacrima, whose international meeting is over after a more serious injury.
Meiner Lacrima was exercising on the all-weather track when he faltered.
His rider quickly dismounted near the top of the home straight and the horse was noticeably lame when led to the outside of the track.
There he was met by Jockey Club vets who inspected his left front leg, bandaged him heavily then loaded him on to a float and returned to the quarantine area.