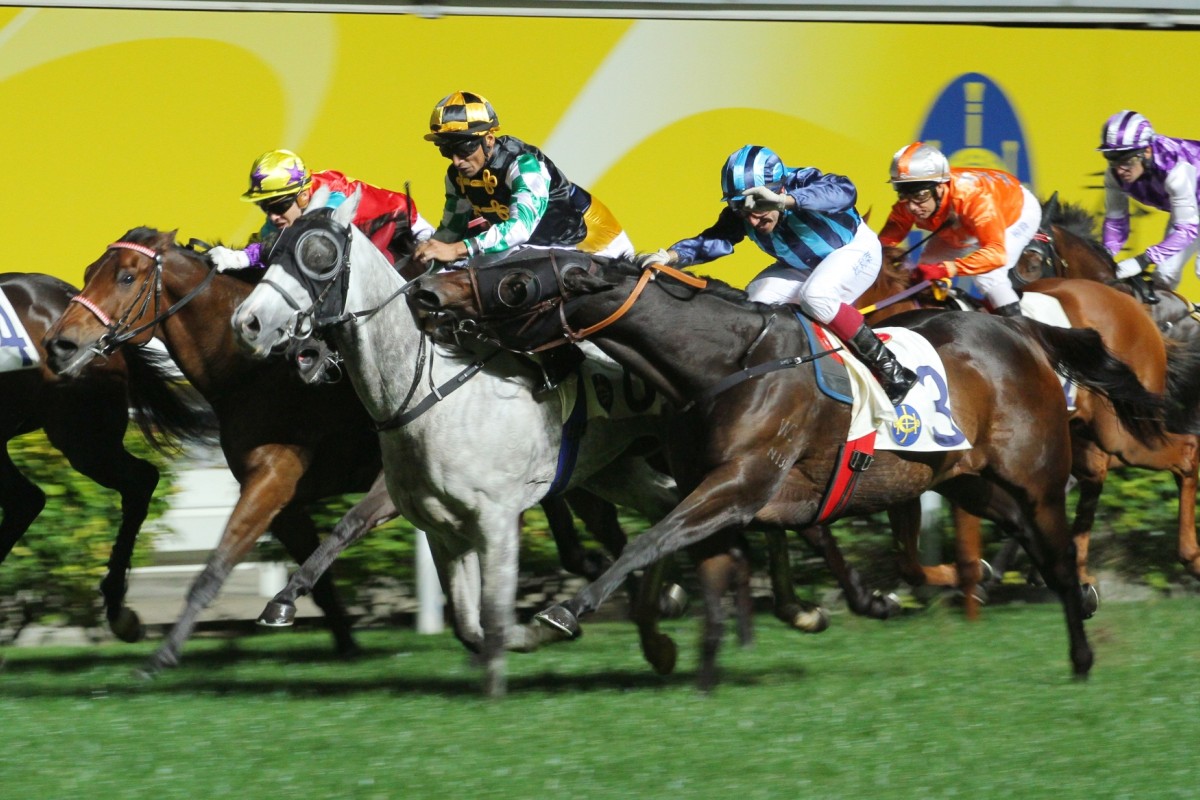 Luis Suarez syndrome struck Happy Valley on Wednesday night when Richard Gibson's sore loser Mi Savvy turned on a temper tantrum and tried to take a chunk out of Me Tsui Yu-sak's Silver Dragon in the closing stages of the third race.
Perhaps he was angry he was about to find his way into the first four without winning for the fifth time in a row. Perhaps he didn't like grey horses. Perhaps he was just hungry. Whatever the cause, it was an incredible piece of footage and one which received plenty of social media feedback.
Luis Suarez or racehorse Mi Savvy in Hong Kong last night?? #HappyValley pic.twitter.com/nSpLBEG6b4

— Ryan Robertson (@RyanRobertson01) January 8, 2015
@RyanRobertson01 @zpurton Oh man I backed Mi Savvy, might have won if he hadn't tried to 'snack' on the winner!!!

— Lucky8 Racing (@Lucky8RacingHK) January 8, 2015
Mi Savvy didn't like losing to Silver Dragon in Hong Kong last night so he decided to do a Luis Suarez pic.twitter.com/LYnnhRMlda

— Peter Twomey (@pete2me) January 7, 2015
Mi Savvy wanted to eat Silver Dragon twice @ Happy Valley in Race 3, turned it's head completely sideways 50m out. Weird & funny

— Amanda (@showaheart) January 7, 2015
@SCMPRacingPost never seen a horse so filthy as Mi savvy for coming second. Sneaky little chomp on the neck for the winner. Haha.

— Name cannot be blank (@Kato2460) January 7, 2015
Racing up to the lead on the outside of Silver Dragon, Mi Savvy turned his head in towards the grey and took a bite that would make the vampires from Twilight proud.
It didn't do him any good. It goes down as another second on his record.
It was not the first occasion on which he's tried to savage another horse, either. In March last year, he received his first warning after turning his attention to Caspar Fownes-trained My Name Is Bond in a Class Three, also at Happy Valley.
That time, though, he was at triple-figure odds and a no-hoper, so it hardly received any attention. Furthermore, it looked more like a little peck on the cheek compared to Wednesday night's attempted mauling, and it was not as blatantly visible.
He's far from the first equine Hannibal Lecter. There have been a number of horses that have gone on to the blacklist of savages – Beauty Success, Primiata and Down For The Count were three we could find in the last decade.
Even Hong Kong Derby winner Collection had a soft spot for horse flesh. A Listed winner at Royal Ascot when trained by William Haggas, Collection had his final start in the light blue Highclere Racing colours in the Topkapi Trophy at Istanbul's Veliefendi racecourse in 2008. Mid-race, though, he tried to savage a horse to his inside before ultimately finishing fifth.
A number of potential buyers dropped away, leaving John Moore to swoop and purchase the Derby aspirant. But the change of environment didn't alter his taste buds – at his second Hong Kong start, an 1,800m Class One two weeks before the Derby, Collection's bad habits resurfaced as he angled his head towards the horse drawn to his inside, Special Dragon, shortly after the start.
History shows that he drew away to win that race by more than four lengths before winning the Derby as a 1.4 shot, and with his rise to Group One star he left his bad manners behind.
But other horses aren't always the victims. SCMP writer Michael Cox labelled Intellectualstride "the horse that bit back" after he tried to take a chunk out of Tim Clark's arm when the jockey accidentally hit him across the face at the city track in November 2012.
In fact, Clark ended up being quite the victim that season. Mere months later, he attracted the attention of Affluence Of Rain, who took a number of digs at Clark's mount Santa Fe Sun at Sha Tin in April 2013. Incidentally, that meeting was the last of his Hong Kong stint – like a nostalgic highlight reel, he was reminded of his highs and lows in one fell swoop.
It's not restricted to horses, either. In 2008, Australia's most prestigious greyhound race, the Melbourne Cup, was marred when winner Surgeon "failed to chase" and instead mauled the long-time leader Hanify's Impact.
It adds a bit of excitement, but is also a reminder that these are animals – while they are tamed, so to speak, they are still prone to surprising actions.
That could be the case with humans, too. The only difference is the horse can't "do a Suarez" and argue that he lost his balance and hit his teeth on Silver Dragon.