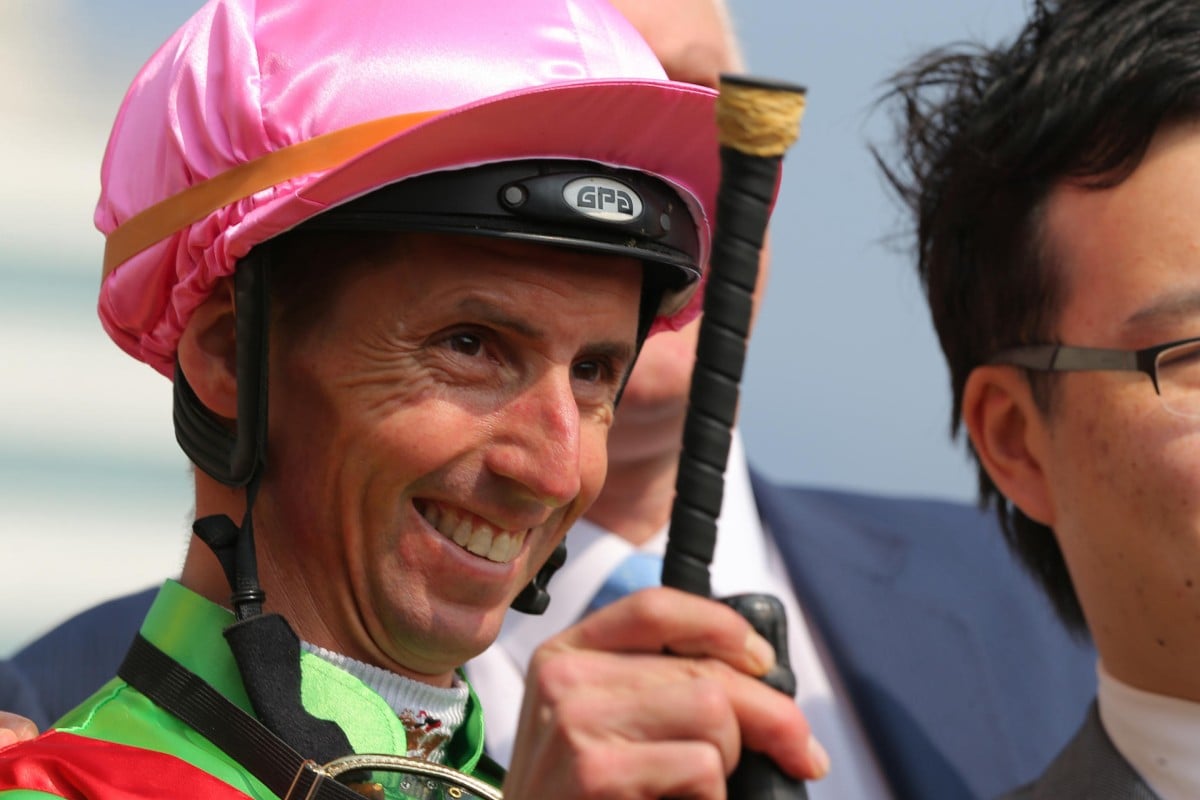 In the space of a month, Nash Rawiller has gone from worrying about his licence being renewed and second-guessing his decision to relocate to Sha Tin, to becoming the hottest rider in town and looking at home as a second straight double continued his midseason momentum.
Rawiller's spate of suspensions at the start of the term has been well documented, but he continues to bounce back through the early part of 2015 and after a brace at Happy Valley last Wednesday night, wins on Good Luck Boy for David Hall and Secret Sham for John Moore have the 40-year-old Australian feeling good about his career move.
"I'm certainly in a better position than I was a month ago," he said after the consecutive winners earlier in the day gave him a respectable nine for the term so far.
Secret Sham's upset win in a mixed ratings band Class One was vintage Rawiller, as he took control of a small field and jumped straight to the front. Secret Sham appreciated a sharp drop in class, albeit carrying a big weight, and kicked off the turn to score comfortably.
"It wasn't a preconceived plan to lead - we wanted to box seat, but when he jumped so brilliantly I tried to take advantage of that," Rawiller said.
"He is a lovely, consistent horse who gives his best each time, and he probably pays for that consistency a bit in the ratings, but when he gets in the right race with the right marble he is always competitive."
A race earlier Hall's patience had paid off with unraced northern hemisphere sprinter Good Luck Boy winning impressively on debut. The four-year-old has been nursed along by Hall after struggling to come to grips with his new environment.
"He was a slow-maturing type in a lot of ways," Hall said. "He was a big, heavy horse that was growing quite a lot and his tendons were swelling and we weren't able to push him. Eventually we got him comfortable enough to show his best."
It was the blinkers being applied for a recent trial, and the way the horse responded that day, that had Rawiller going into the race confident.
"The penny really hadn't dropped until we put the blinkers on," the jockey said.
"I haven't had many trial like that for me here. I had been riding him a bit in the mornings and he had been going through the motions, but the blinkers just woke him up and made him a racehorse."
Gate 12 should have been a help for Rawiller on the biased straight course, but when the son of Iffraaj blew the start it added an unexpected degree of difficulty to the victory.
"He was restless in the gates and we lost our advantage when that happened," Rawiller said.
"In the end, he had to overcome a fair bit of adversity in the run. He travelled strong in behind them, a bit too strongly really, but when the split came he was able to take it."