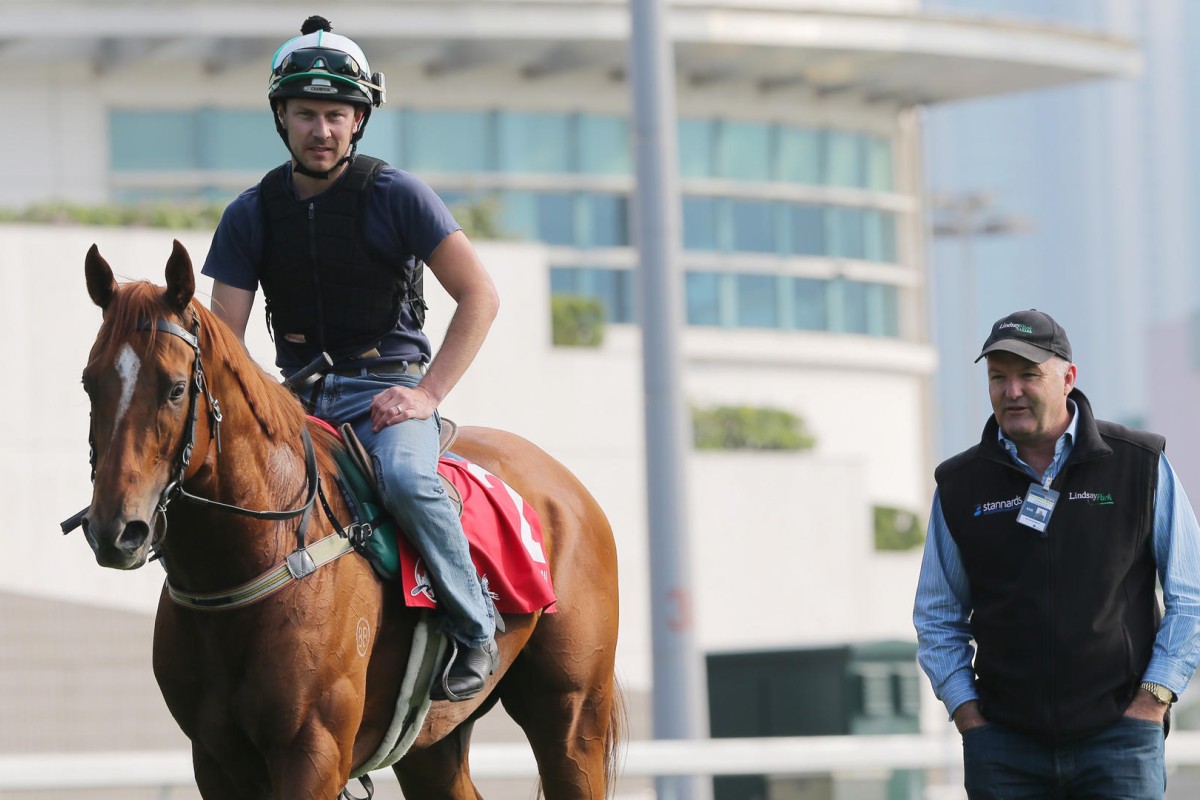 Seeing former Hong Kong champion trainer David Hayes back in town for the Audemars Piguet QE II Cup on Sunday will awaken memories of his success when based here and will probably have a few wondering about future plans.
Let's take you back to Hayes' departure in mid-2005 after 10 years at Sha Tin, two championship wins, a swag of Group Ones including a Derby and internationals, and it gives us the opportunity to speak just a little bit out of school.
It was never reported, but Hayes did make it clear at the time, in as many words, that he intended to return to Sha Tin to train again on a full-time basis ... one day. And that's why it wasn't seriously reported - people often leave these kinds of figurative doors ajar as they depart. And then one day never comes; life takes over, other things happen and people head down a different pathway.
Hayes, now 52, returned to immediate triumph in Australia, winning the Melbourne championship and unearthing a star, Miss Finland, in his first season. After a few more years of ruling the roost in Melbourne and racking up the biggest races in Australia, he decided the time was right for another change of direction. He sold off his fabled Lindsay Park property, uprooted his training operation and built a new private centre in country Victoria.
And the wheels fell off. The inevitable change of process, the establishment and teething problems have taken years to get through, but Hayes' Euroa operation has come good in the past year and he is churning out winners again at all levels in partnership with his nephew, Tom Dabernig. He returns this weekend with Criterion, who just won the second richest race in Australia in a trot, and is on his way to Royal Ascot.
So much for the quick biog.
But you have to wonder about whether he still has in mind to return to Hong Kong and whether the time might now be right for that to happen.
It's clear that Dabernig is up to running a successful yard in Australia and Hayes also has sons of an age now when they might also move towards being trainers, as he did at a similar stage.
If Hayes still has this plan in mind, shouldn't Hong Kong want him back?
It's plain that expatriates Sean Woods and Andreas Schutz are going to struggle to meet the performance criteria this season and that will be two strikes each. And what is difficult about our racing structure is that poor performance begets poorer performance on a slippery slide downwards as owners leave. Racing is a numbers game and without enough horses, it isn't possible to recover.
In other jurisdictions, trainers can put a bad year behind, start afresh with a whole new crop of babies and there might be a champion amongst them but a trainer off a bad year here is looking at another one because few new horses worth having will arrive and turning it around becomes near impossible.
Perhaps one or both will produce a miracle and fight back, and more luck to them if they can, but the prospect is out there that a vacancy might soon exist for an expatriate trainer.
And Hayes is proven here, a positive thinker and media-friendly, and naturally geared towards the club's goals, like importing quality and competing internationally.
At 52, he is a little older but with the new policies geared towards keeping the successful trainers on for longer, Hayes would still have the best part of two decades ahead of him here.
---
Macau interport return leg still serves its purpose
There are many who feel that the interports have run their race, so to speak, and would recommend the heave-ho for them after another Hong Kong whitewash in the Macau Hong Kong Trophy return leg but the races are still serving a few purposes.
People say the races aren't popular any more and Macau owners have lost their appetite for comprehensive defeat, but the Hong Kong leg certainly isn't unpopular, judging by the parade yard crowd of visitors on March 8. That would have done justice to the number of "plus ones" and hangers-on that always turn up for the Hong Kong Derby and would alone have constituted an acceptable crowd for one of the days of Sydney's Championships.
As a business proposition, the Macau leg simulcast is definitely worth doing. The HK$165.3 million turned over last weekend was second only to the Jockey Club's simulcast of the Dubai World Cup card and up by HK$30 million on the 2013 Macau simulcast and HK$37 million on last year's numbers. So it isn't unpopular with punters either.
It also continues to serve another of the original aims of the series, and that is to act as a measuring stick of the relative merit and progress of Macau racing. And that is where the interport races are doing the most damage to the prospects of their ongoing existence.
A sweep out for the Hong Kong horses at Sha Tin is expected these days – King Creole being the first Macau horse home last month and beaten less than three lengths in eighth place was one of the talking points of the race.
Now the Macau leg has also been a first five Hong Kong finish last year and the first four again on Saturday.
To some extent that has been good fortune due to fine weather – the Macau horses become far more competitive with the bottomless wet tracks Taipa produces and that horses never see over here.
That could lead us to one possible cure for what ails the races – hold the Macau leg later in the season when the rains are around, but that might see a drop off in interest from the Sha Tin side.
If the races are worth continuing with, then they do need some tinkering and some Chinese language commentators are calling for a widening of the 15-pound allowance, which is sensible until you look a little closer and realise it might require more restructuring than that simple fix.
In the Hong Kong leg, three of the Macau horses were out of the handicap with ratings so low that they couldn't get their fifteen point break and still have 113 pounds to carry – King Creole in fact got a discount of only seven points – so it doesn't matter what increase their allowance got.
To save the interports then, it might be time to tweak the grade of the race or the ratings bands involved. We know how much the folk at Sports Road like to play with ratings bands.