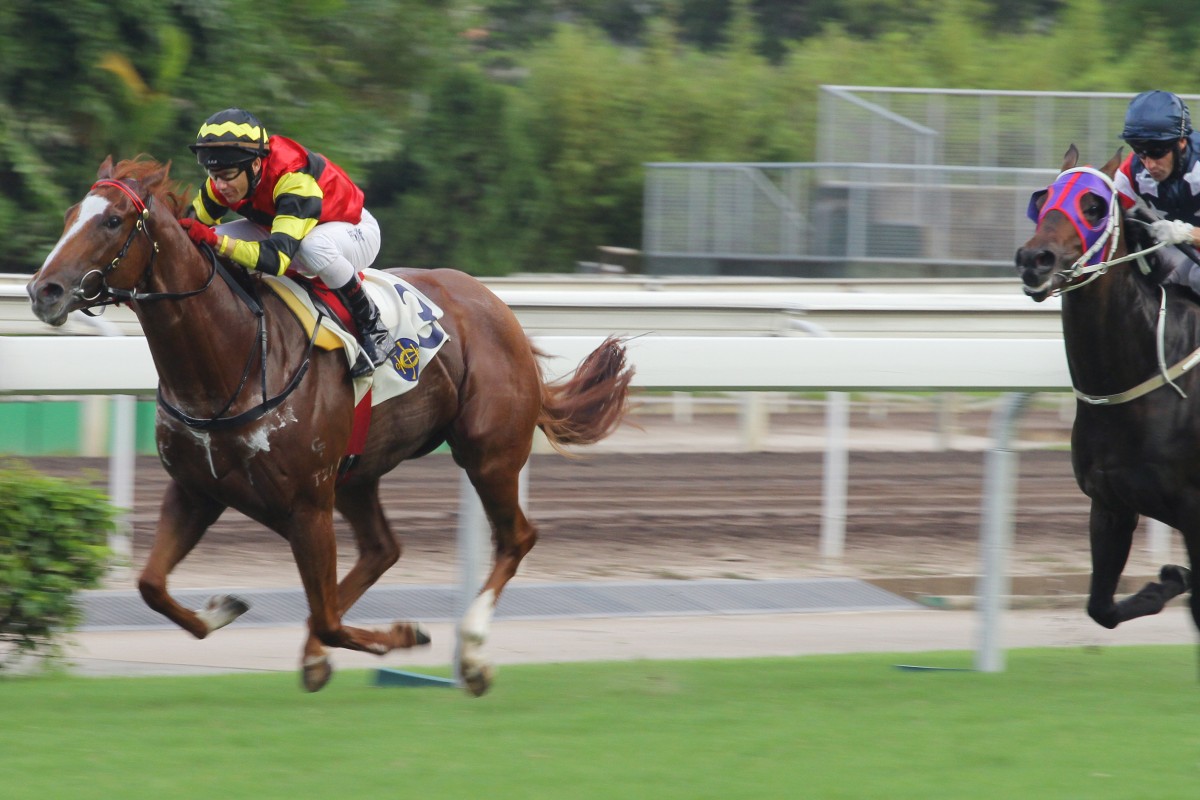 Earlier in the season, Brett Prebble passed Gary Moore to be the second-winningest expatriate rider in Hong Kong racing history but he made a nice round number of it as a Sha Tin double on Sunday took him to 700 victories.
Ahead of him still are the 946 career successes of Tony Cruz and the Mount Everest of Douglas Whyte's 1,683 wins (and counting) but Prebble ranks next, and isn't finished either.
Might take me a few more years to catch Tony [Cruz] at the current rate
"Might take me a few more years to catch Tony at the current rate," laughed Prebble after winning with Solar Hei Hei and Lucky Bubbles.
Like most jockeys in town, the "current rate' has been significantly affected by the presence of one Joao Moreira and Prebble was happy that the Magic Man wasn't there this time to spoil the party for Lucky Bubbles when the Francis Lui Kin-wai-trained three-year-old had the last race won. At his previous outing, Prebble thought the youngster was home and hosed, only to have Moreira slide up the inside rail with Sun Jewellery and Prebble could be seen clearly shaking his head in disbelief on the race replay.
There was no repeat this time, after Lucky Bubbles raced outside the leader and warm favourite, Lucky Year, until he was asked for the full effort and sprinted clear.
"He surprised me with his gate speed - he'd shown it in trials but in races he'd had stage fright maybe, a bit funny in the gates, that sort of thing," Prebble said. "But his two races have brought him on and although he did it a bit tough for while early, once I got him outside the leader, he dropped his head and then I just waited for Lucky Day to come up on my outside and went for him. He gives me a good feel and will be better as a four-year-old."
Lucky Bubbles was the second leg of a double for trainer Lui, who also won with Winnie's Horse, and it was bookends for Prebble who had won the opener for David Hall on Solar Hei Hei.
"I like the horse's attitude. He learned a lot from his first run and he's got a great attitude for Hong Kong, doesn't rev up and just helps himself," Prebble said. "Abilitywise, he's shown he can gallop - how high he goes, I don't know but his attitude will take him a good way. Nice to win again for the owner, who David and I had a bit of luck for with Solar Great."
Hall applied cheek pieces to Solar Hei Hei yesterday but he wasn't crediting them with too much.
"That was just for us, for the people to have more confidence in him really," he said. "The horse himself, I'm not sure it made much difference. The main thing with him is he learns a lot every time you do something with him and he improved a lot for his first run."