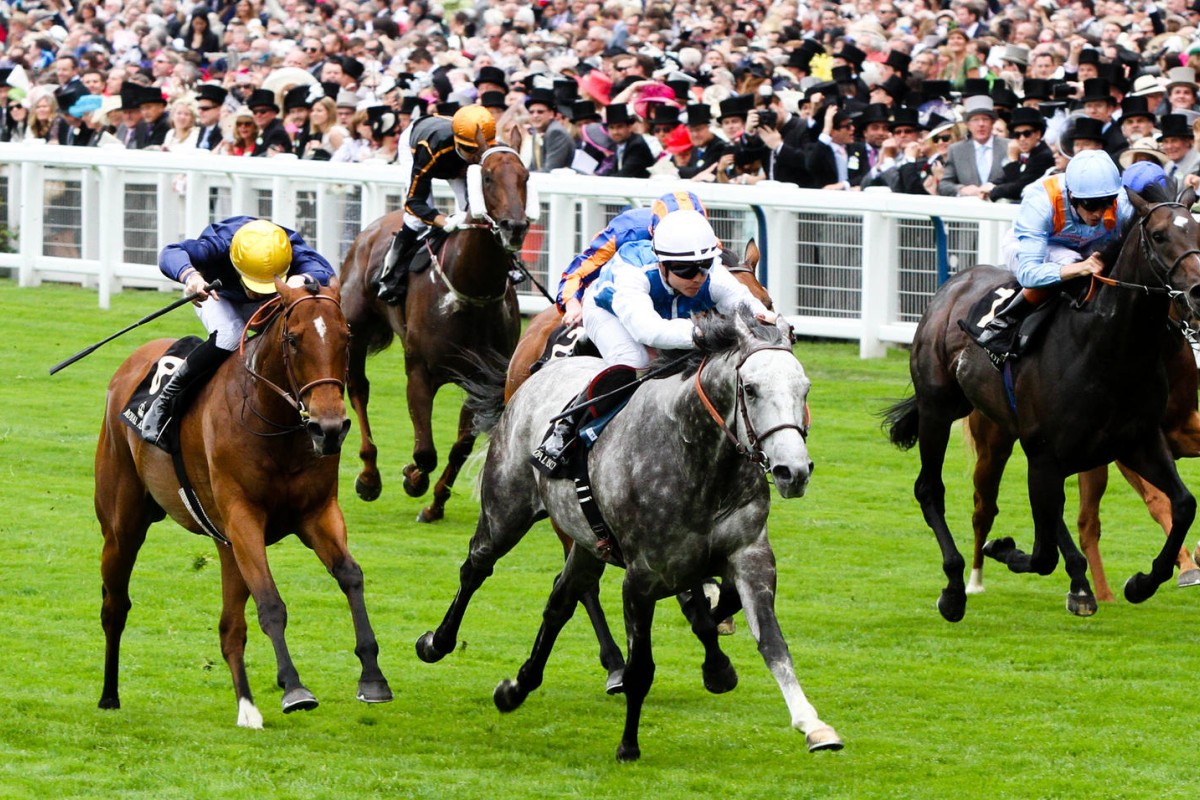 Able Friend's much-anticipated Royal Ascot raid turned out to be a fizzer as fancied rival Solow galloped away with the Group One Queen Anne Stakes and Hong Kong's hero was left languishing after an apparent bout of pre-race nerves.
Hong Kong's highest rated horse was beaten nearly nine lengths in the first race of the five-day carnival, finishing sixth behind Solow, as Able Friend's normally relaxed attitude disappeared in the minutes before the biggest race of his career.
"He wasn't showing the same demeanour that he does at Sha Tin where he is always cool, calm and collected," said trainer John Moore.
"He was on the toe a little bit, and maybe if you were looking for something you would blame that. But really we couldn't offer any real explanation, he just wasn't himself.
"As we would say in Australia, maybe he ran his race before the gates opened. When he was asked for effort there was nothing in the tank, we have to put it down to the environment. These sorts of trips do tend to take it out of horses."
Jockey Joao Moreira settled Able Friend just behind midfield and when the tempo increased two furlongs from home he asked for the five-year-old to show his trademark acceleration.
"He angled out a bit and he changed his stride - and at the moment I could feel he wasn't going anywhere," said Moreira, who explained that on the way to the starting gates Able Friend was slightly agitated.
"When I got on him he was looking good, but on the way to the barriers he started to sweat, and that wasn't a good sign. Then he was shaking his head, which he doesn't usually do.
"He ran way under his true ability. I'm still very proud of this horse though, we've had many good days with him before and I'm sure there are many great days to come with him."
Solow, who started a strongly supported 11-8 favourite, won his seventh straight race, jockey Maxime Guyon sitting handy to the speed set by Toormore before he asked the grey gelding for an effort and holding off a challenge from Esoterique, with Cougar Mountain third.
He wasn't showing the same demeanour that he does at Sha Tin where he is always cool, calm and collected
Guyon said when he looked over his shoulder he had expected to see Able Friend, not Esoterique, a 16-1 outsider. "I wanted to beat Able Friend," he said.
Solow's trainer Freddy Head, who has known Moore since childhood, offered his condolences to his rival.
"We would have liked to have seen Able Friend at his best, as long as he was coming second, of course," Head said. "But it was very brave for John to come all this way and they should be commended for that."
Moore vowed to be back at Royal Ascot, but said it might take some convincing for Able Friend's owner Cornel Li Fook-kwan to head back abroad with his prized possession.
"This result would have hurt Cornel and dampened his spirits with future ventures offshore," he said. "The main thing is the horse pulls up well, with no issues, which I expect he will. His recovery looked fine. He has had no setbacks in his buildup. Overall, it's disappointing, but as long as he pulls up sound, he will head back to Hong Kong in mid-July, with a little break and then we will kick him off in October."
Moreira very nearly stole a Group One later in the day when Medicean Man was a narrow second to Goldream in the King's Stand Stakes, but that ride also saw him receive a seven-day ban - the equivalent of two race days in Hong Kong with the jockey to miss July 1 and July 5. He also received a £650 (HK7,800) fine.