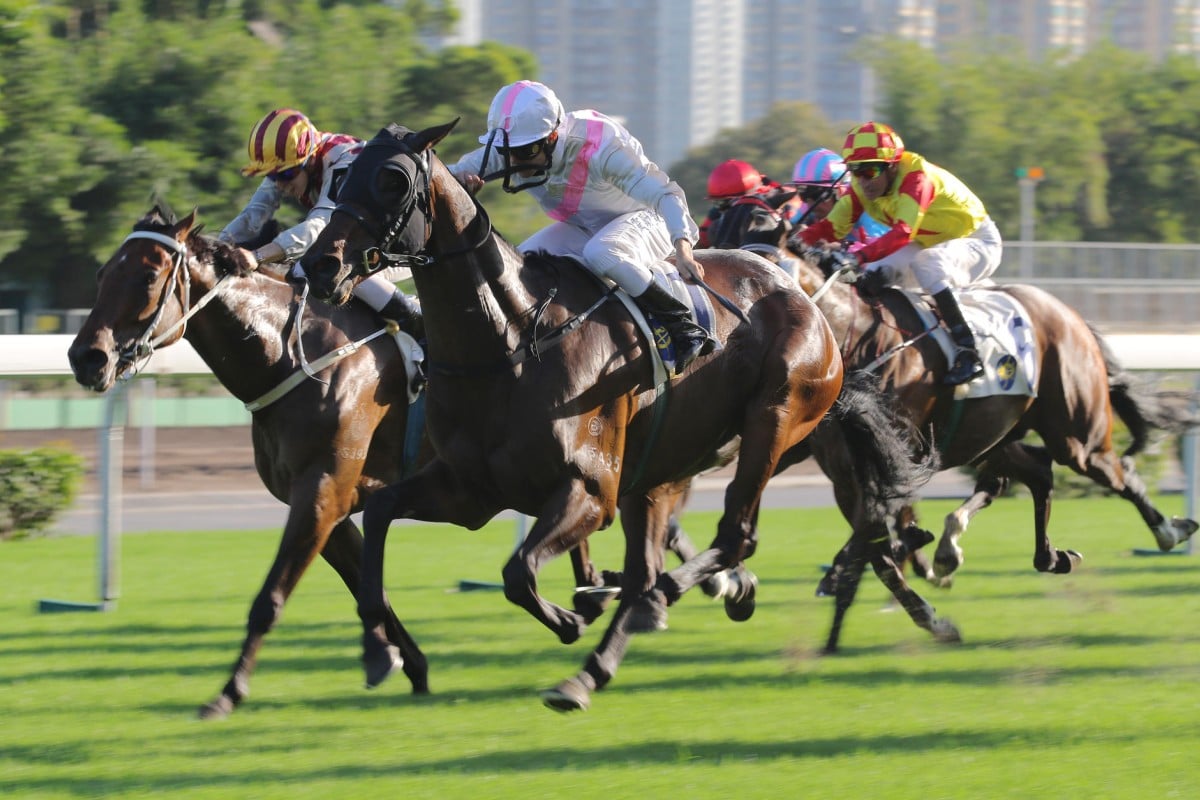 Tony Millard has set his sights high with Top Act after his win in yesterday's Sa Sa Ladies' Purse and will supplement his consistent galloper for international day if the late bloomer measures up against the best middle distance horses next start.
We will take him for the 2000-metre race next and if he goes well there, maybe we can supplement for the HKIR meeting
On another Ladies' Purse day that proved a resounding success for the Jockey Club, Top Act provided the on-track highlight to match the off-course finery on show amongst the crowd, with more than 72,000 enjoying bright sunshine and unseasonably warm weather at Sha Tin.
Top Act will now face an acid test in the Group Two Jockey Club Cup on Saturday week after carrying bottom weight against a competitive field in yesterday's Group Three to push his rating into triple figures and put himself in big race calculations.
"We planned this path for him at the end of last season," Millard said of his five-year-old. "He has won five races for us and has really come into it. I had him a touch big today and he's still improved.
"We will take him for the 2000-metre race next and if he goes well there, maybe we can supplement for the HKIR meeting. It's been step-by-step with him. I never really push them, just let them come into it, and he's been one like that - he's really just done it on his own."
CHECK OUT ALL OF KENNETH CHAN'S PHOTOS FROM SA SA LADIES' PURSE DAY
Top Act was given a top-shelf ride by Richard Fourie, who found a handy one-off and one-back position, timed his run well and held off runner-up Romantic Touch and the fast-finishing third placegetter Ensuring, with favourite Got Fly a flat fifth.
It was Fourie's biggest win since snaring the 2012 Group Two Premier Bowl on Cerise Cherry and just his third since returning to his homeland of South Africa for two seasons.
Fourie rode 34 winners in his solitary season based at Sha Tin but since then Hong Kong racing has been tipped on its head by the arrival of Joao Moreira - and it is the lightweights like Fourie that have felt the Brazilian's presence most.
"Joao has certainly changed everything," Fourie said. "It's tough - it's easy getting rides, but it is very hard to keep the good ones. I'm grateful to Mr Millard and the owners for keeping me on this horse. Hopefully this can provide a spark and can show some owners and trainers I'm riding well."
The 1,800m event acted as a springboard for some lower-ranked stayers and middle-distance horses vying for international day starts and while Got Fly was disappointing, some others caught the eye.
Andreas Schutz was content with Packing Llaregyb's eighth with top weight, while John Size-trained pair Ensuring and Khaya, who missed the start but got home well, appear to be in good order as they head to longer races.
It was a mixed bag for trainer John Moore, though - jockey Gerald Mosse was adamant Kabayan would have figured in the finish if not for a bad draw, but Harbour Master put in a poor display and faded to finish near the tail.