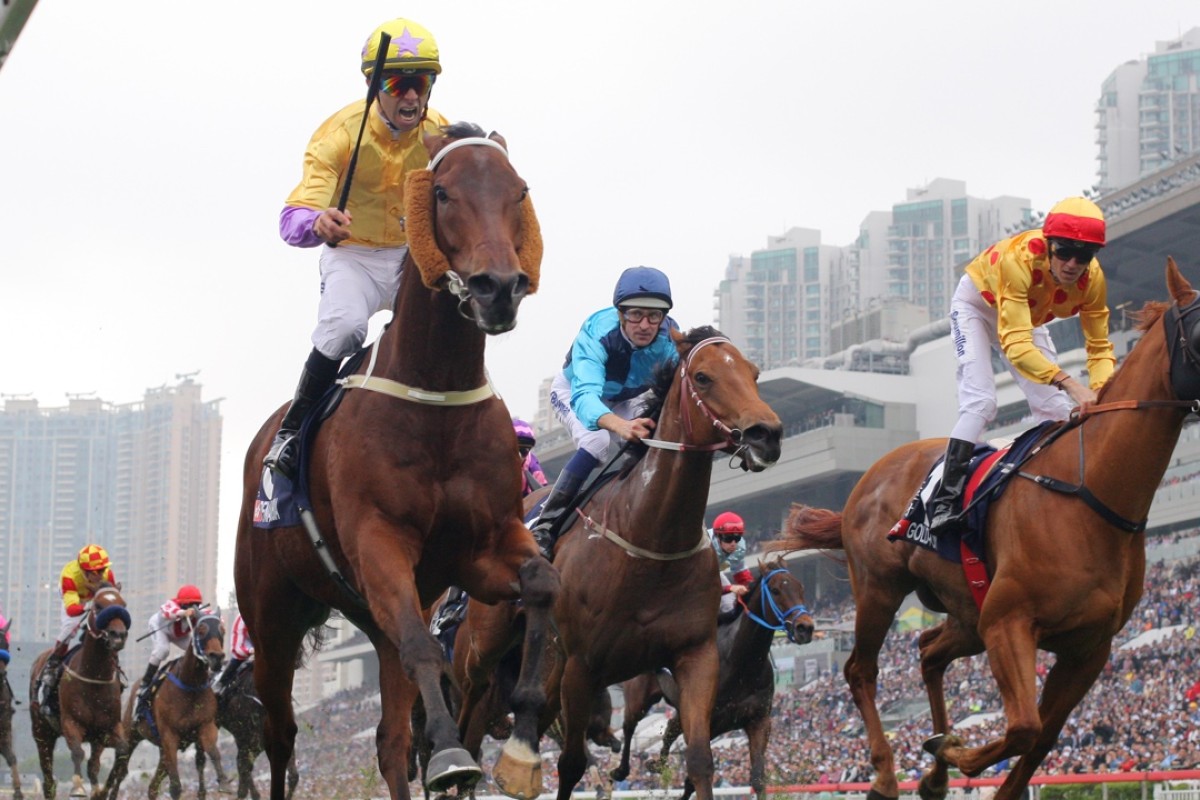 Hong Kong champion Able Friend provided the question mark of the day, Japan's A Shin Hikari the exclamation mark and the "turf world championships" shone as the best-ever edition of the Longines international races on Sunday.
A record attendance of over 85,000 saw a breakthrough for trainer Aidan O'Brien, Ryan Moore again make his case as the world's top jockey with a brace of victories and Japan's stars rose to the occasion, while the home team had to make do with Peniaphobia's brilliant all-the-way victory in the Hong Kong Sprint.
Able Friend had provided the ooh-ah moment of HKIR in 2014 but this time it was the oh-oh moment that surrounded the champion miler.
If there's any excuse to be offered, he was under a cloud because of the foot and only got beaten a length – still it's disappointing
The victim of a shoeing problem that left him with a mild lameness on Sunday morning in his right front foot, Able Friend had to pass a veterinary examination hours before the Hong Kong Mile before being allowed to defend his title.
Passed to run, he looked to join the Japanese champion Maurice easily at the 250 metres, headed him and then struggled, dropping back to third in the final stages.
"Our jockey, Joao Moreira, didn't make any excuse. I think it made a difference because he hung out, which he doesn't usually do," said trainer John Moore. "If there's any excuse to be offered, he was under a cloud because of the foot and only got beaten a length – still it's disappointing."
Maurice wrapped up a double for jockey Moore who had won the Vase on Highland Reel, a breakthrough in Hong Kong after some dismal prior efforts for Coolmore's trainer O'Brien, who was absent from the meeting but had just as many comments for the media as Maurice's trainer, who was present.
In the strangest twist of the day, the normally taciturn Moore found himself in the unlikely position of the most quotable participant for the afternoon.
"It's ok – he's a typical Japanese trainer," laughed the Japanese media contingent.
Another trainer, Masanori Sakaguchi, just about confirmed that when he offered very little more 40 minutes later after the Hong Kong Cup, but then A Shin Hikari had done all the talking.
Giving Yutaka Take only the second Hong Kong international win of his long and distinguished career, A Shin Hikari took the front early and, as the old saying goes, improved his position to run blistering times in winning.
Jockey Club executive director of racing Bill Nader was watching his last HKIR as part of the infrastructure, as he leaves the job in January after eight years.
"Rarely do you see a horse do what A Shin Hikari did today – stringing together sub-24 second sectionals one after another. That was a highlight of a fantastic day and so was Maurice, who I think is to Japan what Able Friend is to Hong Kong," Nader said.
"When you wake up on a day like today, you know you're going to see something special. When you look at the growth of this day – if you go back to 2005, the total attendance was only 44,000 – the rise of this day as the culminating event of the year is not only a spectacular success for the Hong Kong Jockey Club but for the sport at large.
"This is the day in Hong Kong racing that I'll miss the most, although I'll still be watching, just from another seat, as a fan."
Chief executive Winfried Engelbrecht-Bresges said the day had set up as one of the great meetings and had surpassed those expectations, even in areas where it fell down.
"Yes, turnover was down on last year at HK$1.44 billion but it was only by 1 per cent, and still the second-best hold ever on this day," he said.
"A record crowd, a fantastic atmosphere and tremendous competition with incredible rides and horses and a good spread of winners across three different countries.
"For Coolmore to have a winner, adding stud value to a horse like Highland Reel here, is a great thing for our biggest day," Engelbrecht-Bresges said.
Chief handicapper Nigel Gray said the success of the meeting through the gates and on the track was certain to be reflected in the world rankings when he and his fellow international handicappers sat down this week to review the day.
"I do feel the numbers are going to be high," he said. "We had 53 runners in the four Group Ones with 29 Group One wins between them and that outstripped the previous record easily and that quality was not just on paper .
"I think we saw three performances today that will earn ratings of 120-plus and that says it all."