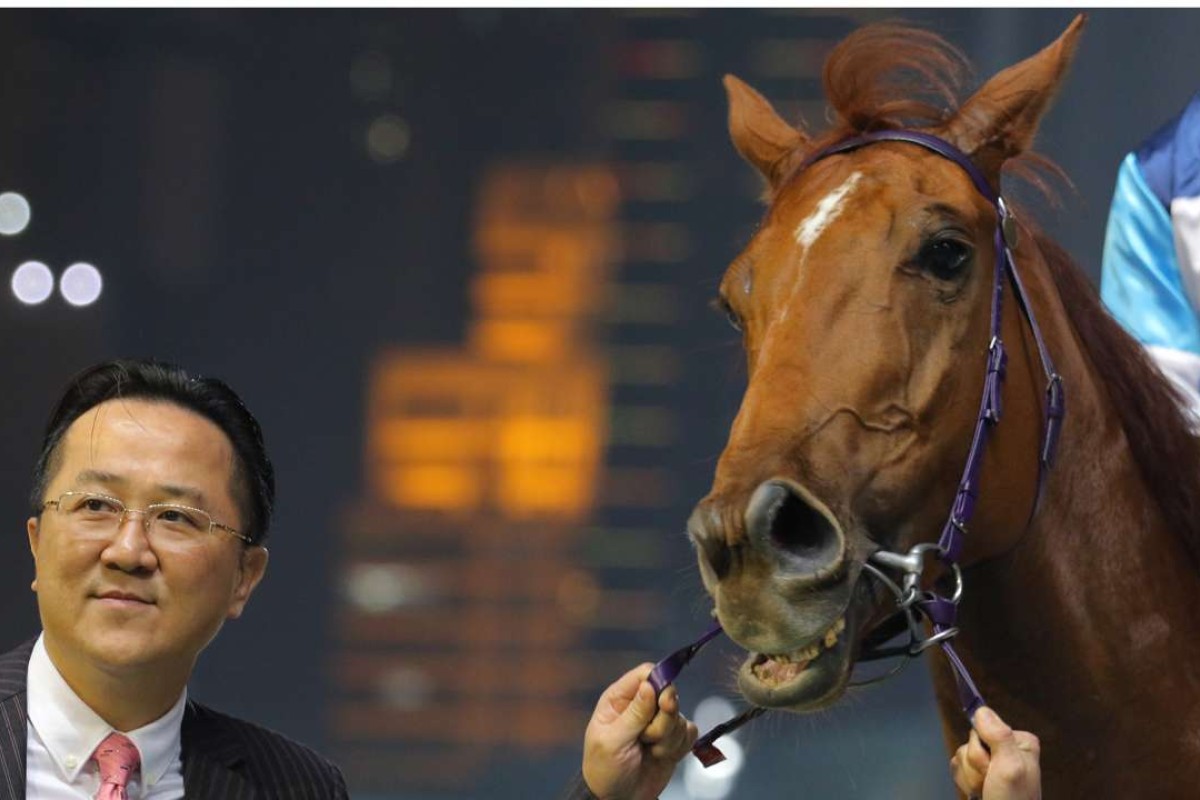 Trainer Almond Lee laughed in relief that he had "one more year, again" after his first winning treble for more than six years at Happy Valley last night secured his licence for next season.
So I have another year! I think I still have more horses which can win races and I'm hopeful I can get past 25 wins
With two strikes against him in 2013 and 2014 for failing to meet the Jockey Club's performance criteria, Lee begins every term now knowing that another strike means a "show cause" hearing.
But after Octal Luck (Brett Prebble) and Ocean Roar (Keith Yeung Ming-lun) took the first two races, Lee had the 15 wins he needed and Sum Win Dragon (Yeung) was the cherry on top in Lee's first treble since September 2009.
"So I have another year!" said Lee, who cleared the hurdle with four months of the season to run.
"I think I still have more horses which can win races and I'm hopeful I can get past 25 wins – a little better than last season."
Lee said he gave a lot of the credit to Prebble for the win by Octal Luck, whose form prior to the Class Five victory had been a mystery. He finished third last season in a Class Four, but most of his other runs were flops and lasts.
"The first time I trialled him, I thought he was Class Three standard," said Lee. "And he has already performed in Class Four, so I knew he could win, but he is a very difficult horse.
"He has no heart under pressure, he is a troublemaker and he doesn't like being on the inside – he just gives up.
"Brett had trialled him twice and he went well both times and, most important, he is a jockey who makes the horse know who is the boss."
Ocean Roar is consistently a tough horse to get past even from bad draws, but had won last time getting a soft lead from an inside gate and did it again this time.
"He drew three but the two inside him were slow so it was like barrier one again for him," said Lee.
Yeung was the star of the night in the saddle, adding Timely Arrived later on the card for a treble himself, but he was also on the receiving end of the stewards' ire, notching up a two-day ban for the Timely Arrived win but avoiding a fine for his good record.
Nevertheless, it was his Sum Win Dragon performance got the ride of the night award.
"Last time, as you know, we sent the horse forward and he ran fourth after we had been very frustrated by him running home from the back and arriving too late," Lee said after the breakthrough win for the five-year-old.
"It was better, but he pulled hard ridden that way and didn't finish off all that strongly and we learned from that. So tonight I said to Keith to take him back early, let him relax then try to get into the race if the leaders slowed up, which they did."

On the scoreboard for the first time, too, was Brazilian jockey Eurico da Silva and trainer Ricky Yiu Poon-fai said he had a better reason for the booking on cunning six-year-old Mighty Equus than that fact that the first part of both trainer's and jockey's names is the same character in Chinese.
"This horse has a few tricks and he knows some of the other jockeys and they know him. I wanted someone who is keen to have a winner and a jockey with no preconceived ideas about the horse," Yiu said.
"It worked, the horse performed and he enjoyed having the rail all the way from gate one."
Apprentice Kei Chiong Ka-kei also posted a first, winning for the first time at Happy Valley when she took the cup race on Great Charm for Richard Gibson. Chiong has only had her permit to ride the Valley for a short time.
Joao Moreira had to wait until the back half of the card before he struck, winning with Magical Beauty for Tony Cruz in the sixth before providing John Moore with a 65th birthday present with Basic Trilogy winning the last race.