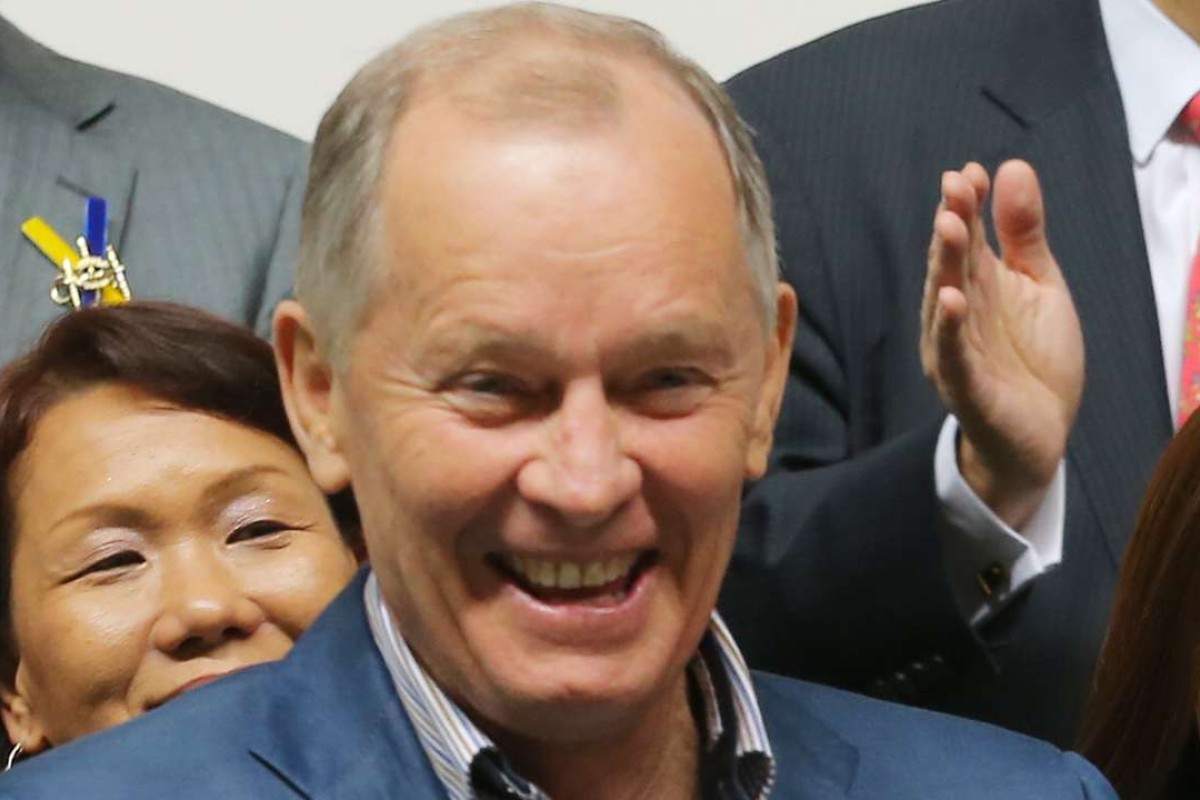 The composition of the final Group One for the season on Sunday gives us pause to think again what kind of shape the top echelon of Hong Kong's middle distance and staying horses would take on if John Moore was emptying his desk in a couple of months.
Four of the eight entries in the Standard Chartered Champions & Chater Cup will run under the Moore stable banner and Caspar Fownes-trained Military Attack also landed here as a Moore inmate, so five of the eight arrived as a Moore Hong Kong Derby project.
The club has done the right thing to protect its major races by extending Moore's tenure
(And no, we aren't going into the other stable movements within the eight because it isn't part of this discussion.)
There is a prevailing argument among other trainers that, if the goal posts had not moved and Moore was required to retire at 65 like others have, that his owners would be spread between those other trainers and they would provide these Group One runners.
But the proof is in under-subscribed races like this Champions & Chater Cup where few yards can even put up something barely credible to run and fill up the field – something way out of the ratings with little argument in its favour for running, bar the weird tempos and strange nature and rarity of 2,400m races here.
An Ambitious Champion or a Giovanni Canaletto – although where was Giovanni going to run otherwise? The Grand National and Warrnambool Grand Annual have already been run.
Once again it was Moore, with a little help from Tony Cruz, who filled up the Derby field and at least held his own with numbers in the QE II Cup, even the Chairman's Sprint, where he was a bit part player in terms of the outcome, but still produced runners.
The club has done the right thing to protect its major races by extending Moore's tenure, albeit with results-based criteria, especially now that a race like the Champions & Chater will be an international Group One and need to keep producing a rating to keep that status.
And while we know the argument that other trainers like to put forward, we don't see enough of them producing an adequate number of second-tier horses to assume that they will naturally step that up to first-tier ones if owners no longer have Moore to whom to take their big chequebooks.
Whilst on criteria, Andreas Schutz's win with Plenty Of Speed was a reminder that the sands are running through the hourglass for the German and his former Olympic stables roomy, Sean Woods.
Both trainers need another seven wins to avoid a third strike under the benchmark performance criteria and, let's not mince words, Australia winning the Eurovision song contest seems more likely.
Hmmm, OK let's go with turning water into wine then.
So where does it go from there? Well, the word on the street is that neither trainer plans to go quietly into the night and, should one or both be required to show cause, a challenge to the performance criteria mechanism and its fairness or otherwise may be in the works.
We wait with bated breath – this could be news story for which, quite frankly, this season has had a craving like an extra from Breaking Bad.
When some think the big story of last week was that a horse was mistakenly scratched then reinstated before anyone even noticed, you know you're struggling.
The scuttlebutt says that waiting in the wings, if a licence should become available, is John Size's current assistant, Frankie Lor Fu-chuen – although whether that can happen for next season is another question, even if he or anyone else really is in that prime position.
Should Woods and/or Schutz elect to battle it out to remain at Sha Tin, that can only set back the process or sorting out who is where for 2016-17, right up until the club says delay no more and that could be months.
Is it fair to ask a new trainer to find clients so late? No, and the club doesn't ask that, so it would seem more likely any new trainer would not be announced until well into next season, and for the following term.
Composite Win numbers a mystery, but Longitude engine may offer more choice in future
We've been glacially slow to this one, but noticed the other day that our old mate, Brack ... whoops, Composite Win has its own little preview video now on the Jockey Club site.
And that made us wonder where 3Pick1 has got to as far as numbers, although we would stress, and have agreed all along with the view that it was introduced as an alternative bet for those who choose to bet that way.
And also, in some sense, as an educational pathway in the general direction of Longitude's single pool wagering, to get punters used to the concept of combining runners in other than traditional ways and, one day, to go as far as customer-designed wagers.
But it was never going to drive turnover.
Turnover seems to be driving itself just at the moment anyway with more HK$100 million year-on-year increases since we mentioned it last week.
Of course, there is no official hold figure released for Composite Win, which brackets up three groups of horses in each race for betting purposes and bets on the A1, A2 or A3 bracket are processed through the normal win pool, which is used to calculate the aggregated odds for each bracket.
There is no official hold reported, like there is for other bet types, as there is no actual pool for Composite Win – it melts into the Win pool and the payout for Composite Win bets can bet a lot more or a lot less than the bets placed using that scheme, depending on the result.
That is its one advantage over the old total flopperoo, Bracket Win, which was a self-contained pool and got to look foolish out in the open where everyone could see it, with dual odds-on favourites and the like. Whatever anyone says about Composite Win, it is well camouflaged.
As best we can guestimate, Composite Win for the weekend was around about HK$2.5 million or a tick under 1 per cent of the win pool action on the day.
If we've got that anywhere near right, it is a significant drop from where it started six months ago, but then we did say early that would happen.
That doesn't stop us from being very interested in what happens next with wagering and the Longitude single pooling engine, which has been used to better effect with the merged Quartet and First Four pools, and what should be some far more interesting choices in the future.