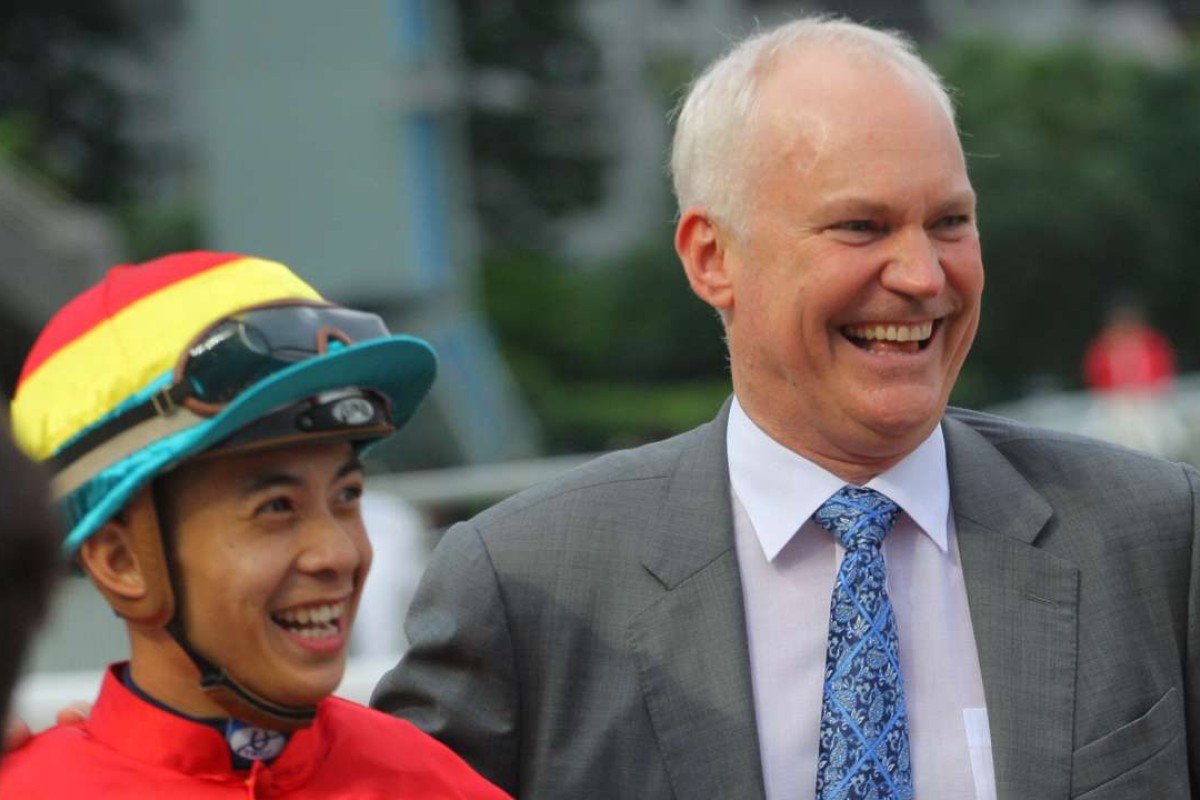 It wasn't immediately apparent but the unifying theme of an impressive winning double for jockey Derek Leung Ka-chun yesterday was all about distance and opportunity and the roads down which they take a horse in Hong Kong.
Leung won the day's Class Three trophy race for Almond Lee on Deja Vu – a miler racing in a sprint because it was there and because he's not quite – then landed a course record-breaking first attempt at 1,800m with David Hall-trained Solar Hei Hei, who had once been on a similar sprinting path, against the gut feeling of his handler.
"You know when this horse started off, I really thought he was a mile horse and beyond but he won a couple at 1,200m so we kept going back to that distance," said Hall after a typically tough fourth win for the season by Solar Hei Hei.
If they're doing something well you keep them doing it even though, inside, you feel they might be better at something else
"It's one of those things. If they're doing something well you keep them doing it even though, inside, you feel they might be better at something else. So two starts ago he finally went to the mile for the first time and won and now he's gone up to 1,800m first time and won."
Hall said that programming and ratings inevitably play a hand.
"Eventually, the horse gets high enough in the ratings that opportunities start to thin out or they look like they've gone as far as they can at a distance," he said. "That's when you try something new to try and get the extra win. On Wednesday night, that's what happened with Heroic Guru and now this guy too. Solar Hei Hei was always making long, sustained runs in the 1,200m races so I thought a distance wouldn't worry him but it takes a while to get there sometimes with a successful horse. He's probably one of the most genuine horses I've ever had here."
Lee though is at the other end of that journey with Deja Vu, a veteran of seven runs in Australia and now eight in Hong Kong, who came to him in January from another yard and has strung together two wins on end as a 1,200m dirt sprinter.
"But he's not a sprinter at all – he is just green and doesn't seem to know anything about racing or training. If you saw him in trackwork, you'd think he was an unraced young horse," Lee said. "I think he's a miler but at the moment, you couldn't train him to do anything more than sprint. And anyway, he's doing well at that so it's hard to change direction when they're winning.
"I don't even think he's only a dirt horse – if he lost here today, that was going to be my chance to say we'll try him over 1,400m on the turf. But since he won, now I have to find another dirt sprint for him on July 1. Because this isn't really his distance, I can't run him again before that, I need to keep him fresh."
All nice problems to have when they keep winning though.