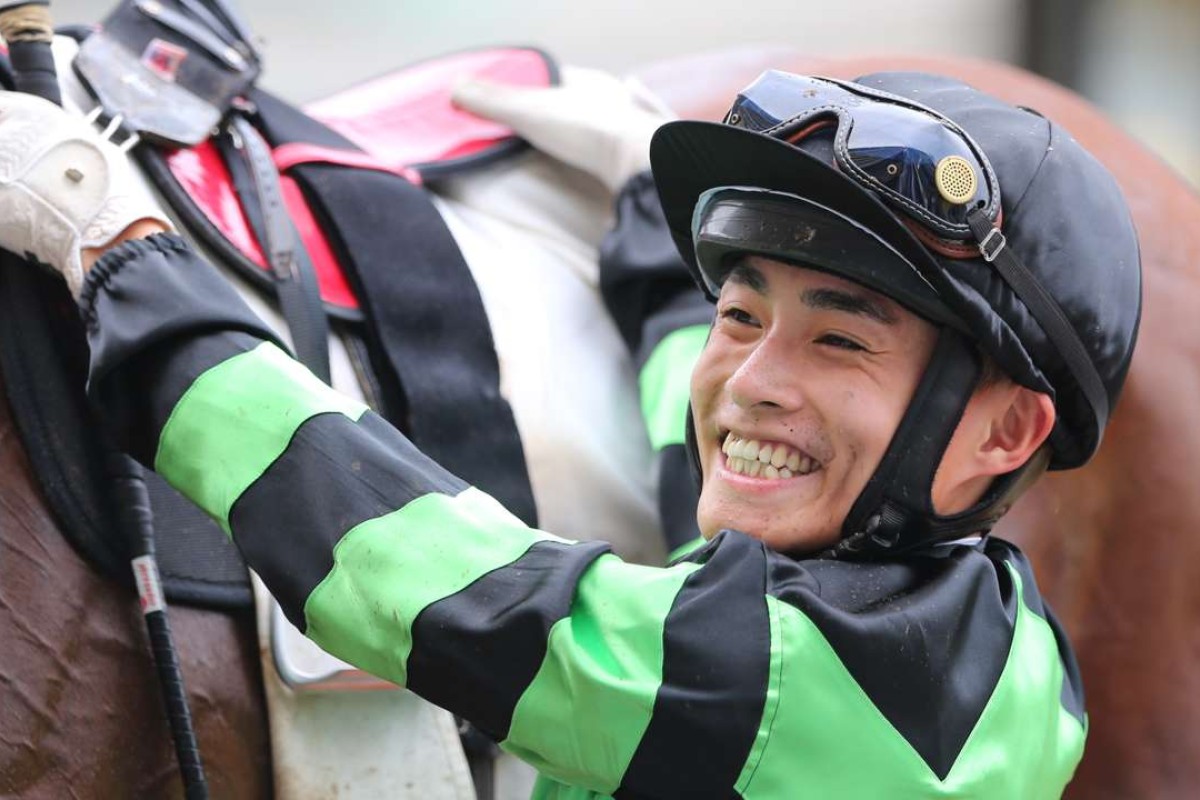 The inaugural Tony Cruz Award is adding spice to late season proceedings, and the fierce competition for leading local rider continued yesterday when Keith Yeung Ming-lun's double brought him level with star apprentice Kei Chiong Ka-kei.
With the trainers' and jockeys' championships already wrapped up, the new award given to the leading freelance or apprentice jockey is coming down to the wire, with Yeung and Chiong now tied on 29 wins with eight meetings remaining in the season and a win to Derek Leung Ka-chun keeping him in contention, one behind the leading pair.
Yeung is having a standout season and after wins on Inventor and Fish N' Chips he was stating his intention to be on the podium at the season finale on July 10.
"Of course I want to win it, it would be a great honour," Yeung said. "And I would be lying if I didn't say that there is a little bit of ego involved and I want to finish ahead of Kei."
Chiong returned from a two-meeting suspension without a win on the day, despite having some good opportunities, and Leung also took the chance to throw down his challenge with victory on Numero Uno.
"We all want to win it and I'll be pushing as hard as I can for it," Leung said. "It's a great idea to name the award after Tony, he did so much in his career but he also has done a lot to help apprentice jockeys."
Perhaps the most encouraging aspect of the three-way go for the new honour is the way each of the trio is rising to the challenge. Yeung's ride on Inventor is a case in point as he showed patience, race awareness and nerves of steel to pick off an inside run late in the Manawatu Racing Club Challenge Trophy.
"I guess it might have looked lucky to get an inside run, but when you are behind a heap of horses like I was in that race and they start making runs early around the outside, they get to the turn here going a lot faster than they normally would and they fan out. It usually opens up runs on the inside."
It was a short but solid storm that rolled in from the south before race three that boosted Yeung's confidence about Almond Lee-trained sprinter Fish N' Chips.
"When that rain came, I just knew he would win," Yeung said after the five-year-old won for the first time since January, holding off odds-on favourite Moment Of Power.
"This horse really needs that extra give in the ground to show his best," Lee added.
Leung has been earning rave reviews for his improved riding this season and he helped Numero Uno to the five-year-old's first win in more than two years when Benno Yung Tin-pang brought his horse across to the Valley for the second time, this time back to 1,200m.
"I think his best trip is 1,400m," Yung said. "But the fields here at Happy Valley are a little bit weaker. This horse went up a long way in the handicaps after that first win, 14 points, and then some placings put him on 79. It has taken until now to drop to a rating where he can win."