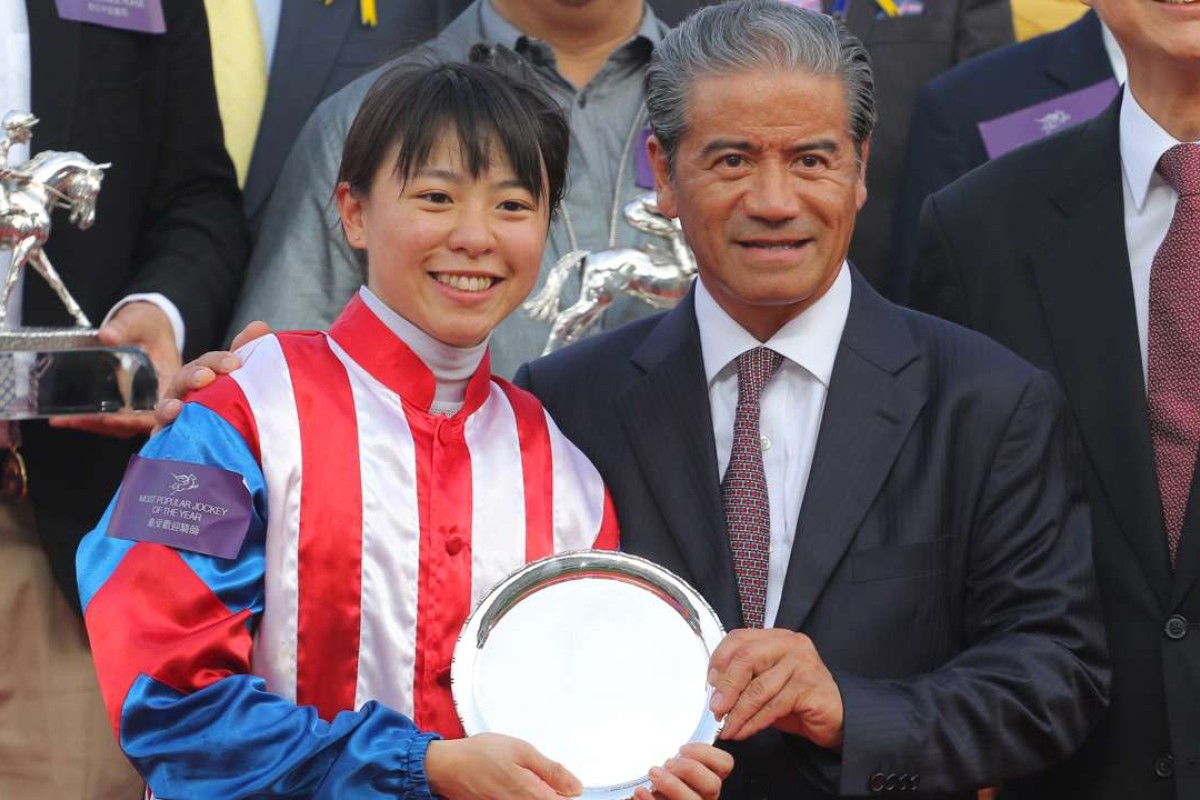 The post race awards ceremony took on the feel of a coronation as the new queen of Hong Kong racing, Kei Chiong Ka-kei, not only hoisted the Tony Cruz Award, but capped her remarkable season by dethroning Joao Moreira as most popular jockey.
2015-16 Season Finale: Kei Chiong, Joao Moreira and John Size dominate the final day of the Hong Kong racing season
Chiong came into yesterday's season finale with a three-win lead over Derek Leung Ka-chun in the race for leading local rider and emphatically clinched the inaugural award named after Hong Kong's greatest ever home-grown star with a double.
"I feel very happy," Chiong said. "It is an honour to win the Tony Cruz Award, it is meaningful for us locals, and I was lucky I could win a race for him today – it was double happy," Chiong said.
That win for Cruz came after a trademark fighting effort on Multimax, with the apprentice picking her mount up off the canvas for a stirring victory.
Hot favourite D B Pin had surged to the front for Zac Purton before some vigorous riding from the 23-year-old lifted the four-year-old over the line.
"He was probably more than a length in front of me, but I fought back," she said. "I just tried to keep the momentum, just tried to keep going to see if my horse had that little bit of power to fight back. I felt like the other horse had me, it was going strong, but luckily I didn't give up. Zac's horse got a little bit tired at the end."
If you can win over the grizzled bunch that populate the seating around the Sha Tin parade ring, you can probably do anything, and Chiong had the normally cantankerous crowd in the palm of her hand after that effort – cheering as she passed each time, and offering Purton some vociferous jeers in equal measure.
Chiong nearly made it a treble later when Spicy Sure was edged out by All You Wish, after another front-running win on Regency Baby had earlier given her 37 for the season.
Cruz was thrilled at the chance to step on stage and present the award to Chiong, but he laid out a challenge for next season for the specialist front-runner: learn to win from behind.
The vast majority of Chiong's wins this season have been from in front or handy positions and the Hong Kong legend wants to see some new skills.
"Firstly I just want to say how great it is she has won this award, and she is great in front, she stays in rhythm with the horse and is very strong," Cruz said. "But I haven't seen her do much from behind."
It was a case of "challenge accepted" when the Post later put Cruz's comments to Chiong, who will spend part of the off-season honing her skills in Adelaide under the tutelage of trainer Philip Stokes.
"I'm going to work on it, and I guess you'll have to wait until next season to see how much I have improved," she said.