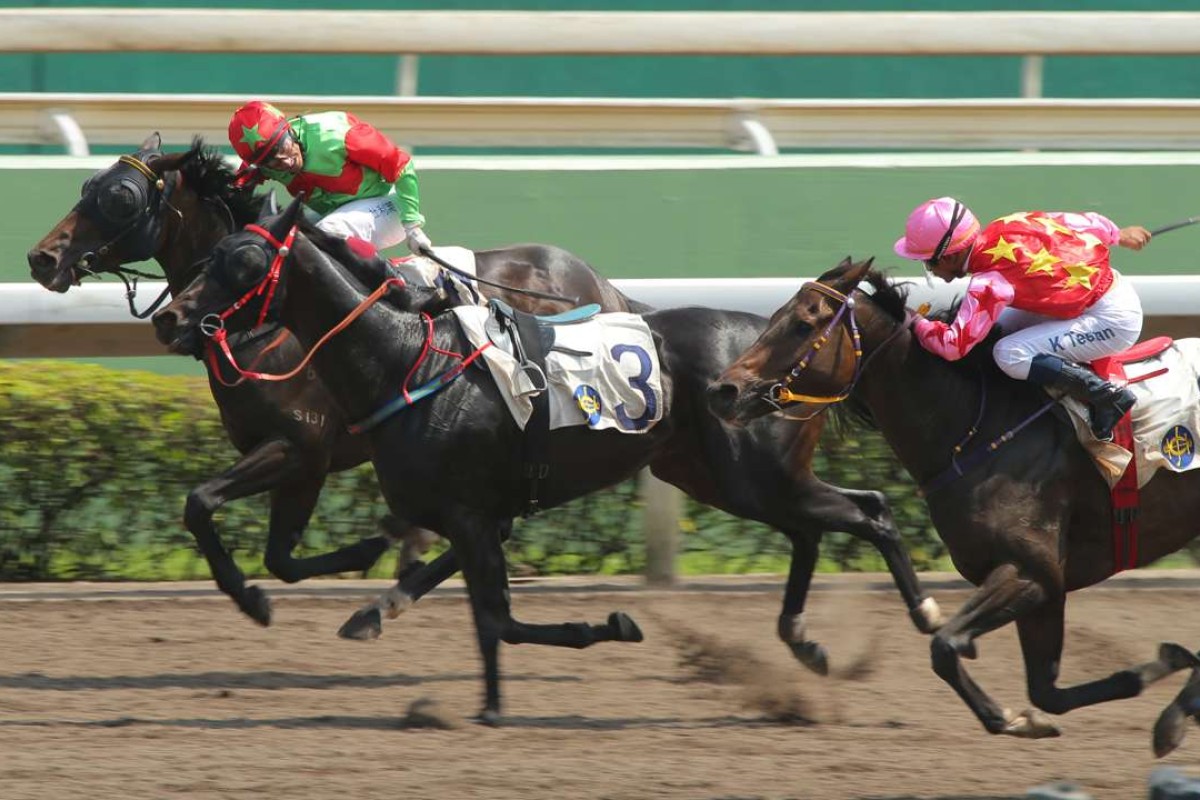 There was something weird going on with jockey Olivier Doleuze's irons on Sunday but, in between a slipped buckle and a banged foot, he did manage to put himself on the scoreboard for the season.
"I'm happy to get a winner - if you go four or five meetings without one, everyone has you retiring," he laughed after a fortuitous success in the third race on Good Fit, part of a winning double trainer Michael Chang Chun-wai completed with Dragon Master later, but in other circumstances Doleuze might not have even been riding.
A race earlier on Bossiee, a buckle holding his right stirrup iron in place simply came undone at the 300m and Doleuze found himself dangling off the gelding's neck.
"It has never happened to me before in my life - nothing broke or snapped but the buckle just sort of undid itself," Doleuze said. "It's a shame because I might have run a place I think. But, at the 300m, suddenly I'm thinking what the hell just happened, I have no iron, and I was lucky to stay on the horse at all."
In the fifth, Doleuze's misfortune was a more standard occurrence, with Glorious Sun slamming into the barriers as he started, knocking the French rider's left foot from the stirrup and Doleuze managed to get it all in order again after 150m, even if the race was long gone.
In the meantime, Good Fit had won and he had another rider's fall to thank for it.
Opie Bosson's mount, Diamond Friends stumbled at the start and tipped him off, then continued to run with the field for the remainder of the race, looping around from the rear to prove an annoyance for the leaders then causing mayhem in the straight.
Without a navigator, Diamond Friends was rudderless, rolling in on Cheerful Frame, whose jockey Kei Chiong Ka-kei took evasive action and in turn checked Dashing Fortune against the inside rail.
Diamond Friends then turned left and ran towards the centre of the track, disrupting Electronic Phoenix's determined finish out in the centre of the course when the five-year-old had emerged as the likely winner.
"The riderless horse helped me when he took out Electronic Phoenix - the margin was only small and I was lucky to win," said Doleuze. "But it's good for me, good for Michael. This horse goes well for me and I think he is settling down more with maturity but he might find it tough a bit higher in the ratings now."
While Bosson walked back to the jockeys' room, he stood down from his remaining rides in yet another storyline to what was a particularly busy race.
Stewards have adjourned an inquiry into Howard Cheng Yue-tin's riding of fourth-placed Master Gold in the run down the straight, after the gelding came from almost last on the home turn. Cheng already has another adjourned inquiry ahead of him from a dirt race seven days earlier.