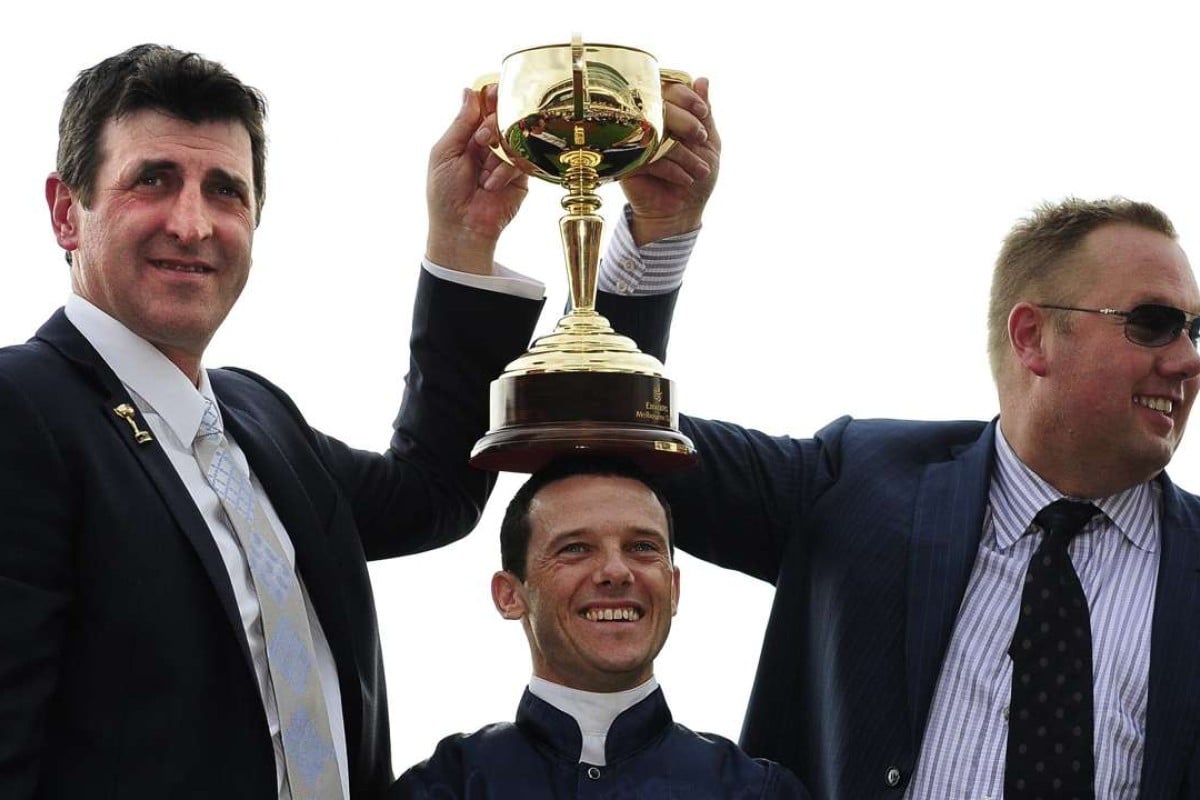 Only a head margin and perhaps an internal bleeding issue saved the Jockey Club from being caught in a ticklish situation after the Melbourne Cup on Tuesday.
We say perhaps because it's hard to know if the internal bleeding issue stopped Heartbreak City winning the Cup – if it really does hamper a horse, they tend not to be in the finish – but maybe the Jockey Club pulling his tail stopped him anyway.
On the weekend, Joao Moreira and Chad Schofield were informed that they would be expected to fulfil engagements at Sha Tin on Wednesday night, win, lose or draw at Flemington in the world's biggest handicap.
And, while that instruction seems perfectly reasonable on one hand, especially given the thin jockey numbers right now, it would have had a decidedly curmudgeonly look had its enforcement been required.
Historically, Hong Kong raced Melbourne Cup night back in the time when a simulcast had to take place on the same day as a local race meeting, so a Melbourne Cup ride meant missing Happy Valley. That changed in 2009 and, for the first time, Happy Valley raced on the Wednesday after Cup day but no Hong Kong-based jockey had a Cup ride and there was no issue.
Twelve months on, readers will recall Gerald Mosse won the Cup on Americain in 2010 and was released from his Wednesday night commitments in Hong Kong to remain in Melbourne, celebrate and be lionised by the world's racing media for the next 24 hours. And the Mosse template was followed again in 2012 when Brett Prebble won on Green Moon.
Since then, no Hong Kong-based jockey rode in the 2013 Cup, then, for the past two years, we didn't race midweek after the Cup.
It's Heartbreak City for Joao Moreira in Melbourne Cup but show of sportsmanship wins out
The extra five race meetings this term meant most midweek gaps have been filled, so Wednesday was back on and victory for a Hong Kong-based jockey was going to be a problem – Heartbreak City's heartbreaking defeat saved the day.
Which is a little unfortunate, if that's where we've come to and we'd like to believe that, had Moreira won, Jockey Club chief executive Winfried Engelbrecht-Bresges – at Flemington and amidst the excitement – would have relented.
Having a Hong Kong-based jockey as the only subject of attention for a day in Australian media of all kinds, and for a significant period in racing media everywhere else the Melbourne Cup is seen – and the viewing reach is in hundreds of millions – does do something to back the club's claims of pre-eminence in the racing universe.
There are really not many events like the Melbourne Cup for grabbing popular interest – perhaps the Cheltenham Festival is the only other one in the same ball park and it's a jumps meeting so our jockeys won't be there.
If it's about self-interest, in an era of globalisation and attempting to popularise Hong Kong racing in widespread foreign jurisdictions for the sake of commingling, surely there is some worth to the club in wringing as much as possible out of a Melbourne Cup win by a Mosse or a Prebble, or a Moreira.
And that means letting them do the media rounds and not rush back to ride Snowhooves – as much as we appreciate that the connections of Snowhooves want to win races too.
Anyway, it didn't happen, but it will again. Surely by 2017, we can bite the bullet on this situation, declare stand-by riders for anyone with a mount at Flemington – only one of them can win – and be prepared to live with the reflected glory that Hong Kong gets from the victory.
Kudos to Kim Kelly for breaking protocol during 'Rakegate'
Rather than get involved in the details of 'Rakegate' in itself, we'd rather talk about more enduring matters connected to the no race at Happy Valley last week after the barrier stall malfunction.
Yes, we can talk about whether rakes should or shouldn't be stored in barrier stalls but they obviously had been for a long time without incident, but will be no longer.
What was clear as soon as the gates opened, or some of them, was that this would be a void race.
Now Kim Kelly and his stewards get plenty of stick from the media – and this column has its turns at that too – but credit where it's due, Kelly met this scenario with decisive action.
And we're not just talking about the declaration of a no-race – anything else would have been astonishing – but Kelly shone in two crises in the space of a week.
When there was fence sitting at the Jockey Club the previous Wednesday, after the heavy rains, Kelly and racing director John Ridley were the ones who stuck out their necks and said racing would go ahead.
HK$126 million worth of bets refunded as a stray rake wreaks havoc on Happy Valley gates
And last Wednesday night, Kelly broke new ground by allowing the media into the stewards' room, during the meeting, to explain what had happened with the rake.
Because it was a night meeting, waiting until after the last race to show the vision, as is the norm, would have meant many media were past deadlines and unable to explain to their readers – the club's punters – what the heck happened.
It was such an unusual event that getting an explanation out to the public, as widely and quickly as possible, was vital to lessen the number tickets thrown away and to soften the bad public relations exercise of returning bets on a favourite everybody just saw bolt in.
So kudos to Kim Kelly for recognising that customer imperative and taking unprecedented but necessary action.
No half measures when it comes to grading
The Happy Valley double header gave us a few things to ponder.
One was programming one of the handful of Valley Class One races on the C+3 course – who came up with that as a good idea last Wednesday instead of the A track on Sunday? Owners and trainers seem less than keen about taking their good horses to Happy Valley anyway so it's hardly an incentive – thanks for coming and here's gate 12 on the C+3.
And there's another of our pet peeves, the 90-70 race on Sunday. Class Two horses are usually looking for opportunities to race, not fight for a place in them with the Class Three population, which has truckloads of races available. And by tweaking the ratings bracket to make the race neither one thing nor the other, the race planners ended up with a rating spread that was not 90-70 but 88 to 78.
The handicapper isn't responsible for which horses turn up but programming quirky ratings bands outside the norm has tended to encourage compressed fields. The same thing used to happen with 65-40 races before they were finally abandoned as a bad idea – most of the runners wound up being horses between 65 and 60.