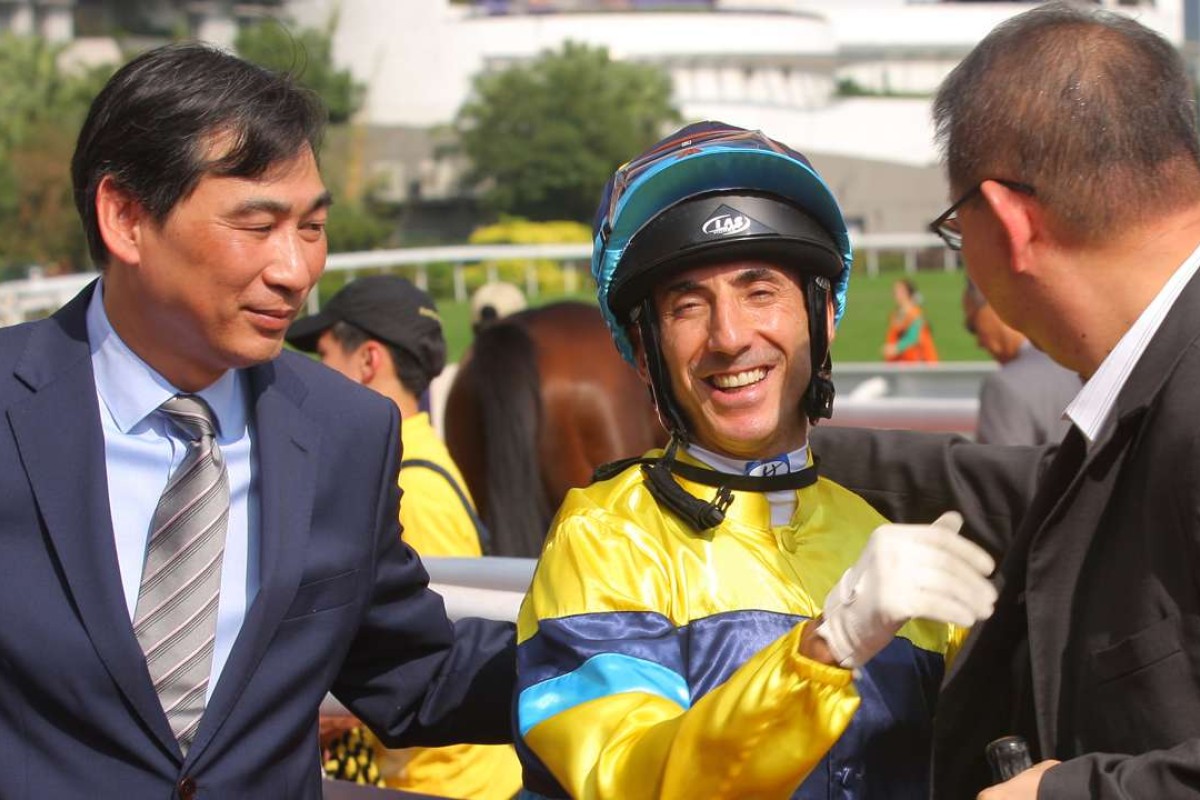 Michael Chang Chun-wai teamed with Olivier Doleuze to deliver a dirt track win but the trainer was lamenting "the Moreira effect" that has left the lesser lights of the riding ranks, including his good friend, struggling.
Equity Doctrine's narrow Class Five victory was a much-needed one for both trainer and jockey; it was Chang's fourth and a third for Doleuze as the season approaches the quarter way mark.
What concerns Chang about Doleuze is the dominance of champion jockey Joao Moreira, whose choice of mounts is putting the squeeze on riders at the bottom of the table.
"I'm happy to give Olly a winner," Chang said of a jockey who rode the trainer's champion dirt tracker Rich Tapestry to a historic Grade One victory two years ago. "He is still a great jockey but it's getting so hard now with Moreira, and Olivier just isn't getting a chance with many trainers. Joao can ride everything, from 113 to 133 pounds, and he rides for all 22 trainers, if another jockey is unlucky on a horse and just gets beaten, they put Joao on straight away and he gets the win."
Doleuze returned from a long layoff with a shoulder injury late last term and this season Chang has formed the backbone of his support, supplying the jockey with 37 of his 93 rides this term.
In fact, more than two-thirds of Doleuze's rides have come from just two trainers; Chang and fellow long-term supporter Caspar Fownes.
Of course, the super competitive Doleuze isn't just accepting his lot, but the 44-year-old says he is finding satisfaction in working closely with Chang at track work rather than driving himself crazy chasing rides.
"I wish Michael had a full stable of horses and I would to just be his stable jockey," Doleuze said. "He is loyal and has stuck with me. I love working with him on horses, to educate it and progress a horse to where it can win a race. Today was only a Class Five, but it makes me so happy to do achieve a win with somebody I travelled around the world with and have done so much with. It's also nice to ride for somebody knowing that you are not going to just be replaced next start if you are narrowly beaten."
Nash Rawiller had ridden Equity Doctrine when the four-year-old was an unlucky second last start but it was the application of blinkers for that run that could have the gelding winning again now he is back in Class Four.
"The headgear makes all the difference for him, he just travels so much better now," Doleuze said.