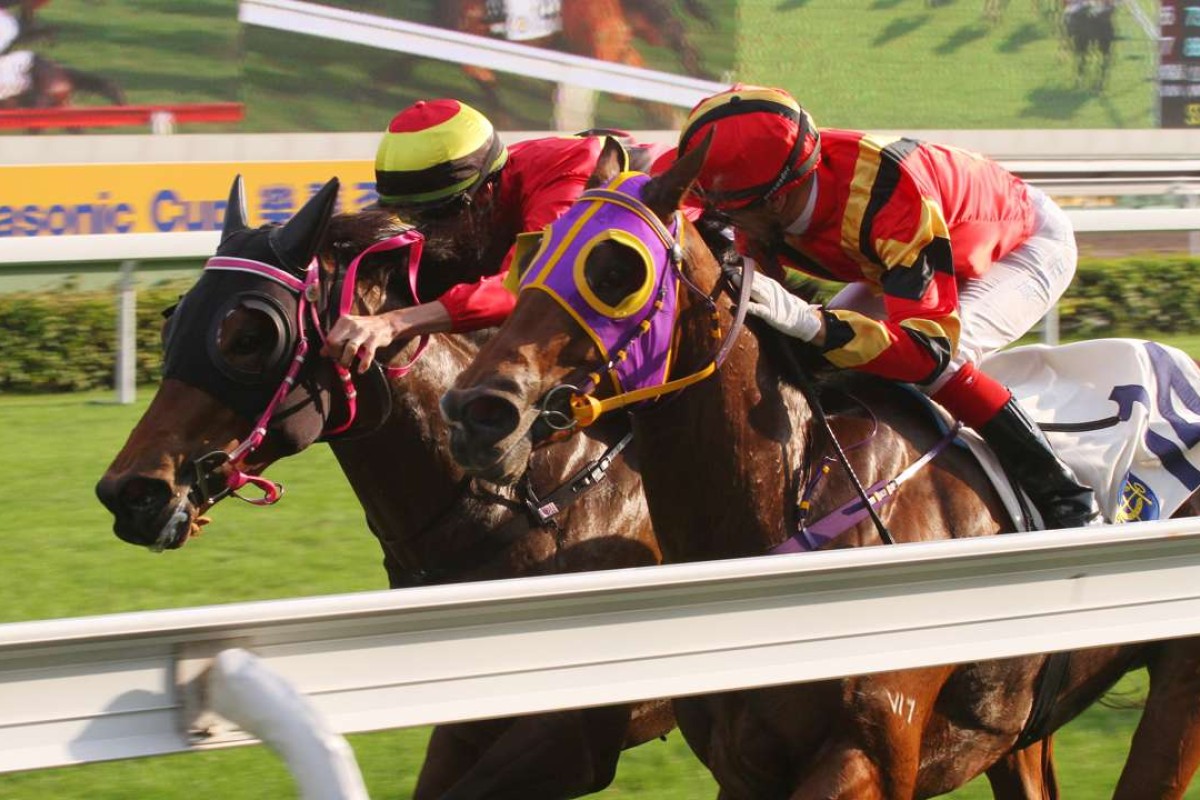 The locals call it "fried rice style" but Nash Rawiller prefers the term "kitchen sink technique" – whatever the case, it trumped Joao Moreira's famous finesse in a classic close finish.
But really, is it just plain old luck that decides the result in head bobbers?
Rawiller, not exactly known as a stylist in the saddle, "I just throw everything at them" he says unashamedly, and Moreira — one of the most aerodynamic and compact riders in world racing — were one-all in two races decided by a nose on Sunday at Sha Tin.
The contrast in style is stark, the high whip-wielding and heel-digging Rawiller, his head bobbing up and down, against the flat-backed Moreira, the Brazilian preferring the less brutal backhand use of the persuader as he goes for balance over brawn.
Moreira had earlier edged out Rawiller when Electronic Phoenix beat Master Gold by a matter of centimetres but the Australian had the last laugh when Water Diviner beat Fortune Bo Bo right by the same margin in a straight race.
But what works best? Style points don't count in this game, at least not as much as tenacity and timing — Rawiller's 56 Group One wins are testament to that — and Moreira paid Rawiller the ultimate compliment when he said "there is no other jockey in the world" that would have beaten him in the Class Four straight race.
"It's all about Nash's timing," Moreira said. "Watch the replay, if he goes for his horse even a stride earlier, or later, he doesn't win. And of course he never gives up."
Rawiller has been dubbed "Chow Fan" by local press – meant as an insult at first, they say he looks like he is tossing a wok full of fried rice. Now, as his success as grown, the name has stuck and ingrained into the folklore of Hong Kong racing as he gets results.
This, more than perhaps any other, is a jurisdiction where margins matter, in more ways than one.
Close finishes are considered an important metric for the Jockey Club when it comes to quantifying the competitiveness of racing and the effectiveness of handicapping — and there are plenty of close goes.
In the 12,826 races since the 1997 handover, 34.7 per cent of them have been decided by half a length or less, which gives riders ample opportunity to refine whatever style they choose to extract that last little bit of effort.
On Sunday, six of then 10 races fell into the 'half a length or less' category, with four decided by the ridiculously short margin of a head or less.
Olivier Doleuze won one of those on Equity Doctrine, although the flexible Frenchman only produced a mini-version of what has become something of a trademark; a long, almost acrobatic, last-gasp stretch where he extends his riding hand and attempts to push a horse's head down on the line.
"It's just something that happens spontaneously, I try and time it so the horse's head is down as far as it will go and I've been lucky enough to win a few big races doing it," Doleuze said.
Silvestre de Sousa — who can doesn't so much whip a horse than bludgeon when he winds up and whacks one (Exhibit A being Home Run on Sunday) is actually of the philosophy that going for the stick is a last resort.
"I wait for as long as I possibly can, once they stop responding that's when I go for it," de Sousa said.
While Rawiller and Moreira may look different in a finish, they both agree on one thing, it's up to the horse and how they respond.
"It's horse-by-horse, case-by-case and all by feel," said Moreira.
Rawiller says sometimes the whip isn't the best way to ask for more.
"Sometimes they can start resenting it," he said. "Anyway, you can do everything and the horse can end up with its head up in the air on the line."
Regardless of what happened in the final stages when Water Diviner beat Fortune Bo Bo, Moreira believes that isn't where the race was decided anyway.
"Rewind to around 250m to go, my horse was hanging, I hit him with the whip to keep him going straight but he got his head up and changed stride. That cost me the race," he said. "It's the little things that win a race, but it's not always in the finish."