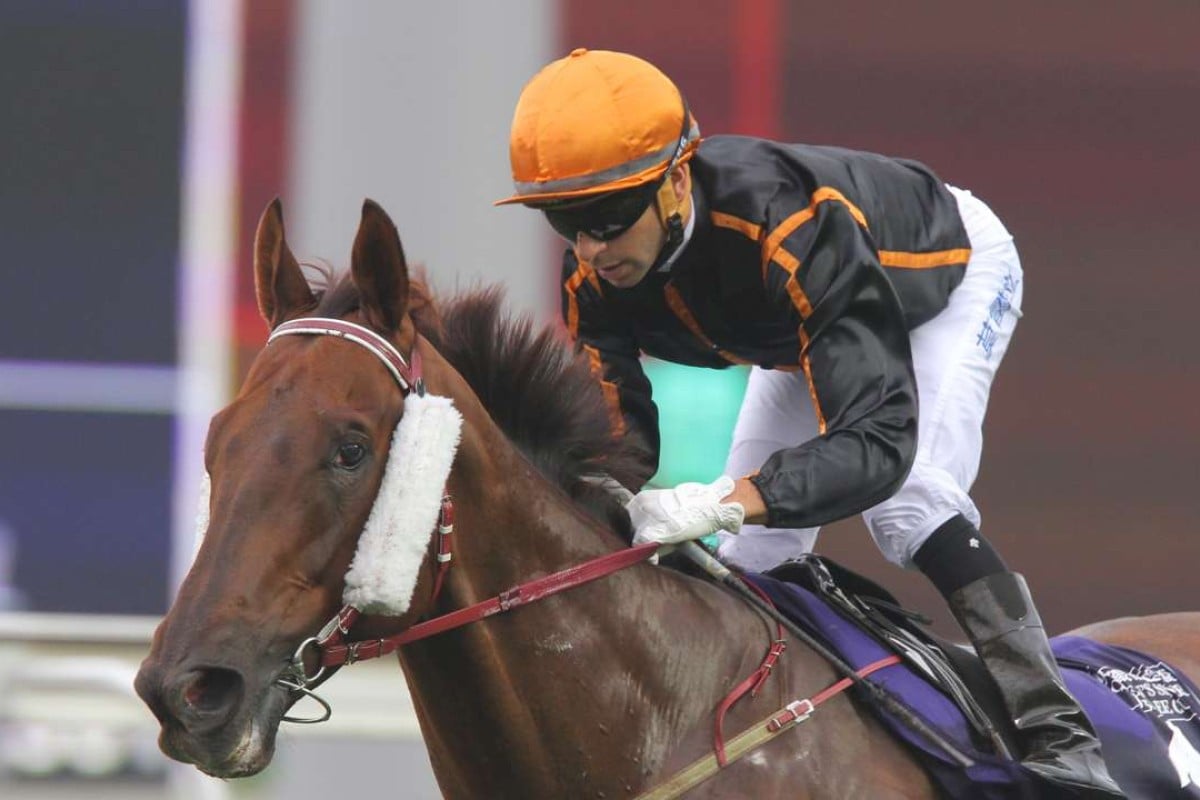 Leading jockey Joao Moreira will ride Hong Kong-trained horses in three of the four international day features but warned local fans not to glean too much hope from his decision-making as the possibility of a Japanese-led clean-sweep looms on December 13.
When the fields for the Longines Hong Kong International races were released on Wednesday, the presence of 13 Japanese horses, a record, stood out in a year where the local prospects seem quite low.
Moreira, whose reputation in Japan is at an all-time high courtesy of two prolific off-season visits to Sapporo, could have ridden highly rated Japanese raiders in all four of the features but said he has more to consider than one-off Group One glory.
"You have to remember that the Japanese horses come here once, then they go home," he said, with the record-breaking rider sticking with the John Moore-trained pair of Able Friend and Designs On Rome in the Mile and Cup respectively, and John Size's Amazing Kids in the Sprint.
Look out Hong Kong – the Japanese raiders are coming in record numbers for International Races
"I believe that my rides have great chances and I have faith in them, but a big factor in my decision making is that I have connections to take care of here and the rest of the season to consider.
"I couldn't just look at it from the perspective of just one race."
Still, the Brazilian will ride the Noriyuki Hori-trained stayer Satono Crown in the Hong Kong Vase and Moreira would have been on at least two raiders if he had first option on Hori's superstar Maurice, with Ryan Moore booked to ride the likely Hong Kong Cup favourite.
With Maurice and A Shin Hikari, Japanese hold the aces in Hong Kong Cup
"I didn't have the choice, but if I could pick any horse to ride out of the four races it would be Maurice, he is the best winning chance on the day," Moreira said, with the jockey having ridden Japan's 2015 horse of the year to victory in the Champions Mile earlier this year and a Group Two second at Sapporo in August. "But as I said, it's not just about that one day."
Returning superstar Able Friend the key stopping a strong Japanese duo in Hong Kong Mile
"Put it this way, if Maurice had been in the Mile, and I had a choice between him and Able Friend then I would take Able Friend. That's because Able Friend is a ride I want to keep and a horse that is going to keep racing throughout the season."
Moreira did offer another slither of hope for Hong Kong's under siege horses – home field advantage that comes from the difficulties of travelling horses abroad.
Peniaphobia, Aerovelocity and Lucky Bubbles lead fight against foreign invasion in Hong Kong Sprint
"Anytime you get a group of horses travelling, 30 or 40 per cent of them won't run at their best, that's just what happens, even when our best horses from here head overseas, some just don't handle it on the day," he said.
When asked to rate his international day rides in terms of his best winning chance, Moreira nominated 2014 Hong Kong Mile winner Able Friend.
Classy Highland Reel the standout as he tries to defend his Hong Kong Vase title
"His return over 1,200m was excellent and you would have to think that, at his best, he will win – I'm happy to be sticking with my big elephant," Moreira said. "Satono Crown is my next best, then Amazing Kids and Designs On Rome. They all have winning chances."