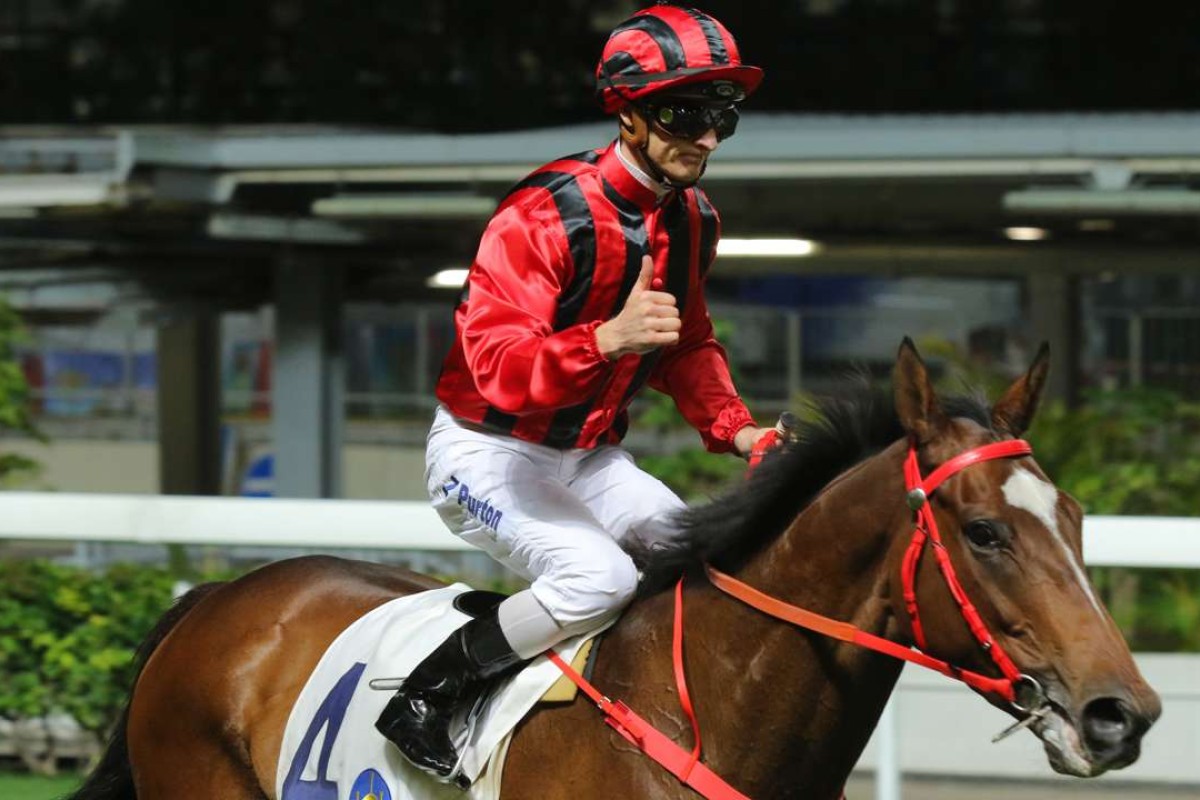 The only "D word" that was bandied around by trainer John Size after the Australian Turf Club Trophy at Happy Valley last night was the winner's name but Dinozzo certainly kept his promise as a Derby dark horse by winning.
The Irish-bred three-year-old was by no means impressive in scoring by a neck over Victory Boys, but he did what was necessary to win and drew conservative praise from both Size and jockey Zac Purton.
"I'd agree that the way he moved into the race, it looked like he might win more comfortably," said Size. "But then 50 metres from the post, it also looked to me like he might be beaten but he wasn't, so that's a positive for him."
Coming off a rating of 73 last night, Dinozzo certainly has plenty to do before he becomes a legitimate classic candidate but the horse he beat, Victory Boys, has been in a tremendous form, got nine pounds in weight off the winner and is a year older as well.
"I'm pretty happy with how Dinozzo is going," said Size. "He only had one start overseas so he does lack experience but he can stay and he does have some upward scope to him."
Purton's praise was just as understated but he gave the impression that Dinozzo has the tools to be going to a better standard than Class Three as he grows and matures.
"He has a quick turn of foot but, at the moment, it's short-lived," the jockey said. "He's not quite running through the line and he waited when he got clear tonight, then found again when the second horse came at him. There's so much about him that is going to get better, he gets fizzy behind the gates and maturity should see him better at that too."
Away from the potential of Dinozzo going forward, the night belonged to the "new boys", with Oisin Murphy adding Yo-Yo Da for Chris So Wai-yin to his breakthrough win on Sunday and Damian Lane posting a double on Pearl Furu and the Ricky Yiu Poon-fai-trained Wonderful Journey.
"Damian gave Pearl Furu a great ride," trainer Paul O'Sullivan said. "And really, these guys coming in for a very short stay, like Damian, can be on a hiding to nothing so they earn everything they get. People know they'll be gone in a couple of weeks so it's tough for them to get on good chances."
O'Sullivan, who has been the trainer of choice in recent seasons for Pearl Furu's owner, Kam Shing-kan, pointed out that the victory continued a proud record for the owner.
"Mr Kam has never had a horse in Hong Kong who didn't win at least one race," he said. "So no-one can take that from Pearl Furu. The 1,800m suited him tonight and I'm going to give him a try at 2,200m next time because he just keeps grinding away."
Purton's win on Dinozzo sealed a double for him after leading throughout – as a number of winners did – on Sea Jade for John Moore.
"We took a bit of a gamble bringing him here without having so much as trialled at Happy Valley," Moore said. "But the style of horse he is and everything about him suggested he would be suited around here and that's how it proved. There was no speed in the race, he was given a very easy time in the lead and was able to sprint away and they made him look good."