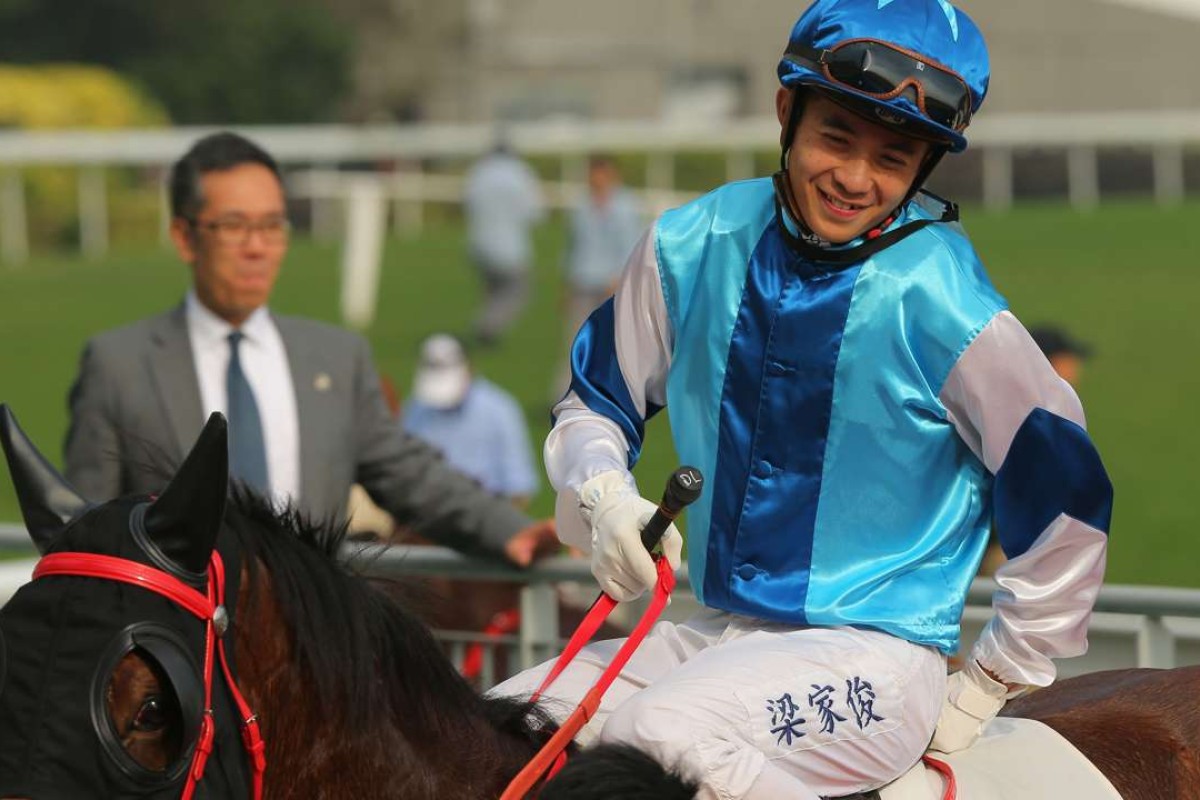 Despite vowing to be unaffected by a horror fall that smashed his helmet and left him in hospital with concussion, in the dark corners of Derek Leung Ka-chun's mind there must have been some doubt, a touch of trepidation, around his return.
Yet even if there was, it didn't show in his performance as the jockey made an inspiring return after six weeks on the sidelines with a dirt win on Master Gold.
Leung had promised last week "there would be no difference" in his riding upon his return, but he was even more positive when it came time for a self-review of his first day back.
"I was even better than before," an upbeat Leung said, smiling. "I understand why the doctor had me sit out for so long, concussion is serious, but I was able to do a lot of exercise in my time off and felt very fit as soon as I got back on. I was 100 per cent and couldn't wait to get back into it."
Still, Leung admitted that it was the "mental game" that was far more important than physical preparation when it came to "being ready".
That mental preparation wasn't so much put to the test in Master Gold's win, but it certainly was when a tiring Victory Duke put in some strange strides crossing the line, dipping his head and losing his action badly.
On October 23, Caga Force had suffered cardiac arrest and slammed into the inside running rail on the all-weather track, before rolling and landing on Leung's prone head.
Jockey Derek Leung concedes he's 'lucky to be alive' as he reflects on horror Sha Tin fall
While Leung said Victory Duke's situation hadn't worried him, the 28-year-old did admit one of the psychological challenges was maintaining poise when the horse felt shaky beneath him.
"That's something I had to be ready for, to keep my confidence and keep riding, stay focused if a horse felt unbalanced," he said.
Leung had actually won on Master Gold in early October and since then the horse had been beaten a neck and a short head with big weights in Class Four for Nash Rawiller.
Now that the four-year-old has broken through the 60-point ceiling and will have a light weight up in grade, Leung believes the Hong Kong International Sales graduate can win again.
"Dirt racing is all about momentum, and he had to do it the hard way today, he was three and four wide working hard," Leung said.
Trainer Peter Ho Leung will no doubt be aiming Master Gold at another 1,650m race in three weeks after the tough gelding ground out a second career win at start eight.
"He ran well at 1,800m as well so we have some options there for him, he can win again," Leung said. "He has a great fighting spirit and a great heart, when the horse came up beside him to challenge I didn't have to ask him for effort, he knew to fight."
On Wednesday, Leung will add another chapter to his comeback story when he represents Hong Kong as the leading local in the International Jockeys' Championship at Happy Valley.
"That's a real honour and I can't wait," he said. "It's my second time riding in the IJC, I came fifth last time, let's hope for some good rides and good draws."