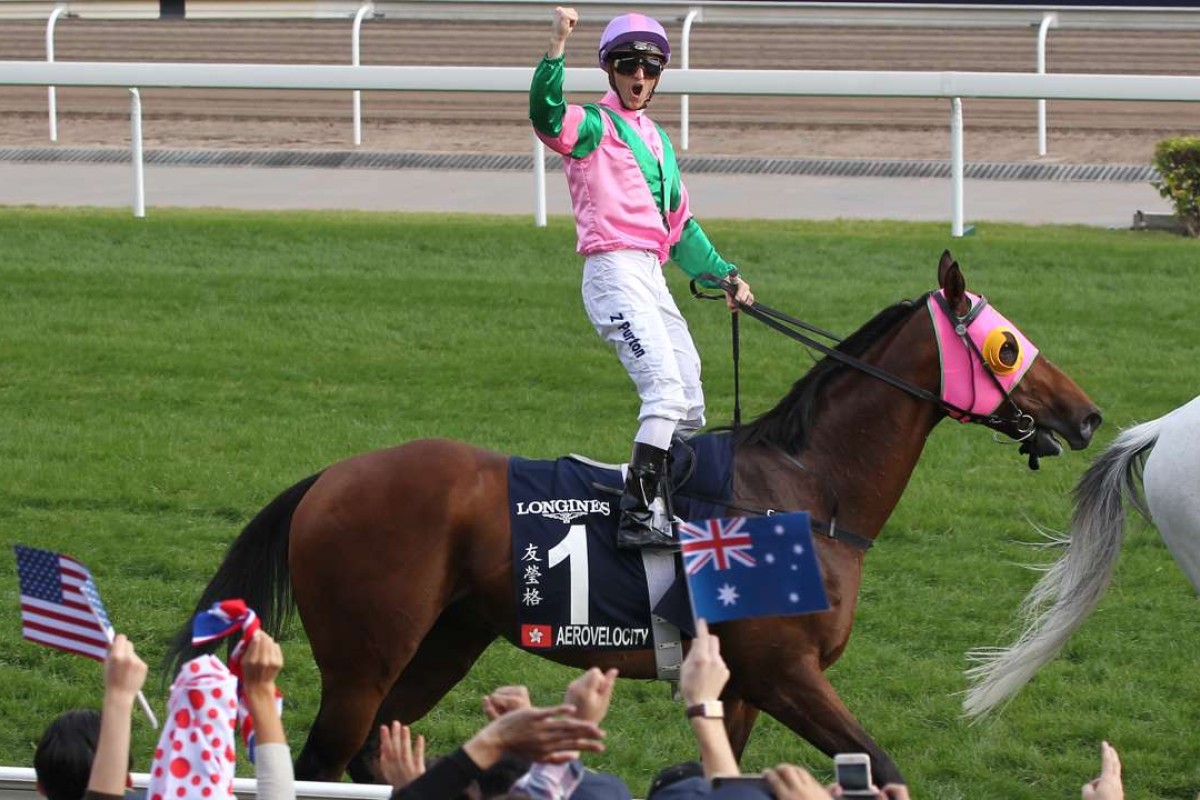 There was a time not too long ago where connections feared Aerovelocity's career was over but the dogged veteran could now return for a shot at a second Group One in Japan.
Paul O'Sullivan revealed after Aerovelocity's courageous Group One Hong Kong Sprint win that the eight-year-old could head back to Chukyo Racecourse for the Takamatsunomiya Kinen in March, a race the horse won in 2015.
"We might go to Japan, what else do you do with him? The schedule here isn't very taxing, and he deserves a chance," O'Sullivan said, adding he wasn't fazed by the fact Aerovelocity suffered a colic attack when preparing for last year's Takamatsunomiya Kinen.
Watch: Zac Purton and Aerovelocity win their second Longines Hong Kong Sprint
The trainer said he would follow a similar pattern that proved successful after the horse's 2014 Hong Kong Sprint triumph.
"We will run in the Centenary Sprint Cup here at the end of next month, maybe go to Japan in late March and then back here for the Chairman's Sprint Prize in May," he said.
"That's three more runs and the same type of preparation that has worked for him in the past."
Watch: The love for a champion: owner, jockey, trainer talk top sprinter Aerovelocity
O'Sullivan baulked at the idea of returning to chase what would be a record-breaking third Hong Kong Sprint win, so much so that he said he already has a part-time job lined up for Aerovelocity in retirement.
Even though Aerovelocity's seemingly psychotic pre-race tendencies don't exactly lend themselves to a future role as a pleasure horse, O'Sullivan said the gelding had the right mindset to be a "nanny gelding", taking care of thoroughbred yearlings in a paddock.
"I think this will almost certainly be the horse's final season, three runs and we can pack him off to New Zealand," O'Sullivan said.
"I don't think there are too many people that will want to ride him, but I reckon Waikato Stud might take him.
"He can take care of the yearlings, if there is a thunderstorm a tough old gelding like that will just stand there and stay calm, it stops the younger horses running around when they might hurt themselves otherwise."
O'Sullivan said the final call on when Aerovelocity is retired will rest with devoted owner Daniel Yeung Ngai.
"It will depend on these next few runs, Daniel has been a wonderful owner, particularly for a first time owner, he has a lot of respect for the horse and when the time comes to retire he will show that respect for sure," O'Sullivan said.