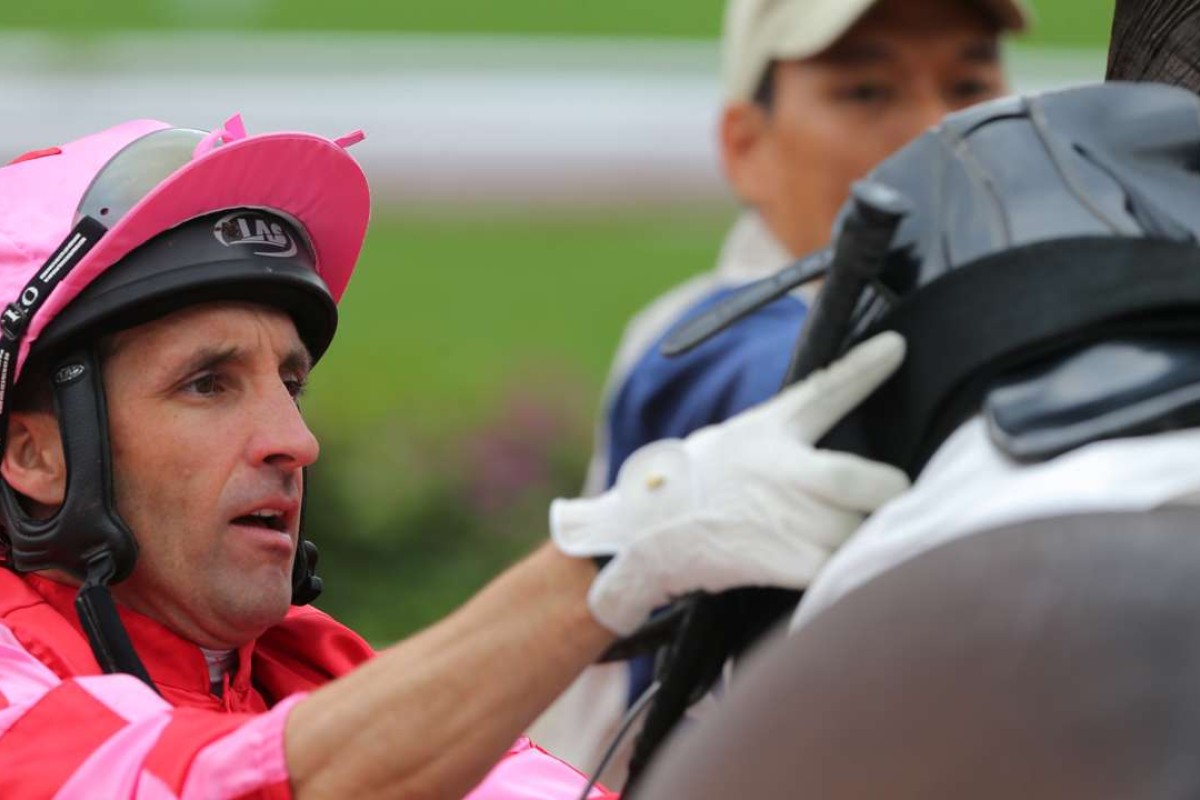 "Making the weight" is a game within the game for jockeys, and as the winter weather sets in, shedding that one extra pound becomes increasingly difficult – something even the famously "light" Joao Moreira is experiencing right now.
If you haven't visited before, summer in Hong Kong is hot and humid – how humid? "Sweat through your shirt the moment you step outside-type" humid, it's really unpleasant, but the oppressive conditions do help jockeys strip weight off.
Between late May and early October, even riding trackwork or simple exercise routines can be enough for many riders to meet their desired targets.
When the season starts in September the maximum mean temperature tops 30 degrees, with high humidity, but by the time December rolls around that number drops to 20 degrees, with a noticeable lack of sting in the air.
There are some jockeys whose diminutive stature means they don't ever have to "waste", the term used for essentially starving and sweating away excess weight before a race.
For most though, it is the battle between race meetings that most never see or even think about, a physical and mental challenge that can become even harder as riders get older, or younger jockeys grow.
Lose too much weight, too fast, and a jockeys performance can be affected badly – riders refer to it as being "zapped" – a feeling of extreme fatigue that can make concentrating near impossible and cause heart rates to soar.
After John Moore won Saturday's Lukfook Jewellery Cup with Bad Boy, he was already flagging that jockey Sam Clipperton "should be getting ready to spend some time in the sauna" in preparation for the horse's next start.
Depending on Bad Boy's rehandicap and other entries for the Group Three Bauhinia Sprint Trophy, Clipperton could be forced to get down to the lowest weight he has ridden this season, 117 pounds, or even lower.
"When is the race?" Clipperton asked later, and when told it was January 8, "Well, at least I will be able to eat something on Christmas Day."
Yes, Christmas Day – the most fattening day of the year, joyously so for those who enjoy a good feed. So when you are settling down for Christmas dinner and heaping that extra helping of dessert onto your plate, spare a thought for the riders due to compete two days later at Sha Tin.
In 2013 three jockeys, Andreas Suborics, Colm O'Donoghue and Nicola Pinna all withdrew from riding engagements for a meeting held on December 28.
The trio had simply enjoyed themselves on Christmas day, maybe a little too much, and when they tried to remove the weight – it wouldn't budge.
Suborics suffered the worse ramifications, he tried to waste so much he ended up in hospital, complaining of severe chest pains and believing at one stage that he was having a heart attack.
Yet even without the added challenges of roast turkey with gravy, the lack of moisture in the air is enough to make weight loss more difficult.
Neil Callan now accepts the effects of the climatic change and bumps his weight up during the first part of winter, even with his rigourous weekly schedule of intense boxing training and running.
"My weight normally goes up by a pound or a pound-and-a-half as soon as the temperature drops," he said. "I still follow the same routine, I workout quite a bit, I swim, sweat, but I don't know what it is, it's like your body goes into hibernation just like that, and it's so much harder to get it off.
"It happens fast, it gets colder, you get on the scales and you are a pound heavier. And when your weight does change like that, it can take a few weeks for it to come around and get back down."
Facing that hurdle right now is Moreira – whose "natural lightweight" status is often pointed to as a big reason for his success.
The ability to ride the lowest-weighted horses, those allocated 113 pounds, does give him an advantage over more normal sized humans like his nearest rival Zac Purton, who has to fight hard to get below 120 pounds.
On Saturday, Moreira rode 116 pounds, joking that "I ate too much" and that the cold weather had caused the weight to stick. "But I will be back to 115 pounds soon," he added.
We can just imagine it now; the Brazilian's rivals inviting their chief tormentor and two-time champion around for Christmas lunch – "have another plate Joao, enjoy".