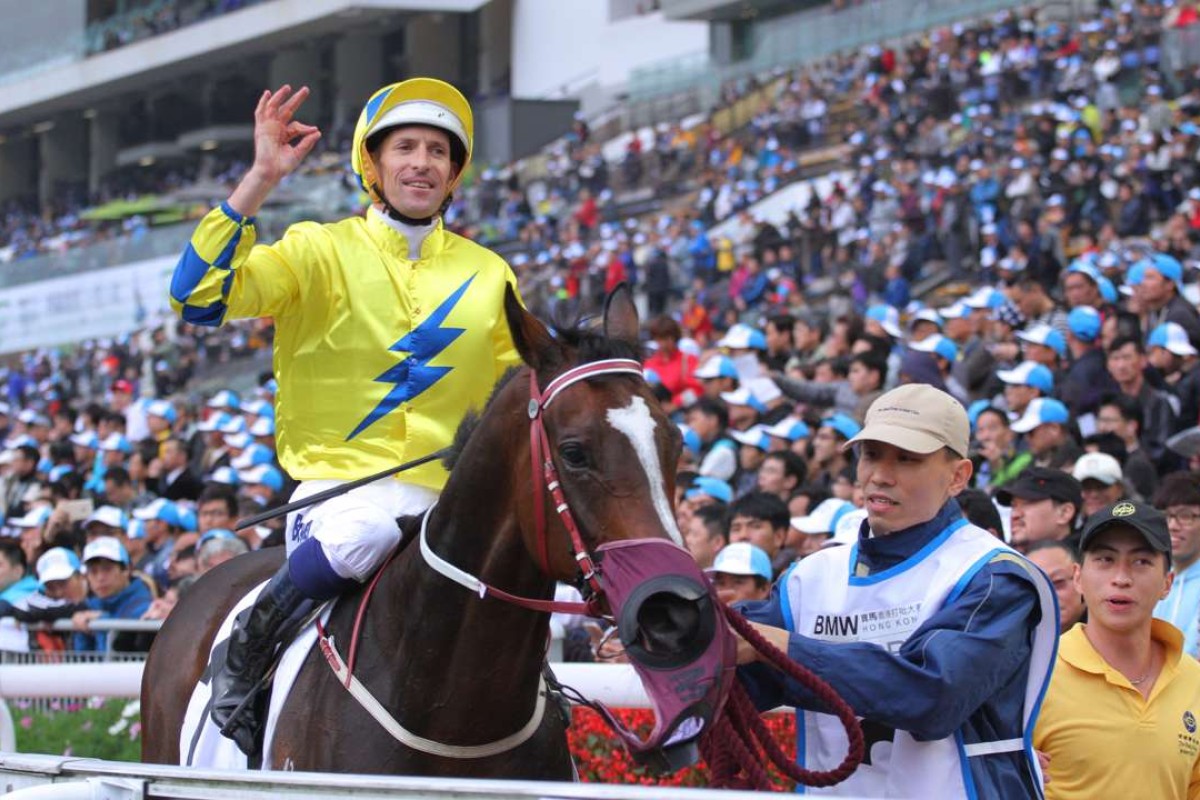 Hong Kong's greatest race is its Derby – just ask any owner, trainer or jockey that has been here for any significant amount of time – yet it is no longer known as a Group One.
Should it be? There is a lot to consider and it would require opening the door to international participation, which might not be such a bad thing.
When Hong Kong racing moved into Part I of the "Blue Book", a condition of the elevation meant all bar a very few races became open to international horses.
The four-year-old races stayed as a protected species and as such lost their status as so-called "Hong Kong Group Ones".
That was because another condition of entry into the exclusive Blue Book Part I classification is abandoning any domestic grading system for black type races.
Yet opening up the Derby – and all of the four-year-old races for that matter – to outsiders should at least be considered.
As pointed out by SCMP Racing Editor Alan Aitkenthis week, Sunday's Hong Kong Classic Mile has a worrying lack of diversity.
John Moore and Tony Cruz dominate as trainer diversity drains from Classic Mile
The field of the first race of the four-year-old series contains seven runners for John Moore – that's half the field – four more for Tony Cruz and another one for champion John Size. In case you lost count, that's 12 of the 14 runners split between three trainers. Or 11 between two.
So what if we threw open the door to the quarantine stables to visitors? Maybe a sprinkling of internationals would add something to the world's richest Derby, and then it could also carry that all-important, "stallion making", Group One tag.
Then, while we are at it, let's add some spice to the Derby lead-up events with the addition of a "win and you're in" qualifier at Happy Valley.
Radical ideas, sure, especially as the BMW Hong Kong Derby is considered by many to be the one sacrosanct event on the racing calendar and carries a mystique all of its own.
It is a unique race, being a Derby for four-year-olds is an Asian oddity for a start, and for some it just wouldn't be right if an "outsider" took the trophy. The lure of the race is illustrated by the fact billionaire owners commonly spend more on an import than the first prizemoney of around HK$10 million.
Thus the protection of the four-year-old series races is probably justified by how much owners are forced to pay for quality imports.
But let's not forget there was initial resistance from traditionalists to international invitational races in the 1990s. So would having an occasional visitor from outside really ruin the Derby's mystique?
Jockey Zac Purton has no doubts about John Moore's Beauty Generation ahead of Classic Mile
Maybe, but since all of the other black type races were opened to visitors nearly two years ago there hasn't exactly been a stampede of "raiders" either. In fact there has been one visitor to races outside the "big six" Group Ones that provide travel subsidies – that being Macau's The Alfonso.
So maybe nobody would come – but the bonus would be that the four-year-old races would have the chance to be Group Ones.
Then there is the other proposed shake-up – let's call it the Happy Valley Classic. Two-and-a-half-weeks before the Derby, and 10 days after the Hong Kong Classic Cup, held over 1,800m.
The race for four-year-olds would serve a number of purposes, not least of all a great spectacle and a marquee event for one of the greatest racetracks in the world.
Silvestre de Sousa picks up the ride on Pakistan Star for Classic Mile
Not only would the race act as a final stepping stone for horses a run behind in their preparation or needing a ratings boost, but it could be a test run for that great Derby tradition; the sprinter being stretched to a trip far beyond his capabilities.
Cape of Good Hope, Joy And Fun, Little Bridge ... the list of embarrassing Derby entries goes on, but a chance to test a sprinter with a run around the less demanding Valley could be enough to weed out a speedy type or two that doesn't belong in the big one.
Trainers, under pressure from owners for that "once in a lifetime" chance at Derby glory could say "see, I told you your horse couldn't stay", or better still, find out they can run the trip and press on.
Fair play to Moore and his extraordinary effort to have seven runners in the Classic Mile, and his owners deserve to be rewarded for their spending.
But, in the end, doesn't the winner of what is still Hong Kong's greatest race also deserve to be known as a "Group One horse"? Opening up the race might be a risk worth taking.