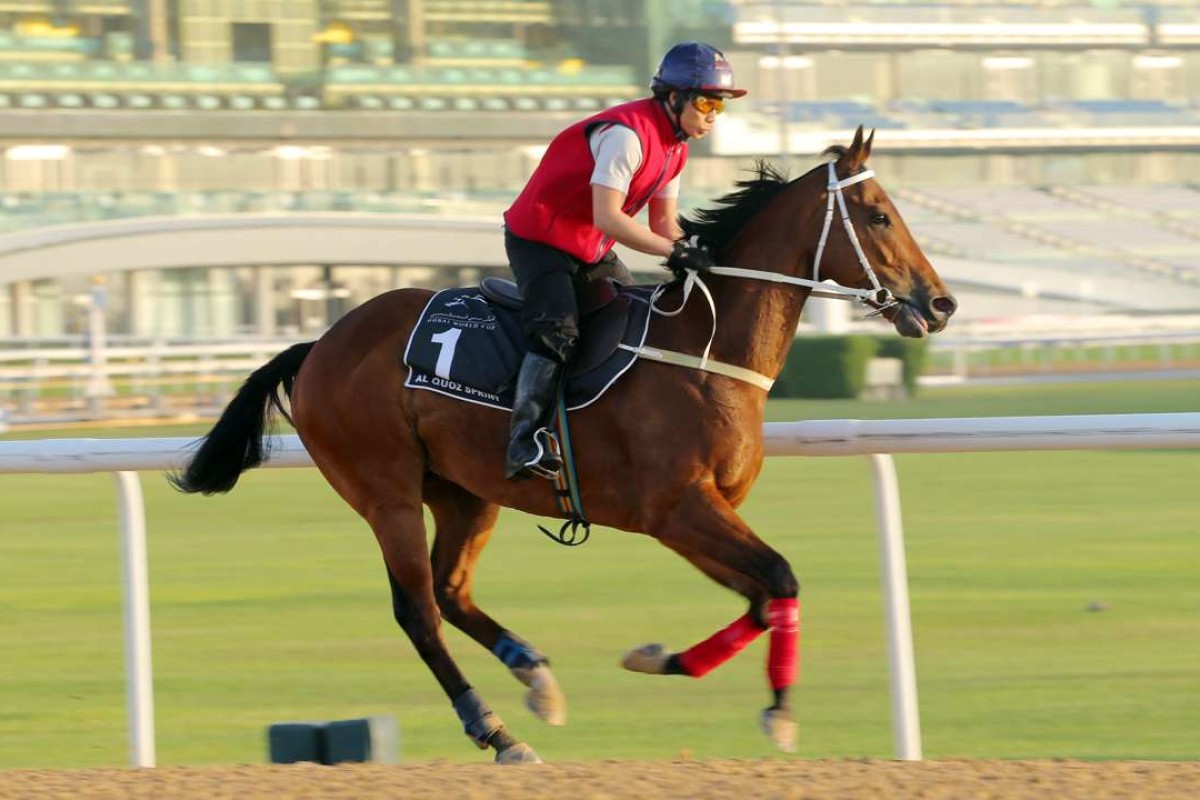 The team for the Dubai World Cup meeting is assembling and it shows how far Hong Kong racing has come in the last decade or more that it could be a big representation even at a time when we have no standout horse.
Aspiring dirt sprinters Fabulous One and Dundonnell are already at Meydan, looking to establish their credentials for the big night on March 25 by performing well in lead-up events.
The current feeling is that they will be joined there by Helene Paragon, Lucky Bubbles, Amazing Kids, Not Listenin'tome and possibly Peniaphobia. And, in the aftermath of the Queen's Silver Jubilee Cup/Gold Cup Group One double on February 26, who knows what other names might come up as possible visitors.
And yet, there is no real standout horse here, as we saw on Monday in the feature events.
Dubai next? Peniaphobia stakes claim with Centenary Sprint Cup victory
While we might flatter ourselves a little regarding the sprinters, simply because they are so hard to beat at home, it does seem clear they are an even bunch.
We have had six Group races at 1,000m and 1,200m and they've been won by five different horses, with only Amazing Kids managing two wins along the way.
As a result of this evenness, only one of those six Group sprints has been won by the public favourite, so we had to have a giggle when Lucky Bubbles was such a standout favourite in the betting for Centenary Sprint.
They are solid enough as a group but take their turns at winning depending on the draws, pace and racing luck. None of them has enough on the others to overcome those things no matter how superior they might seem on the day when everything falls into place.
The milers look similar. We've had no definitive results to say that Miler A is the standout over Miler B. Swap the runs in the Hong Kong Mile and Helene Paragon wins, or swap them on Monday and Beauty Only or Able Friend might be the winner of the Stewards' Cup.
Helene Paragon gets the luck in the Stewards' Cup, books a spot in the Dubai Turf
Connections of Beauty Only might also point to the little shower of rain during the meeting on Monday, which didn't have any serious effect on the track but was the kind of weather that can leave the surface a little greasy – they've always maintained that doesn't suit Beauty Only.
The exception to the current scene would be Able Friend. If he does start to find anything like his old form he could dominate this group, but there were some slightly concerning signs on Monday regarding him ever getting back to that.
While trainer John Moore nominated the former Horse of the Year as the stable elect in the feature mile, there was no such vibe through the betting on the race – the market always suggested that Helene Paragon was still preferred. There was no ring of confidence to Able Friend and, whether unlucky or not, that was backed up in the race.
Talking to Joao Moreira after the race, it was clear that, although he felt Able Friend should have won the Stewards' Cup had he got the clear run that didn't happen, the champion jockey felt the need to ride for luck because he didn't have the same confidence from the past.
At Able Friend's best, the pilot's job was only to get him into clear air and let him do the rest, which is why, in virtually all his performances, he was sweeping down the outside from the rear.
Whether it's Able Friend or Intellectual Choice, jockeys are more inclined to go in and save ground and ride for luck if they feel their horse doesn't have the legs to round up his rivals.
John Moore, lucky red packets, goodwill and the Lunar New Year
So the jury is still out on where we find a dominant miler, although, like the sprinters, the
y are certainly going to offer a stern defence as a bloc on home soil.
In the middle distance classification at 2,000m, the title is vacant too.
Some might point to the high international rating of Werther – still the joint eighth-rated horse in the world on the basis of that very unreliable QE II Cup result on seriously affected going – as a rebuttal to that view but Werther's form before and after does not, as yet, support that rating.
He is still fairly young and still capable of good things, so we can't hang him for what he hasn't done but there is a position to be filled when we get to the Gold Cup and the QEII Cup – who knows, it may be the four-year-olds who step up to fill it at the back end of the season in what looks a strong Derby year.
But, in consideration of all that, to think that Hong Kong might still be represented in Dubai by seven or more horses and has a record enrolment in the world's top 100 speaks volumes for how far things have come and the confidence of trainers here now that they can measure up. Just 10 or 15 years ago, only the standout champions like Fairy King Prawn, Silent Witness, Bullish Luck, Vengeance Of Rain or Viva Pataca were considered good enough to campaign overseas.
Overseas betting reaches a new high
Commingling continues to make steady if not spectacular progress as Monday's Lunar New Year meeting figures showed.
A new record from overseas-based bets on Sha Tin was struck, with HK$96 million of the day's record total turnover coming from punters in foreign countries, including the surprising HK$25 million contribution from England, where the Hong Kong meeting was on at breakfast time on a Monday morning. Does anybody work any more?
Bumper crowd drives record HK$1.75 billion turnover at Sha Tin
Sure, HK$96 million isn't a lot by Hong Kong standards but overseas, in most of the countries where that turnover is being generated, that number would be very solid news and a big win in some of them.
There was a fair amount of crowing in the United States about the Pegasus gimmick race attracting about US$15.7 million (HK$121.79 million) in bets, across all possible interpretations of turnover, on an event that was local, ideally timed and heavily promoted. And a one-off – commingling is on twice a week.