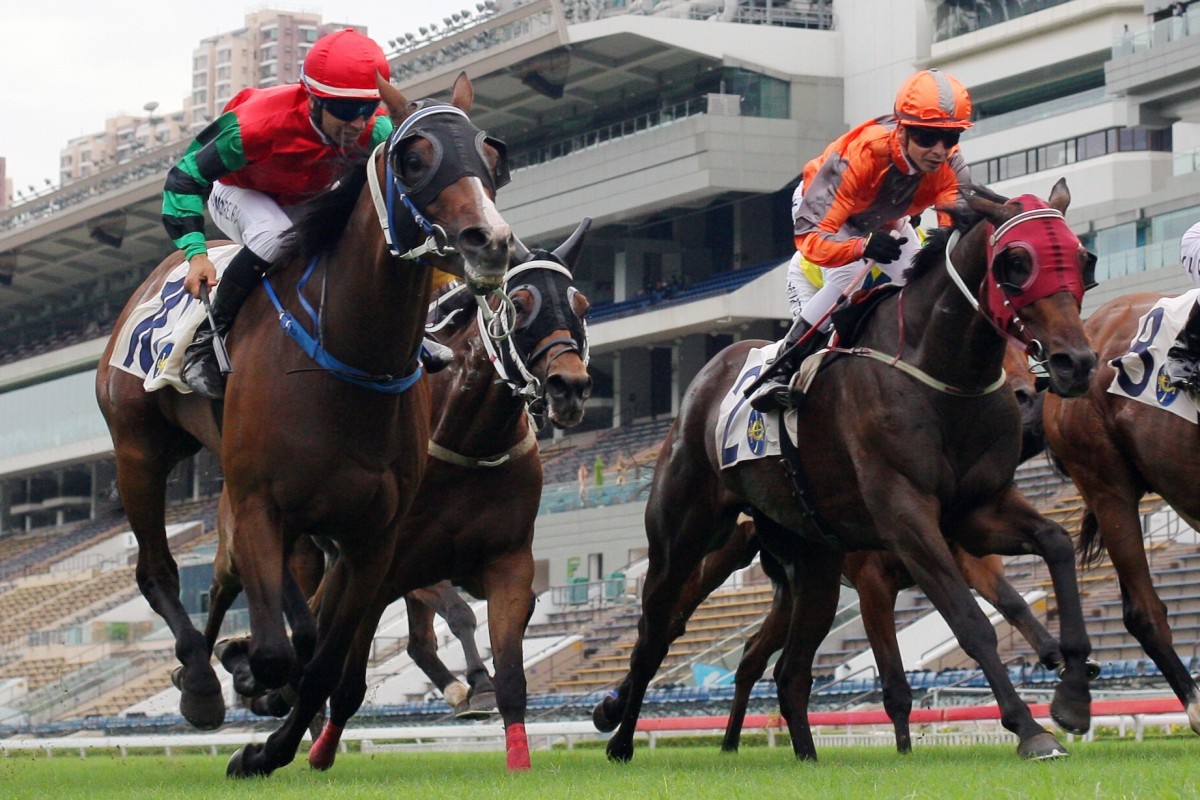 After fending off almost every challenge sent its way during a season defined by social unrest and the Covid-19 pandemic, the Jockey Club is ready for any hurdles the latest round of protests may send its way.
Thousands took to the streets around Causeway Bay on Sunday in defiance of Beijing's planned national security law for Hong Kong, with the social unrest that led to the cancellation of two meetings earlier this season again rearing its head.
But chief executive Winfried Engelbrecht-Bresges is confident the Jockey Club is prepared for whatever lies ahead, and is hopeful it has the infrastructure to avoid losing any further meetings.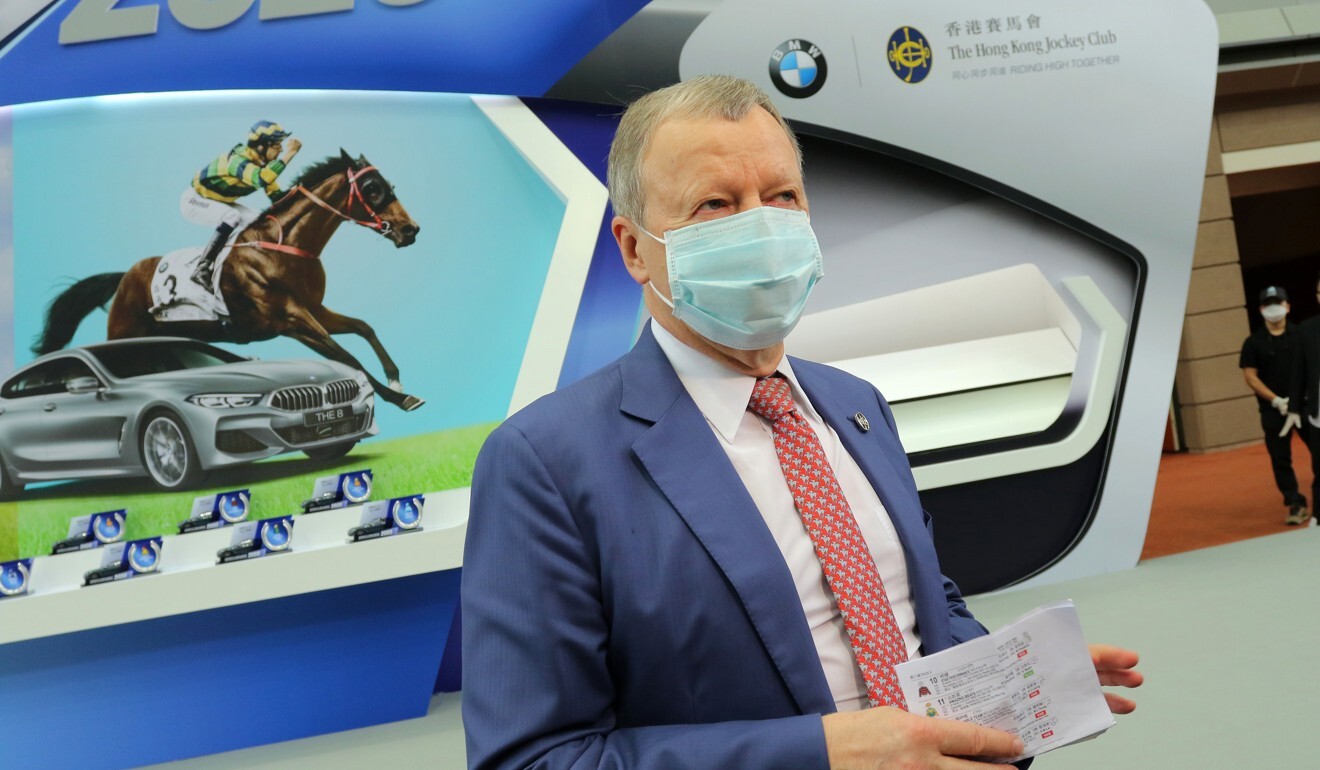 "Today was limited but I would not be surprised – especially when certain measures could be relaxed around social distancing and congregation – that it could become another issue," Engelbrecht-Bresges said, pointing to the club's handling of the Hong Kong International Races as a marker of what it can achieve despite adversity.
"As we have shown, we are prepared for multiple scenarios and we will be prepared for whatever happens.
"To be able to run an international race meeting in a significantly challenging situation, you should then be ready [for anything] because this was probably the biggest challenge, bringing a lot of people and horses from overseas.
"If we have to call off a meeting we have to call it off, but I'm cautiously optimistic that it will not happen because so far we have been able to – through significant challenges – keep the racing up and we have to be agile."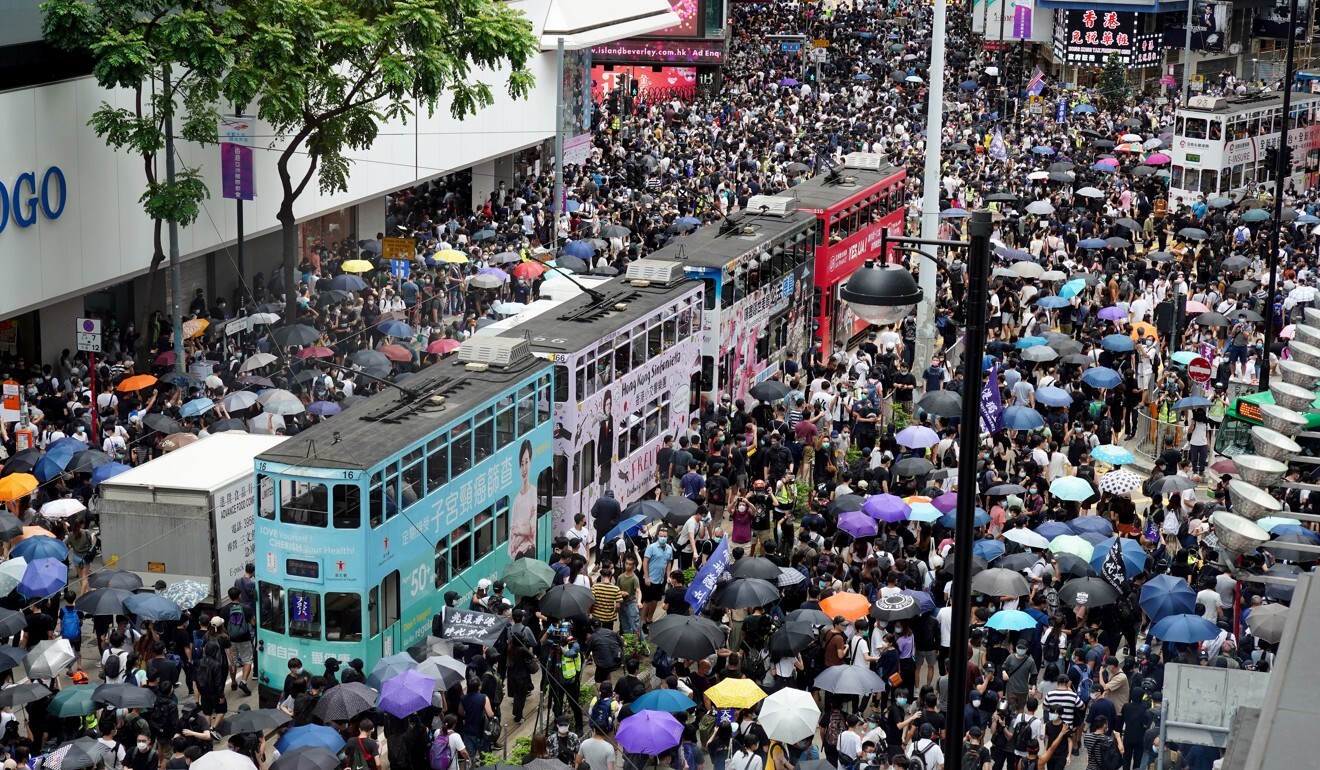 A meeting in September was lost amid fears of a negative reaction to controversial pro-establishment lawmaker Junius Ho Kwan-yiu's horse Hong Kong Bet running in a race at Happy Valley, while another was cancelled in November because of concerns employees and racegoers would not be able to get to and from the track safely.
"There were very specific reasons why we lost the meetings and I would not say this is the same," Engelbrecht-Bresges said.
"I am very guarded about making predictions amid uncertainty so we will look at what we do on a daily basis.
"We have our business continuity team which have been dealing with Covid-19, now we get an extra layer which is a risk assessment regarding potential social issues."
While what lies ahead on the protest front remains to be seen, Engelbrecht-Bresges is confident the club can continue to open race meetings up to more spectators as the Covid-19 crisis eases in Hong Kong.
There were 2,283 people on course on Sunday – the biggest crowd since early February – and there is still some chance general public will be allowed through the gates before the end of the season.
"At the moment we cannot go over 2,400 people but as we come closer to the quota, we will see what the next week will bring, which will then lead to a discussion with the government about whether there can be further relaxations," Engelbrecht-Bresges said.
"First of all hopefully we can allow a few more members in and then hopefully some limited public can come in under the same criteria of traceability, in sit-down restaurants."
The Jockey Club is also hopeful of reopening some off-course betting branches, although further protests could hamper these endeavours.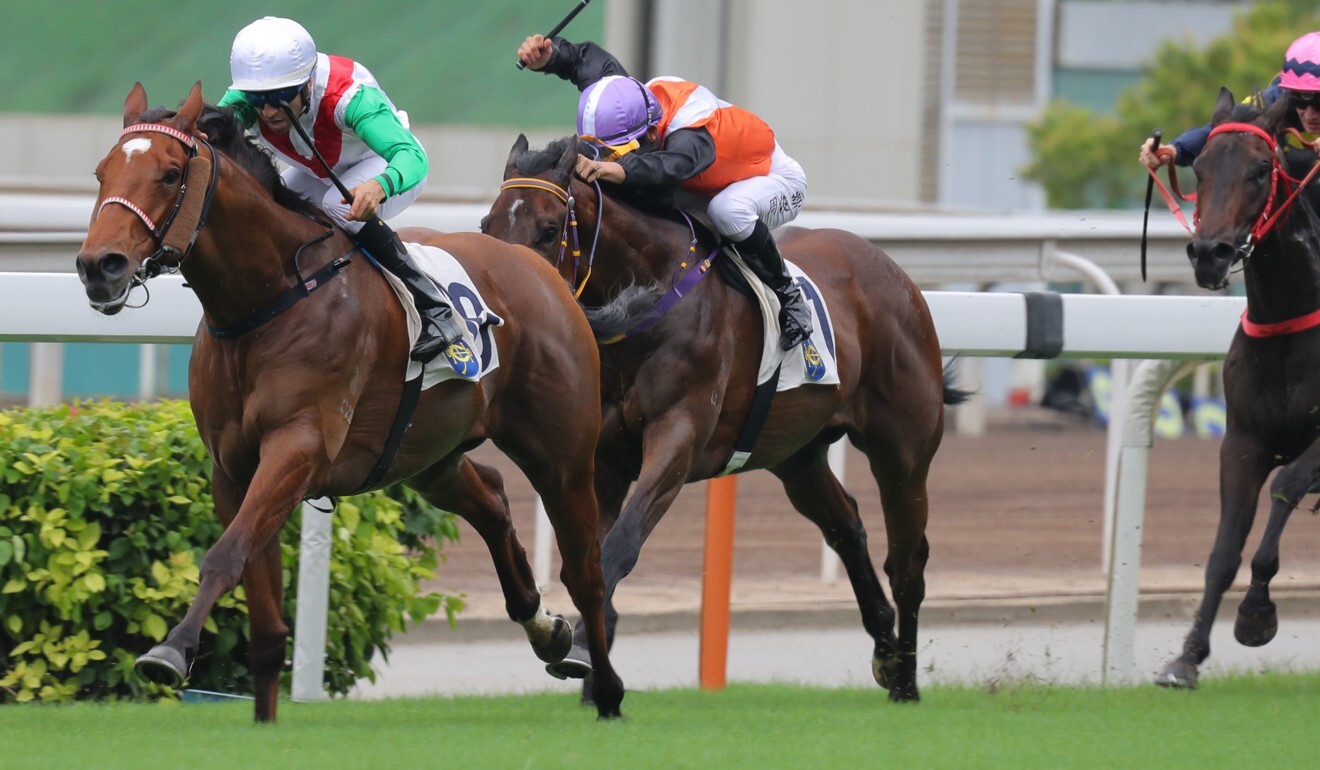 Yiu's Friend salutes again
Talented three-year-old Good Luck Friend made it two wins from four starts with an impressive victory in the Class Three Werther Handicap (1,200m), extending Ricky Yiu Poon-fai's lead in the race for the trainers' championship.
The gelding enjoyed a lovely run in transit, just behind the leader Cruising, before star jockey Joao Moreira pulled the trigger, coming away to beat Biz Power by two-and-a-quarter lengths.
The win puts Yiu at 57 winners for the term, seven ahead of Francis Lui Kin-wai, and he is confident Good Luck Friend has plenty more upside.
"He's only young, he's only lightly raced, but he's a professional," he said. "He pinged out of the gates, he travelled well and kicked. He's on his way up, no doubt."
It was almost a double for Yiu, who suffered an agonising defeat in the last race with Glorious Spectrum.
The five-year-old was held up at the top of the straight before sprinting through and just being nutted by Band Of Brothers.
Glorious Spectrum was in front before the line and after the line, but not on it.
"That much," said Yiu, holding his thumb and index finger millimetres apart.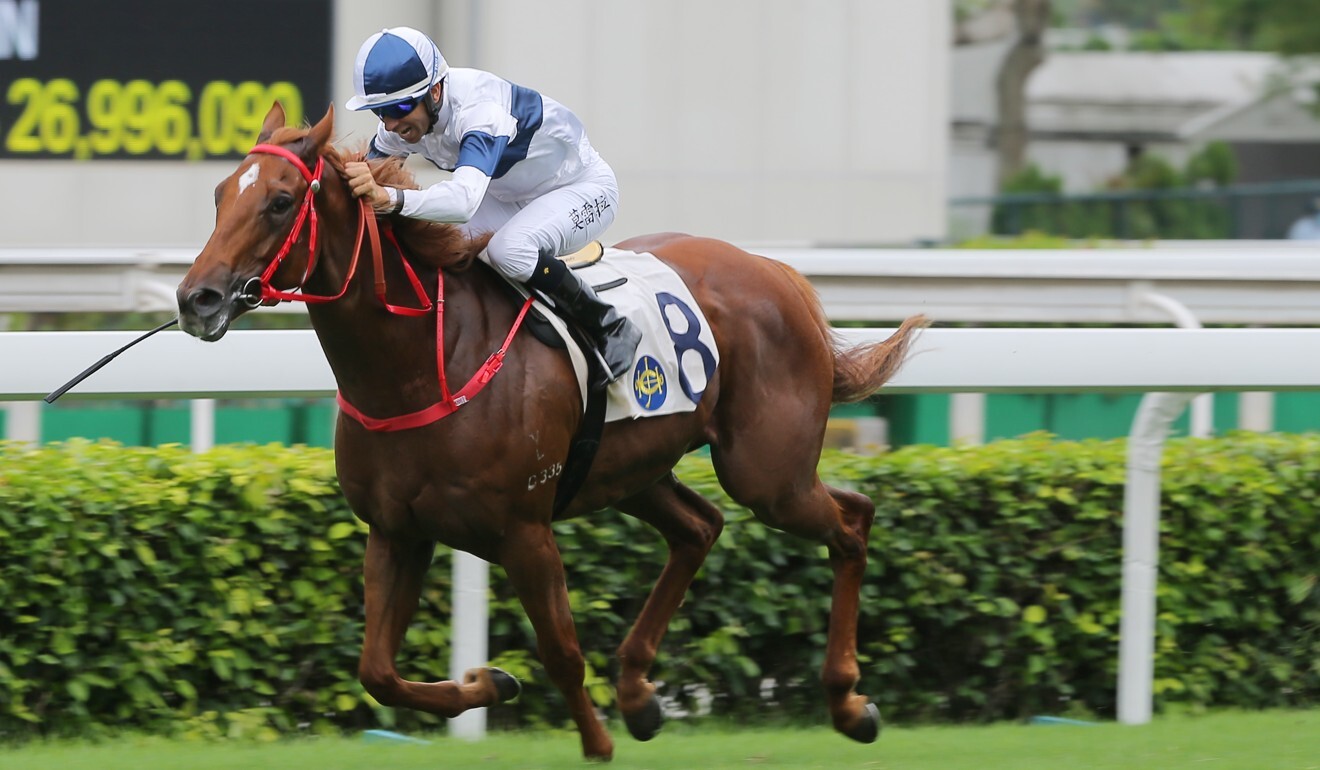 Size should have Fun with youngster
John Size is building a war chest of young horses after experiencing a slower than usual season and he could be hard to catch next term if impressive debut winner Scores Of Fun is anything to go by.
The three-year-old won comfortably under jockey Joao Moreira after being sent out a $4.10 chance by punters and the handler believes there is more in the tank.
"He had done everything right in his trials and his preparation, he hadn't given us any concerns so he did what he was supposed to do on race day. He is probably going to win a few races," Size said.
"When they win their first start, they usually win again because it's not easy to do against the more experienced horses."
In Size's championship-winning 2018-19 season, he was prolific with unraced horses, picking off multiple wins with the likes of Champion's Way, Country Star, Red Warrior, True Grit and Full Of Beauty.
While Size had 78 winners last term, Scores Of Fun is his 40th of this term and only his fourth unraced horse to win this campaign.
"The new horses, when they come along and win a few races that always helps," he said.
Size also unveiled fellow three-year-old Sell My Sole, who finished midfield after racing on the speed as a $3.50 chance.
"He showed a bit of pace, it was his first day at the races so you can't read too much into what their future will be like from that, but I thought he was good," he said.
Help us understand what you are interested in so that we can improve SCMP and provide a better experience for you. We would like to invite you to take this five-minute survey on how you engage with SCMP and the news.