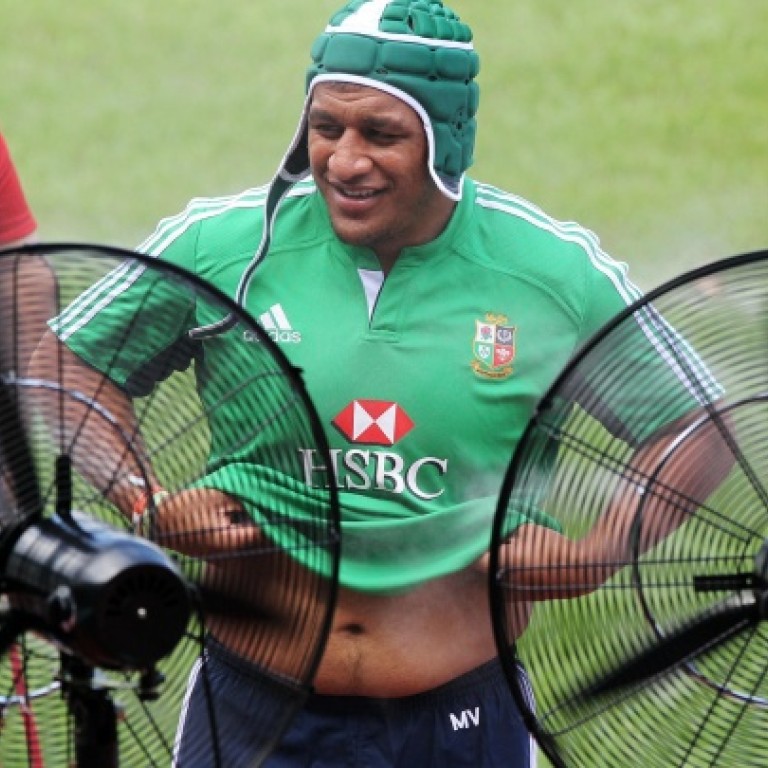 Lions need winning start, says former captain Dallaglio
Former Lions captain says there is no secret to repeating team's 1997 success in South Africa, saying gaining the momentum will be key
Momentum will be key if the British & Irish Lions are to have a successful campaign in Australia, says Lawrence Dallaglio, one of the last men to have donned the famous red shirt and returned from tour with a smile on his face.
Dallaglio was part of the 1997 party that returned triumphant from South Africa - since then, the Lions have lost in Australia (2001), New Zealand (2005) and South Africa (2009). Dallaglio insists that if Sam Warburton's men get into the winning groove early, starting in Hong Kong, they can give the team reason to celebrate its 125th anniversary.
"There is no great secret to how we won in 1997, other than getting off to a good start," said Dallaglio, speaking in Hong Kong yesterday as brand ambassador for Land Rover, a Lions' sponsor.
"Momentum is important on a tour and this game in Hong Kong is very important. Lots of people see it as a warm-up match but the Lions will regard it as their first match on tour and the target will be to win and win well," the former England captain said.
Dallaglio, an outstanding back-rower who also represented England at sevens, figured in three Lions tours but obviously his fondest memories are of his first trip.
"It is important that players come together quickly. You cannot have regrets on a Lions tour. You can't look back and say, 'If only if I had done this or done that'. It's about creating an environment where everyone feels they can contribute. It is about understanding the responsibility and history of putting on the red shirt of the Lions.
"Getting picked for a Lions tour should not be enough for any player. Playing for the Lions is one thing but winning for the Lions is very, very special indeed, and the ambitions of each of the players should be to be part of a winning team. That will be a way of adding your name to a very select group of people."
Dallaglio believed the odds will be stacked against Warren Gatland's class of 2013, as is always the case for Lions teams, because of the disparate nature of the 37-man squad.
"Every Lions tour is a big challenge. The players only come together a few weeks before the first game and they find themselves in a unique environment, playing with men who for the last four years they have been playing against.
"You come together for a week, then fly over to play away from home against one of the three best sides in the world. You play games with their referees, at least until the test series, so the odds are definitely stacked against you.
"But clearly looking back it is still possible to go on and win a test series. In '97 we got momentum going into the test series, as we were very clear about the way we wanted to play and players were able to express themselves within this framework. We also had some amazing performances from key individuals throughout the whole tour."
The Hong Kong showdown against the Barbarians will be crucial as players try to lay down an early claim for a test berth, said Dallaglio.
"This squad has the right ingredients. There is always going to be debate over player selection [he believed England's Chris Robshaw should have been in] but no one can doubt [Gatland] has picked the best players and support team.
"For those lucky enough be selected for first game, they will want to lay down a marker individually and collectively. Many of these players may just get two or three opportunities to put their hand up for test selection. If I were sitting in the Lions squad I would want to play the first game on tour, and want to show people, as well as your opposite number, what you're capable of."
Dallaglio also didn't discount the possibility of seeing his fellow World Cup winner Jonny Wilkinson back in the red shirt.
"Past experience has showed that there is a high attrition rate and at least six players are called up. We have already seen one forced change [Dylan Hartley out and Rory Best in] and I wouldn't be surprised if Jonny Wilkinson was called up.
"On form he certainly would not be letting anyone down. If he was required he will be joining the Lions as a European Cup winner and possibly French champion - he would not be out of place.
"He has experienced highs and lows of test rugby in Australia having kicked the winning points in 2003 [World Cup] and also having faced defeat with the Lions in 2001. That experience would be invaluable."
This article appeared in the South China Morning Post print edition as: Lions need winning start: Dallaglio