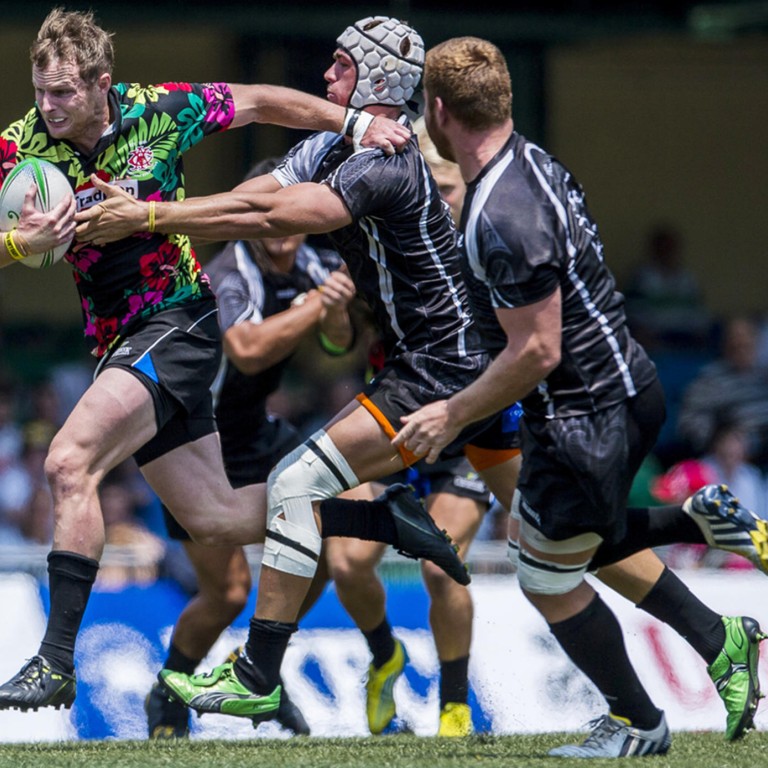 Tana's men keep the faith to triumph again at the Tens
Dragons recover from early setback to defeat Tradition YCAC 29-14 in the Cup
Tana Umaga's star-studded BGC Dragons were down and out early but stormed back to beat Tradition YCAC 29-14 in the Cup final of the GFI HKFC Tens yesterday.
It was the second time in three years that the BGC Dragons had triumphed at the Hong Kong Football Club.
Australia legend George Smith captained the multinational squad, which included former Wallaby Radike Samo, "Samoan bulldozer" Alesana Tuilagi and Fijian legend Rupeni Caucau, while Leo Naikasau - scorer of two tries in the final - was one of two players from Fiji's winning squad at last weekend's Tokyo Sevens.
BGC Dragons earlier beat sister side Carinat Dragons 38-0 in the second semi-final, but the two squads formed a circle after the final to celebrate the Cup success, with Umaga and Smith leading the speeches, which were soon followed by songs.
"It has been a pretty special week. We've had a big group and there has been a lot of different cultures meshing together," said Umaga, head coach of the BGC Dragons for a third straight year.
"Playing each other in the semi-final meant a lot to these guys. I think the great thing for us is that rugby is the thing that brought us all together. We played for each other and that's what rugby does."
Umaga, 40, was proud of his first team, who trailed 14-0 early against an impressive YCAC side full of top-quality New Zealanders, but the All Blacks legend said he had faith in his own players.
"We were down, but I knew … we made some mistakes that let them get those tries and I knew if we just held onto the ball and kept doing what we were doing, not lose faith, then it would be good for us."
YCAC were 14-0 up within five minutes following tries by big centre Seta Tamanivalu and powerful flanker Mark Atkins, with former All Blacks Sevens player Mark Chapman converting both.
However, the powerful Tuilagi kick-started the comeback after finishing off a move sparked by the towering Samo, before Naikasau scored his first of the match on the stroke of half-time to reduce the deficit to 14-12.
In the second half, the powerful Caucau then started a great move that finished with Angus Cameron, the Hong Kong Cricket Club fly half, touching down to make it 17-14.
Former Fiji Sevens scrum half Emosi Vucago made it 24-14 after a sustained period of pressure on the YCAC line, before Naikasau scored his second of the final to kill off any hope of a comeback by the fifth seeds, who reached the final on their debut last year.
YCAC reached the final by beating second seeds Samurai 12-5. Samurai earlier gained some revenge for defeat to Penguins in last year's final by beating the defending champions 7-5 in the first Cup quarter-final, with a breakaway try by England Sevens winger Mat Turner proving the winner.
The two Cup finalists and beaten semi-finalists automatically receive an invitation to the 30th GFI HKFC Tens next year, along with Plate winners Borneo Eagles, Bowl champions Tag Heuer Eyewear Pyrenees of France and Shield winners Lloyd McDermott Warriors from Australia.
Ahead of the Cup final, Chris Harker, chairman of the GFI HKFC Tens Organising Committee, presented a cheque for HK$100,000 to Po Leung Kuk, the tournament's official charity. Po Leung Kuk received all proceeds from the HK$100 entrance fee yesterday and on-site donations at the tournament.
"The GFI HKFC Tens is delighted to be able to donate this cheque for HK$100,000 to support Po Leung Kuk, which is one of Hong Kong's most established and far-reaching charities," Harker said. "We're delighted to develop a closer relationship with such a worthy and caring organisation."
This article appeared in the South China Morning Post print edition as: Tana's men keep the faith to triumph again in Cup