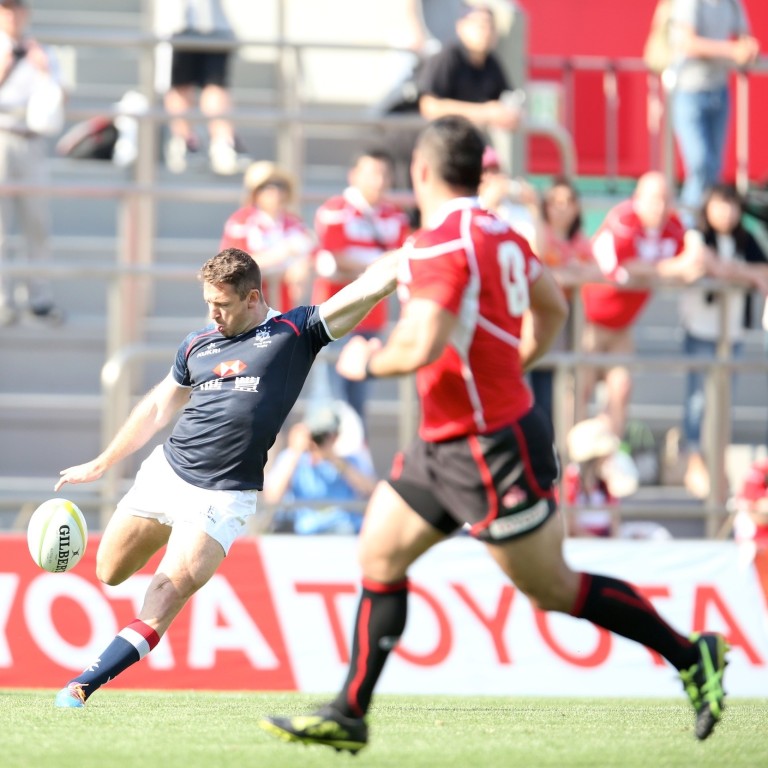 Hong Kong 'must be brave against Japan'
Head coach Andy Hall has asked his players to emulate South Korea and be adventurous in their daunting match against the region's top side
Head coach Andy Hall has called for Hong Kong to take a lesson from the adventurous style of South Korea and give it their best shot against Japan at Aberdeen Stadium on Saturday.
It will be a daunting task with the Asian champions warning they want to wrap up the Asia Rugby Championship in style by winning well.
"Look at the Koreans, they weren't afraid to throw everything they had at Japan and that can rattle the Japanese. We must not go into our shells and we must have a go at them," said Hall as Hong Kong bid to hang on to their position as the second-best team in Asia.
South Korea lost both their games against Japan but scored 40 points including four tries against the Brave Blossoms. They even led Japan briefly in the first match, which they lost 56-30.
"Korea has shown that Japan is susceptible [to pressure] and we have try-scorers across the park so we are going to have a go at them," Hall said.
"But our primary focus must be on our defence. Last week against Korea our tackle completion rate was a bit low allowing them across the gain line too many times. This is crucial and we know we need to improve in this area. If we do this, the result we need will take care of itself."
Fly-half Niall Rowark, who starts for the first time, and the back row led by skipper and blindside flanker Nick Hewson will have to shoulder the responsibility of leading the attack.
Hong Kong lie second in the standings thanks to a better point differential than Korea - the two are separated by 29 points in Hong Kong's favour - and need to contain Japan by this margin if they are to stay number two in Asia.
The weather could lend a helping hand to Hong Kong, but it will be a tough proposition defending for 80 minutes, especially with Japan coach Eddie Jones using this match as one of his last few opportunities to make up his mind for World Cup selection.
"World Cup selection is on the platter but the first priority is to beat Hong Kong and beat them well," Jones said.
"We have picked the best 23 for this week and it's given an opportunity to a number of players who have been working hard and haven't had much game time."
Fullback Ayumu Goromaru will lead Japan and is part of a backline that shows just one change from the side that started against South Korea in the 66-10 victory a fortnight ago when Japan claimed the title with a game to spare.
Jones has made four changes to the forwards with Ryuhei Arita and Shinnosuke Kakinaga joining Hisateru Hirashima in the front row and Luke Thompson back alongside Shoji Ito in the engine room. In the back row, Hayden Hopgood joins Ryu Koliniasi Holani and Justin Ives.
"Obviously, we want to keep our unbeaten record in the Asian championship so beating Hong Kong is a priority, but as we move closer to the World Cup, selection for the World Cup takes paramount interest," Jones said.
This article appeared in the South China Morning Post print edition as: Hong Kong must be brave against Japan