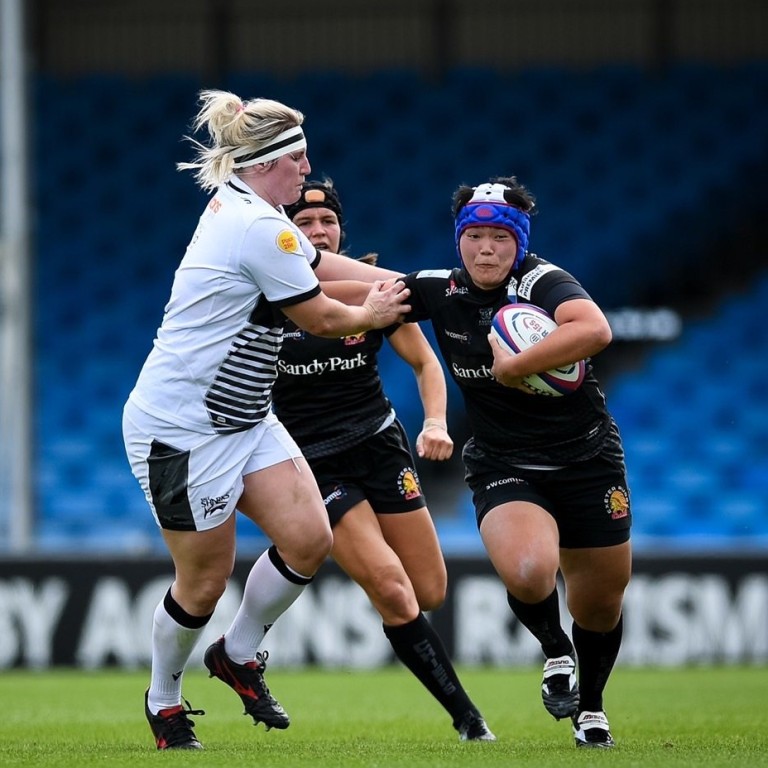 Meet the rising female stars of Japanese rugby bringing the sport to a new generation of fans
Sachiko Kato and Kanako Kobayashi say it is their turn to win over a new generation of women to the sport
'When we played at the last World Cup, it was very difficult,' says Kobayashi. 'Now I think the team has matured and we are stronger everywhere on the pitch'
Two rising stars of women's rugby in Japan are honing their skills in the top tier of the sport in England, but with their eyes very much on the World Cup – and Sachiko Kato and Kanako Kobayashi say that a good performance in New Zealand in October could give added impetus to women's rugby in their homeland.
After all, they point out, relatively few people in Japan took any notice of men's rugby until September 2015, when Japan defeated two-times world champions South Africa in the Rugby World Cup in England. Frequently described as the biggest upset in rugby union history, the Brave Blossoms defeated the Springboks 32-34 with a last-minute try.
Interest in the sport was further cemented when Japan memorably hosted the tournament in 2019. The home team claimed the scalps of traditional powerhouses Scotland, Ireland and Samoa, as well as Russia, before finally going out in the quarter-finals to South Africa.
Now, 22-year-old Kato and Kobayashi, 23, say it is their turn to win over a new generation of women to the sport.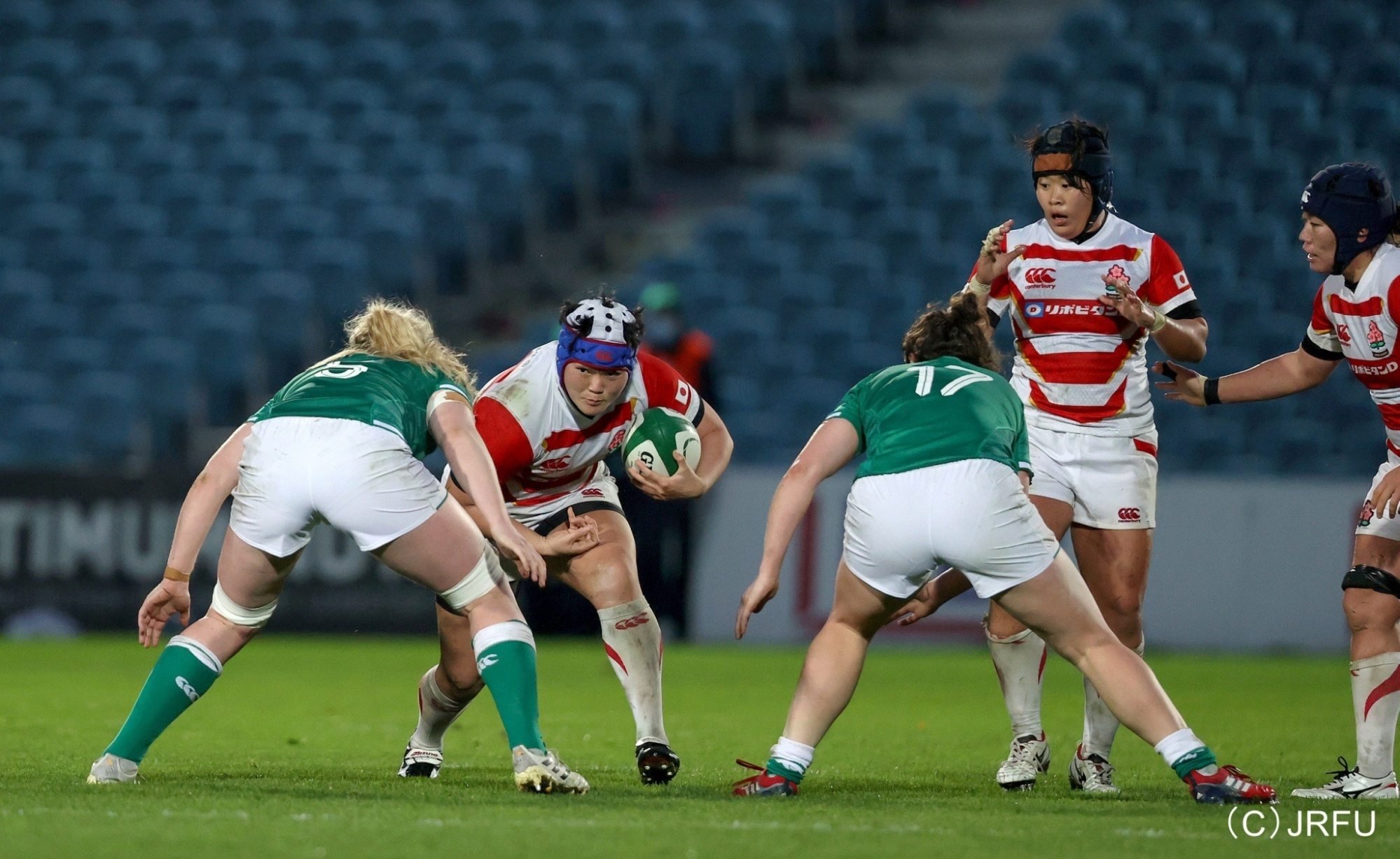 "When we played at the last World Cup, it was very difficult," said Kobayashi, who plays as a centre for both Exeter Chiefs and Japan. "Back then, we had a mix of older players and a lot of youngsters, but now I think the team has matured and we are stronger everywhere on the pitch."
Kato, a powerfully built prop who made her international debut playing against Hong Kong aged just 17, is similarly confident.
"Women's rugby is still relatively small in scale compared to other countries, but we have our strengths," she said. "The Japan team is technically skilful and while we are physically smaller than most other teams, that gives us some advantages, such as being able to tackle low and hard."
Japan will face Canada, the United States and Italy in the group stage of the competition. Japan is ranked 12th in the world at present, with Canada in fourth spot in the international rankings, the US sixth and Italy eighth. And although that would appear to put Japan as the outsider in the group, Kato is still confident that the Brave Blossoms can give a good account of themselves.
Pointing out that Japan defeated Italy three years ago and she now knows the strengths and weaknesses of several of the US and Canadian women's teams as she plays alongside them for Exeter Chiefs, she said, "It is going to be tough, but I believe that we can beat them."
For both Kato and Kobayashi, the immediate target at the tournament would be progressing to the last eight nations, which they are confident will catch the attention of sport-lovers in Japan.
In the meantime, however, there is the remainder of a season to finish at Exeter.
Kobayashi played the entire semi-final of the Allianz Cup on April 16, with Exeter romping to a 66-0 victory against Bristol Bears. They will face Harlequins in the final on April 23 at their home ground, Sandy Park.
"I first started playing when I was nine years old because there was a rugby pitch close to my home in Fujisawa and my younger brother used to play every weekend," she said. "My parents are fans of the sport and they have always encouraged me."
Kobayashi earned a coveted spot at a high school famous for producing rugby players in Shimane Prefecture before joining Nippon Sports Science University in Tokyo – which also has the strongest women's rugby team in the country.
Joining Exeter in July 2021 was another step-up, however, and she faced fellow internationals from around the world in training and in every match.
"We have very good trainers and physios here and I have learned a lot," she said. "The philosophy of the game here is quite different here as well, as in England the focus is always on scoring a try whereas in Japan we work toward set pieces that we can score from."
The intensity of games has also come as a surprise, with teams in Japan playing around 15 games a year, but matches taking place every weekend in the British league. The drinking culture associated with rugby has been something of an eye-opener, she admitted, with the women downing beers just as fast as the men after a match.
Kato similarly took her first steps towards international rugby at the age of 10 in her hometown of Nagoya.
"I was not interested in rugby at all, either watching or playing the sport, but my brother was playing one day and my mother took me to watch and when I said I was interested, she encouraged me to go to a training session," she said. "I am fairly well built and I started to tackle the boys – there were no other girls – and I thought it was fun that I could take them down."
Presently in Japan for treatment on a back injury and to catch up with her sports science degree at Waseda University, Kato said she knew little about women's rugby in England before joining Exeter, but it has been a steep learning curve.
"There are a lot more women who play rugby in England and there is still something of an attitude in Japan that it is somehow not right for women to play the sport, but I hope that is changing," she said. Another challenge is that while she was invariably the largest player on the pitch in Japan, that is not guaranteed in the premiership.
"I want to play on for as long as I can, both at the club level and for Japan, but even after that I want to continue in the game," Kato said.
"But it is up to us to live up to our potential when we go to the World Cup," she added. "We saw how women's football grew in popularity when they won the World Cup [in 2011] and that is what we need to do as well. We need to get some good results and the last eight of the tournament is our minimum target."