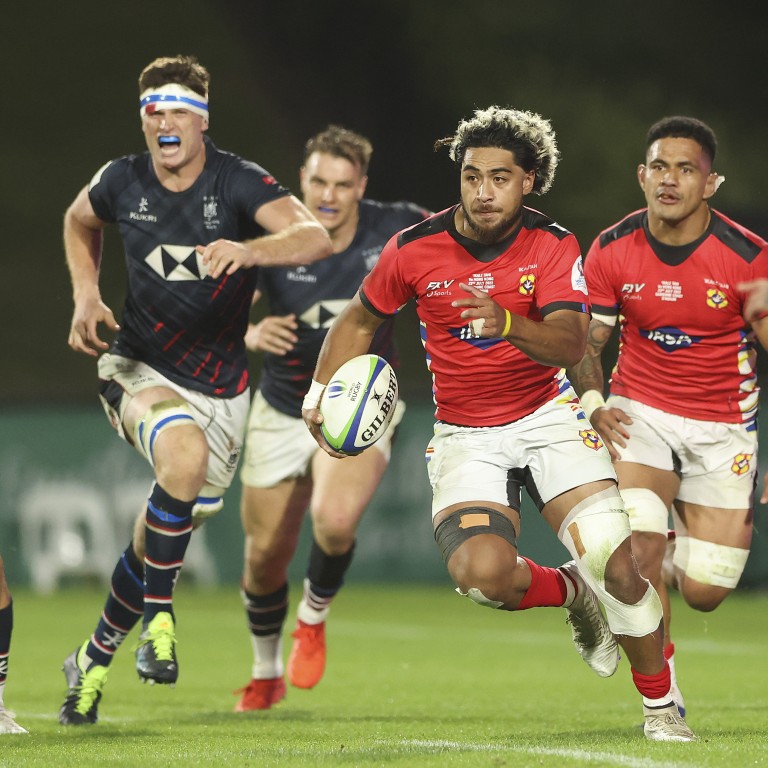 Tonga qualify for 2023 Rugby World Cup with comfortable 44-22 win over Hong Kong
Lewis Evans' team looked sharp in first half, with England coach Eddie Jones saying it was 'the best Hong Kong side I have seen'
Tonga however were too strong, booking spot in World Cup Pool B alongside South Africa, Ireland, Scotland and Romania
Matt Worley's chin was still throbbing from a crunching Tongan hit when he scored the two stunning tries that convinced Hong Kong their Rugby World Cup dream is still alive.
The blond-haired flyer's double in the final three minutes of Saturday's game added huge merit to Hong Kong's 44-22 loss to hot favourites Tonga at Sunshine Coast Stadium, north of Brisbane.
Direct entry from this Asia-Pacific qualifier is gone but Hong Kong can take fresh confidence into the final RWC qualifying tournament against Portugal, Kenya and the United States in November. One team will advance.
"It was a hell of a tough game against a very physical side which wanted to bully us. We're a tight group of players who want to put Hong Kong on the rugby map," Worley said.
"We wanted to show we can hang in and attempt to pull off an upset.
"Why can't that be in November. We've already seen Chile beat the USA [to reach the World Cup] so we'll be trying."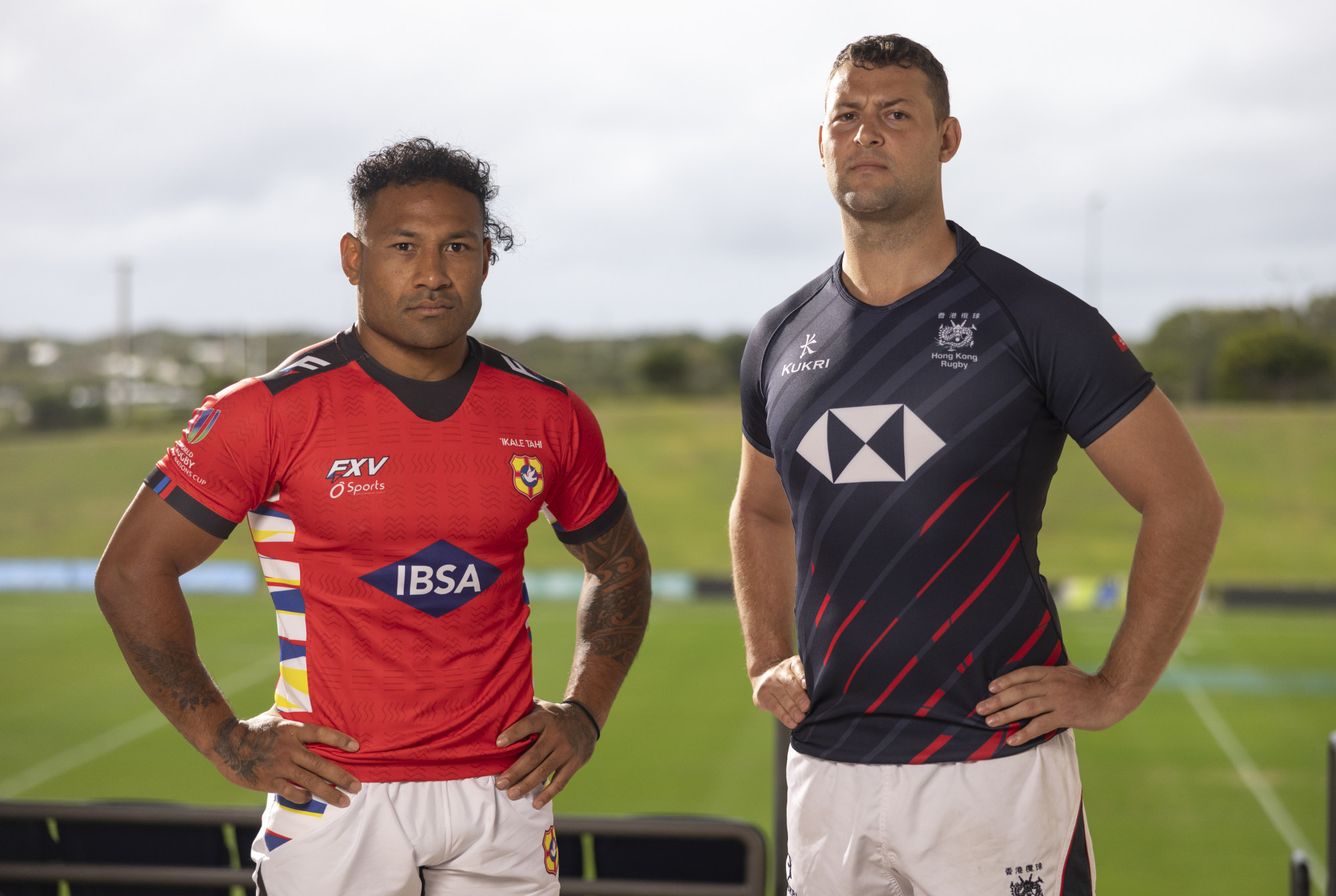 Worley had already been an eye-catcher with his strong defence and a neat little kick ahead-and-regather before his late heroics.
Moments after regathering that kick he was clobbered by a red-jerseyed missile that he diplomatically said hit him in the "upper chest" but left his chin ringing.
On the 77-minute mark, fly half Gregor McNeish spied open space from a penalty and pinged a precision cross-kick 45 metres to the flying Worley.
His speed enabled him to collect a perfect bounce for the try. With time up, replacement half back Bryn Phillips applied the same theory. This time, he banged a kick-and-hope 60m. Worley answered the prayer with a sprint and a second try that thrilled his teammates.
Recruiting Worley from English club Bedford Blues has been a masterstroke for this campaign and his passion for Hong Kong was obvious.
He attended the South Island School and represented up to Under-20s before leaving Hong Kong at 17.
"I've kept in touch with the Union since I left. I've always wanted this honour to represent Hong Kong," Worley, 24, said.
His late try trimmings cannot cover the fact that the Tongan scrum steamrolled the Hong Kong pack and the physicality battle was clearly won by the bigger Pacific islanders.
Lock Patrick Jenkinson was the pick of the Hong Kong pack. His sure line-out work, strong tackling and bobbing up in attack were features. He had close to 10 stitches in his bandaged head for his full-on efforts.
Hooker Alex Post was not far behind. He took the final Worley pass for a fine try out wide in the first half after impressive centre Tom Hill had dented the defence up the middle.
Hong Kong coach Lewis Evans put in perspective the gritty fight to trail just 20-8 at half-time against a nation ranked No 16 in the world and with professionals from English and French clubs dotting the pack.
"We've got guys on tour who are traders, schoolteachers, PTs, doing work remotely on their laptops after training and we're playing a World Cup-quality side," Evans said.
"We performed really well today. We were under the cosh a fair bit from the Tongan power and scrum but hung tough when that was a good 15-point wind in the first half.
"No team is going to have a scrum that good in November. The journey to the World Cup doesn't end today. It's been a whirlwind so far and we can't wait for more.
"We made some clever decisions for those two late tries. Get some more front foot ball to give guys like Matt more one-on-one situations and we'll keep improving.
"Patrick led from the front. He has stitches in two places."
The spirit of the Hong Kong players was superb. It had to be to confront the waves of red-jerseyed storm troopers which came at them from the kick-off.
It might have been a calamitous 14-0 after five minutes but Tongan errors scuttled two tries on video review after they had been awarded.
It gave the Hong Kong side time to find the pace of the game.
Hooker Post, No 8 Josh Hrstich and prop Callum Smith threw their bodies into strong tackles. Flanker Luke van der Smit, with enough bandaging on his right knee to supply a small hospital, carted the ball into the big bodies.
Hong Kong had their chance in the run-up to half-time when the Tongans lost a player to a yellow card. Just 17-8 behind, Hong Kong needed to find the next score but could not.
A hat-trick try from Tonga's Sonatane Takulua within 90 seconds of the second half starting decided the match at 25-8 but Hong Kong's fighting qualities never stopped.
Tonga have won a spot in Pool B in France where 2019 champions South Africa, Ireland, Scotland and Romania await.