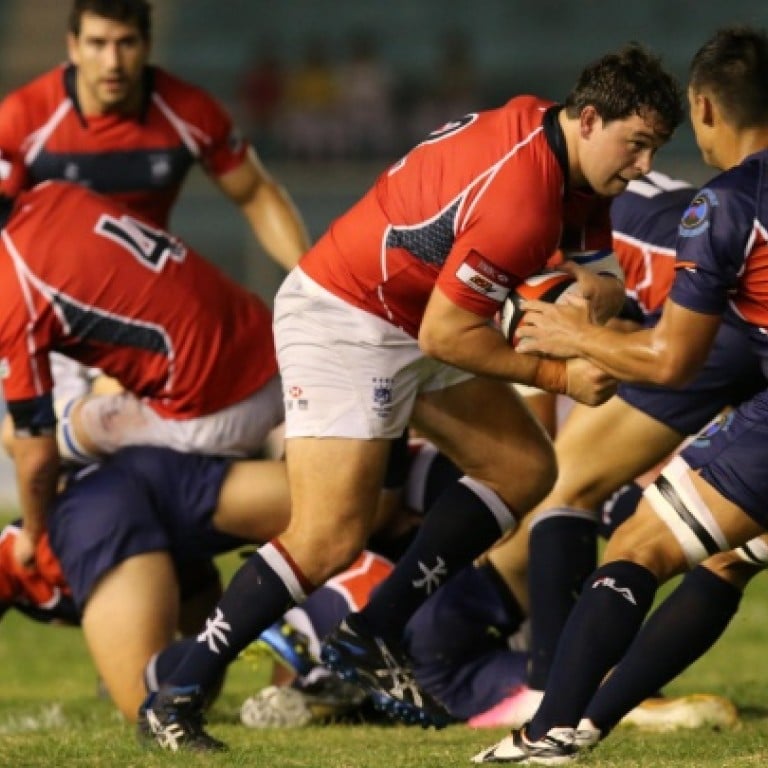 Hong Kong tame Volcanoes 52-20 in A5N Top Five after early scare
Philippines first to score as they take fight to visitors, but lose steam after break with Jonny Rees leading charge with brace of tries
The fire and brimstone from the Philippines "Volcanoes" lasted a bit longer than expected before it subsided to give Hong Kong an ultimately comfortable 59-20 victory in the HSBC Asian Five Nations Top Five competition in Manila yesterday.
Hong Kong head coach Leigh Jones, in his pre-match assessment, believed his team would have to worry about the first 30 minutes, based on how the home team had performed against Japan in the opening minutes of that encounter. The Philippines blew hot for a bit longer against Hong Kong, until half-time.
They stayed doggedly on Hong Kong's heels to only trail 14-10 at the break. But order was restored after the break as seven tries were added to the two penalty tries awarded by the Japanese referee as Hong Kong accomplished their goal, which was to secure their place in the Top Five for next year's World Cup qualifying campaign.
"The scoreline flattered us in the end because honestly I don't think the Philippines deserved to shift 50 points," said Jones. "We knew they would come at us at the start and they did and a little bit more, too. But credit to our guys for coming back strongly in the second half and they adjusted very well. I think this group of guys came of age today."
A powerful scrum set the tone for the match as Hong Kong's dominant forwards won plenty of possession, but it was only after the break that the points flowed freely with a brace of tries from winger Jonny Rees sparking it all off and settling nerves, which until then were a bit frayed by the resistance coming from the home team buoyed on by a vociferous crowd at the Rizal Stadium.
And they had plenty to cheer early in the game as Filipino flyhalf Alex Aronson knocked over a penalty and then added the extra points to a try from winger Patrice Olivier, who latched onto a neat punt from lock forward David Feeney to score. This try was sandwiched between two penalty tries awarded to Hong Kong as a groaning Philippines' pack buckled two scrums just metres from their tryline.
The second penalty try was fortuitous after Philippines winger Joseph Matthews had been called back all the way from scoring a lovely breakaway try for a dubious offside call, awarding Hong Kong a scrum five metres from the goalline. From potentially leading by 10 points, the home team trailed by four, and the massive 14-point swing before the break was crucial.
Hong Kong came back after the break with a vengeance, but it was the Philippines who scored, with another penalty from Aronson cutting the deficit to just one.
But things clicked into place with Rees sprinting clear for his brace, both thanks to good work from centres David Whiteford and Ally Maclay. The tries flowed thick and fast like lava as the Volcanoes struggled to stay in touch.
Pale Tauti added a third try before the Philippines were reduced to 14 men for a league-type shoulder charge on Peter McKee. This opened the floodgates even more as Whiteford and Sebastien Alfonsi touched down. Philippines skipper and fullback Michael Letts gave cheer momentarily when he scored, but his counterpart Tom McColl answered in similar fashion with Hong Kong's eighth try before substitute winger Dennis Chang sealed victory by going over at the very end. Mike Glancy knocked over five conversions, while Niall Rowark added two.
A pleased Jones has now set his sights on finishing second in the competition, behind Japan, who were crowned champions for the sixth year in a row after a convincing 65-5 win over South Korea in Tokyo.
"I don't think it is over, there is more in the tank from these guys and we will be going to Korea in two weeks looking for a W," said Jones.
This article appeared in the South China Morning Post print edition as: HK tame Volcanoes after early jitters