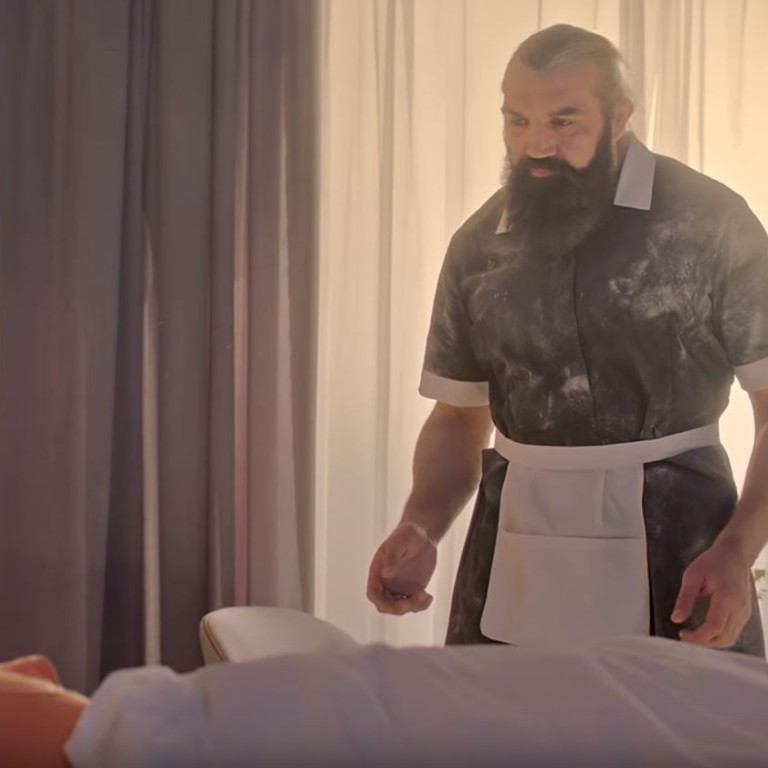 Hong Kong Sevens 2019: watch the 10 best Sevens TV commercials of all-time
The Hong Kong Sevens have produced some legendary commercials over the years
Led by HSBC and Cathay Pacific, the title sponsors, we count down the best of the best over the years
Everyone loves a good commercial, and the Cathay Pacific/HSBC Hong Kong Sevens have produced some brilliant ones over the years.
From rugby playing flight attendants to classic soundtrack choices and human alarm clocks, we look at the 10 best of all-time as HSBC kicks off the list with its 2019 spot for the tournament.
10.
HSBC's ad for this year tugs at the heartstrings as we get to watch the next generation of rugby stars join the field with current stars like Perry Baker. Also, how cool is it to see some of the Hong Kong men's squad make cameo appearances in this commercial?
9.
Credit Suisse gets an honourable mention here for their 2008 ad for using the song "Always Where I Need to Be" by The Kooks, which somehow manages to be the most annoying and catchiest song of all-time. With a chorus of "Do dodo do do do do", you'll have this tune stuck in your head for days, for better or worse.
8.
It takes a few watches to fully understand what is going on in HSBC's 2013 ad, but once you get it (they're making coins!), it turns into lots of fun to watch. The commercial helped launch the company's Serious Play campaign, and features cameos from Gavin Hastings and George Gregan. Also, any commercial that uses "Jump Around" by House of Pain deserves a mention on this list.
7.
Out of context, this 2010 Cathay Pacific ad features the most confusing line ever: "Don't forget your finger, Mr. Frank." Also, where is this plane and how do I get tickets to fly on it for the rest of my life?
6.
Egg waffles? "They're like crunchy little footballs, G!"
5.
HSBC's ad last year showed the dedication and determination it takes to dress up in a costume, get drunk and go to the Hong Kong Sevens. Also, anytime you get to watch a man in a chicken costume do a backflip on a trampoline with an egg is a good day. Oh yeah, and there's some rugby players in it too.
4.
HSBC's 2017 ad is a slick cartoon set in Hong Kong with various teams. Americans flying in on eagles, Fijians riding waves and Hong Kong players coming out of the water at Victoria Harbour and lighting on fire? Confusing? Yes. Cool and fun to watch? Double yes.
3.
A dance off between rugby players and guys dressed as bananas set to "It's Like That" by Run-DMC and Jason Nevins, I'm not sure what else one could ask for. How about a US player kicking a ball into a guy dressed as a washing machine? If this commercial doesn't make you want to dance, you may want to head to the hospital to get your pulse checked.
2.
This 2011 Cathay Pacific ad pits flight attendants against New Zealand's sevens squad to "Rebel Yell" by Billy Idol in a game of rugby – no lie. I'm not sure how this works, but damn can those stewardesses pass the ball with precision. Also, watching an All Black absolutely destroy an airline service trolley (which I'm sure we've all dreamt of doing on a rush to the bathroom) just makes it even more magnificent. Well done, Cathay. We salute you.
1.
Marriott International Asia-Pacific comes out of nowhere and steals the top spot with this 2018 ad. Former French rugby star and potential Game of Thrones extra Sebastien Chabal in a French maid outfit acting as a human alarm clock. Also, is this guy still alive after smacking Chabal's face like he's trying to hit his nose like a snooze button? Regardless, it's comedic gold. "Bonjour!"