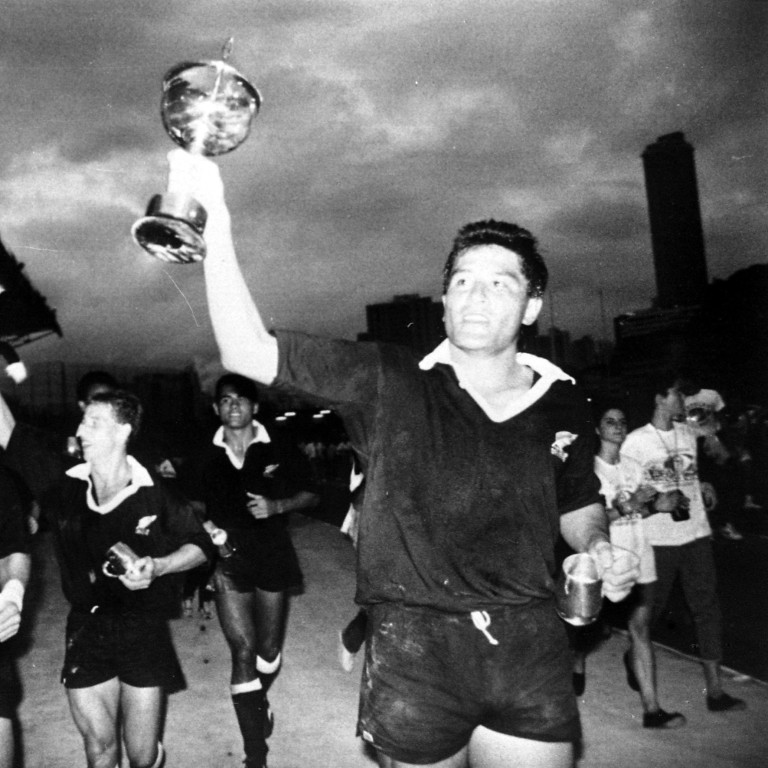 Hong Kong Sevens moments No 2: Zinzan Brooke, Wayne Shelford star as New Zealand win first title
The All Blacks had never won in Hong Kong before 1986, but that changed as a different breed of Kiwis emerged
David Kirk, Wayne Smith and Frano Botica were the architects, Shelford the enforcer and Brooke a freakish one-off
As we approach the Cathay Pacific/HSBC Hong Kong Sevens, the Post selects its second stand-out moment from the archives.
New Zealand's first Hong Kong Sevens title (1986)
After the first decade of the Hong Kong Sevens, there was a notable anomaly: the world's foremost rugby nation had yet to inscribe their name on the Cup.
Cantabrians had, strictly speaking, given the country a taste of success in the city when they won the very first tournament in 1976, but the national team had been playing second or third fiddle since, as a star-studded Wallabies accumulated four titles, a tally matched by Fiji.
The 1986 breed of All Blacks who stepped out at Hong Kong Stadium were a different proposition. Spearheaded by the fearsome Wayne Shelford, the bruising No 8, they arrived packing a potent punch of power and pace that no one could live with.
Making his debut that year was a then little-known 19-year-old named Zinzan Brooke, who, before going on to be a colossus on the global stage, was an instant hit in Hong Kong with his mobility and all-court skills.
Pulling the strings were expert sevens exponents in scrum half David Kirk, fly half Wayne Smith and centre Frano Botica. Mark Brooke-Cowden joined Brooke and Shelford in the pack, and wing Mike Clamp was the arch finisher.
Together, they produced a brand of sevens that set the tone for the coming years. They beat the French Barbarians in the final and would inscribe themselves two further times in the next three editions. The All Blacks had arrived.