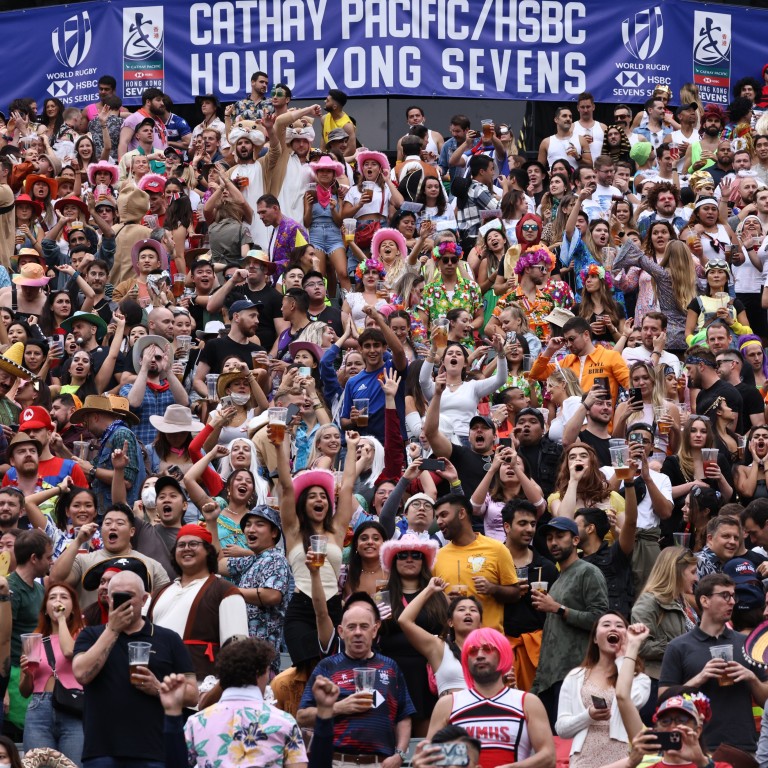 South Stand roars back to life as Saturday 'feels like a normal Hong Kong Sevens'
'The atmosphere has been sensational. The noise electric. The Sevens is back,' says Hong Kong captain Max Woodward
Hosts show fight and ignite stadium, with coach 'really proud' of efforts as ninth-place quarter-final against Canada looms
Sevens Saturday was back in Hong Kong – and by all accounts, it felt just like the old days.
Crowds flocked to Hong Kong Stadium in far greater numbers than Friday evening's opening day, with the South Stand, in particular, back to its roaring – and colourful – best.
"This is what I imagined the Hong Kong Sevens would be," said Brent Douglas, 36, who moved to Hong Kong from Australia in 2019. "I'm glad to experience what my friends told me about. I'm quite excited to be here."
There were costumes everywhere, and barely a face mask in sight, with restrictions seemingly less strictly imposed in the notoriously rowdy section of the venue.
"Everyone was complaining about having to wear masks, but they haven't really enforced it in the South Stand," said Emi Everaert, who has been coming to the Sevens since she was five years old, in 2001.
"I think we're all stepping in the right direction to having a 'no mask' environment, and this is a tester to see if it works."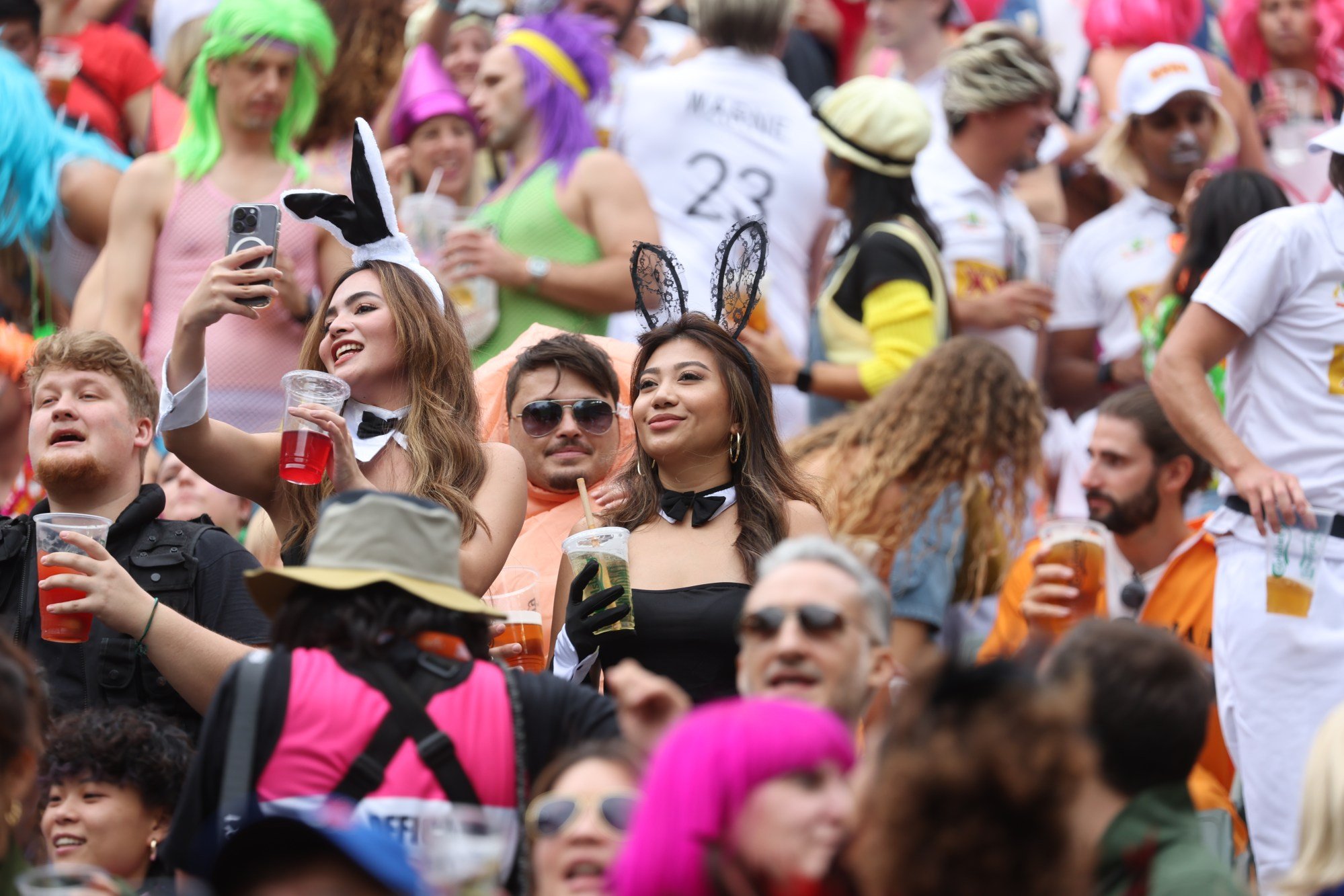 Graham England, who has lived in Hong Kong for 25 years, and experienced his first Sevens in 1992, also felt day 2 was a return to something familiar.
"Definitely it feels like how it used to be," he said. "The Hong Kong Sevens is back. The South Stand feels the same. Everywhere else is a bit quieter. One thing that is different, though is Hong Kong are playing better."
Indeed, the hosts have been included on the main Series circuit for the first time as a guest team.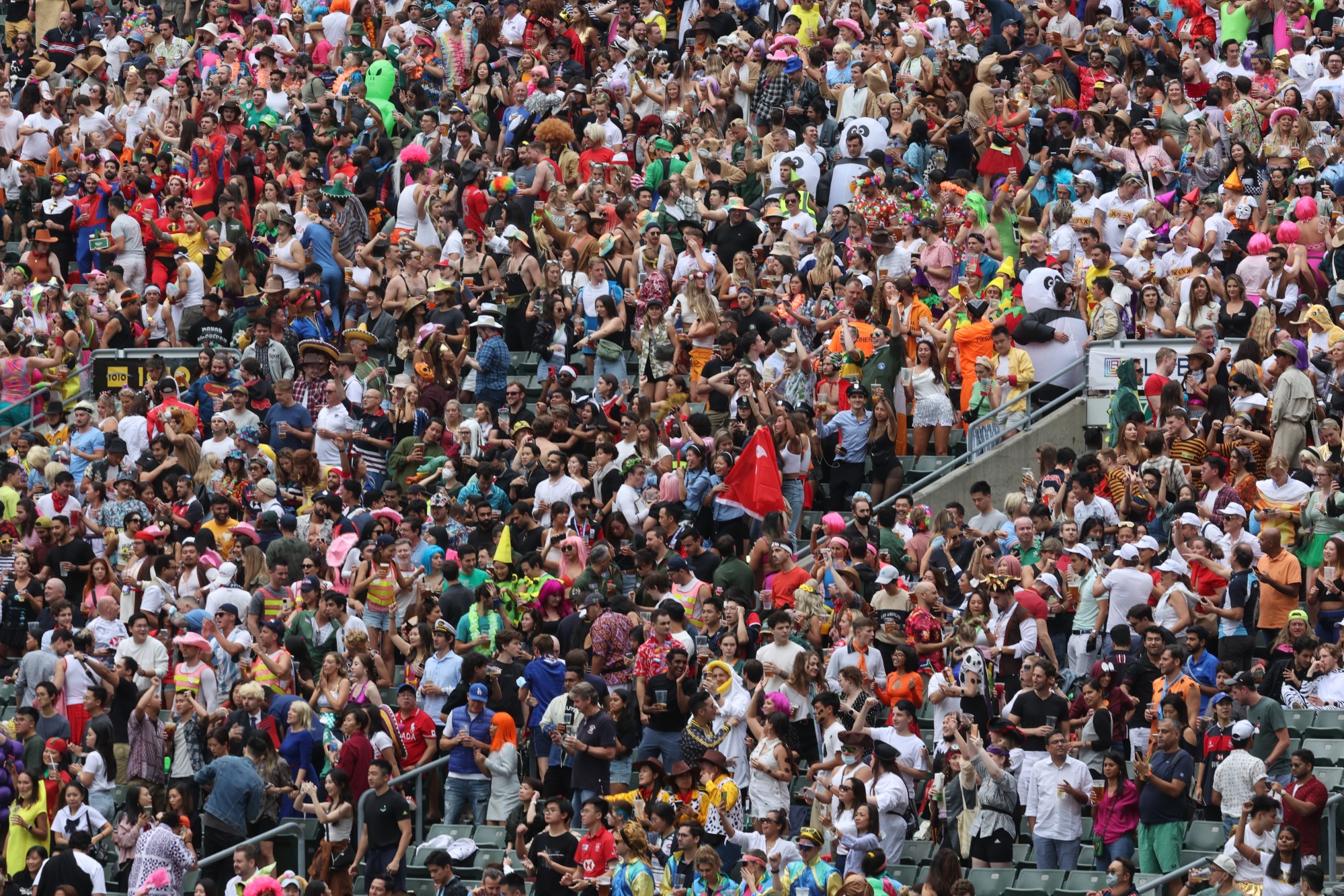 The stadium ignited for Hong Kong's second appearance of the weekend, against giants New Zealand. It was a tough assignment for the home heroes on Friday as they were convincingly beaten by Australia, and it did not get any easier against the Olympic and World Cup silver medallists.
The Kiwis scored two early tries, but the underdogs rallied and the crowd responded, with chants of "Hong Kong!" sweeping the stands.
And just before half-time, they were given a try to cheer when Salom Yiu Kam-shing went in under the posts. The place erupted.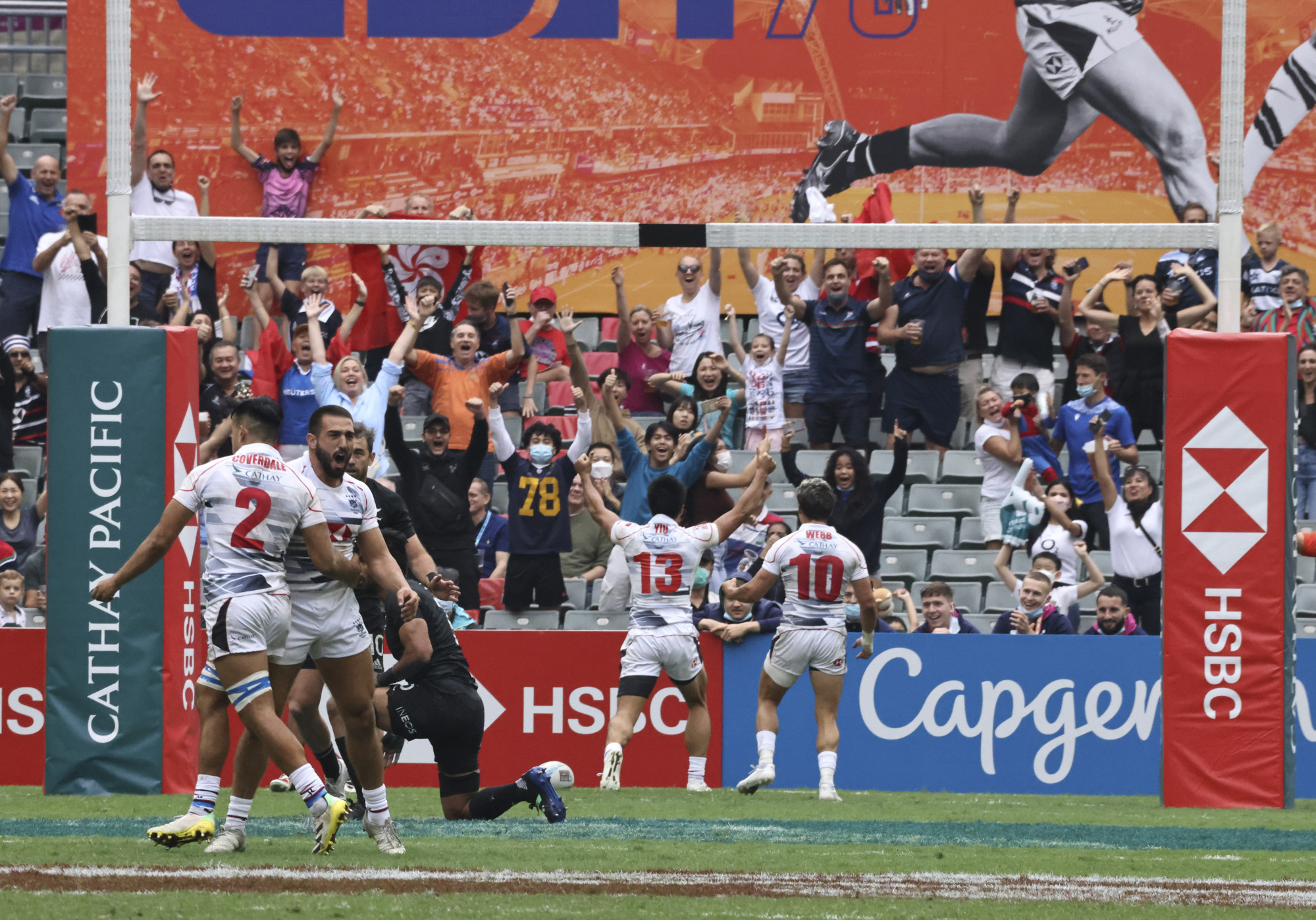 After Regan Ware and Amanaki Nicole got the All Blacks back in business, Hong Kong won a turnover and put Seb Brien in at the corner for 24-14.
Max Denmark's try-saving tackle lifted the crowd again as Hong Kong defended heroically, before late tries saw them off 38-14. The fans did not care, though, roaring their team into the sheds.
It was similar fare in Hong Kong's third and final pool A clash against Samoa, and it was deafening when Brien got over the line again, giving his side a 5-0 lead.
Two quick tries from Vaa Apelu Maliko put Samoa in front, but the sensational Denmark powered over to bring the hosts back to within two points. Steve Onsasai's try may have ultimately sealed victory for Samoa, but Hong Kong did not give up, and Yiu got his second try of the day.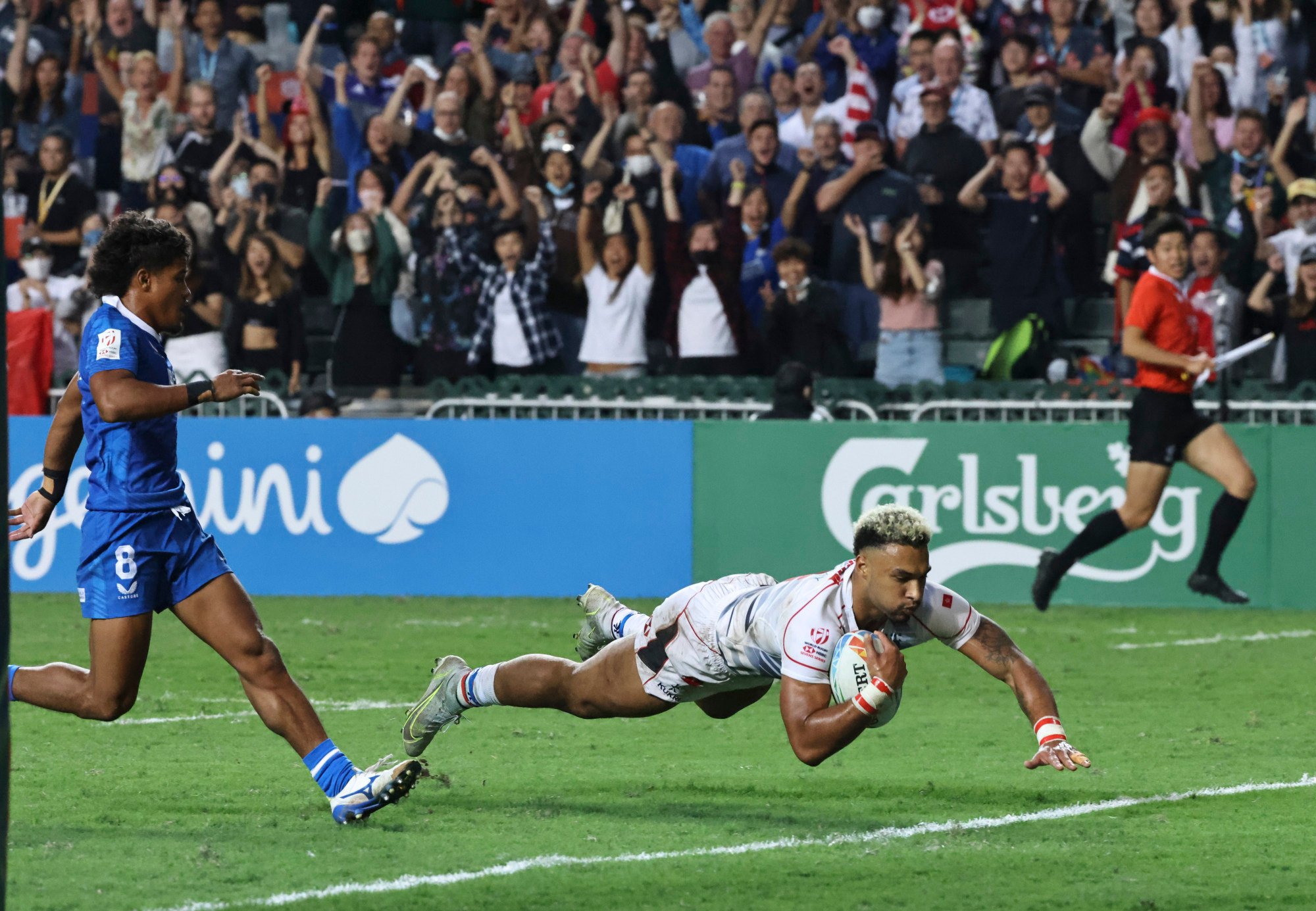 "The event has been incredible," captain Max Woodward said. "The atmosphere has been sensational. It's been spectacular. The Hong Kong Sevens is back.
"Honestly I was semi-reluctant, but it has been phenomenal. The noise has been electric. It's been really cool. It feels like a normal Sevens."
Hong Kong now face a ninth-place quarter-final against Canada at 10.35am on Sunday, and the team are targeting a strong finish.
"I'm really, really proud," Jevon Groves, their coach, said. "There were still a few errors in there, and these teams will punish you. But all in all I'm pleased with how we played together.
"It's about refocusing now for Canada. It will be a challenge. They're experienced, and have been on the Series for a number of years.
"They know how to play these tournaments. We're a little inexperienced. But those performances today mean nothing if we don't match that attitude up with our rugby."