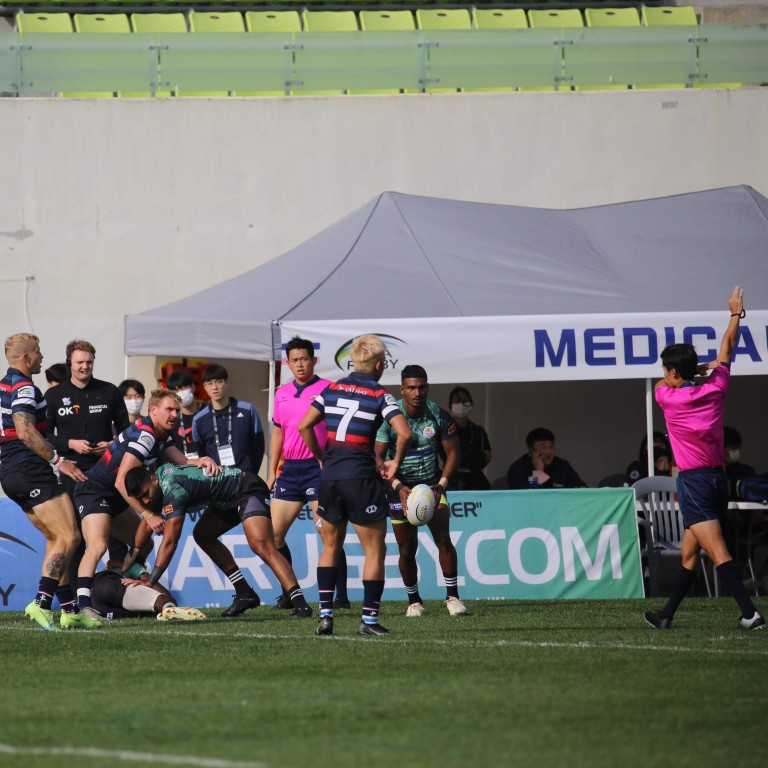 Asia Rugby Sevens Series: Hong Kong ease into last 8 in Korea despite late draw against UAE
Hong Kong's men progress to cup quarter finals with wins over Sri Lanka and China before draw against United Arab Emirates
The women will play in the plate after losing tough games against Kazakhstan and China
Hong Kong's men progress to cup quarter finals with wins over Sri Lanka and China before draw against United Arab Emirates, while the women will play in the plate after losing tough games against Kazakhstan and China.
Paul John's side finished with two wins and a draw, and will face the Philippines in the last eight, who conjured up a surprise 12-5 win over Japan to finish second in Pool B.
Elsewhere, the women dropped into the plate competition after a physically punishing afternoon saw them lose to Kazakhstan and China. They will play Malaysia.
The men got their tournament off to a flyer, easily handling the unknown threat from Sri Lanka, running out 40-0 winners. James Christie scored a hat-trick, Seb Brien added a brace and Liam Docherty bagged a sixth try.
Hong Kong's day got progressively tougher, and they had to come from behind to beat China, before ending the day with a draw against UAE.
The China match was a scrappy affair on both sides with intermittent rain adding to a lack of structure. Individual errors and poor decision-making helped give China an early 10-0 lead, before Liam Herbert scored either side of half-time to put his team 14-10 ahead.
Kane Boucaut sealed the 19-10 win with a 40-metre run to score after 12 minutes.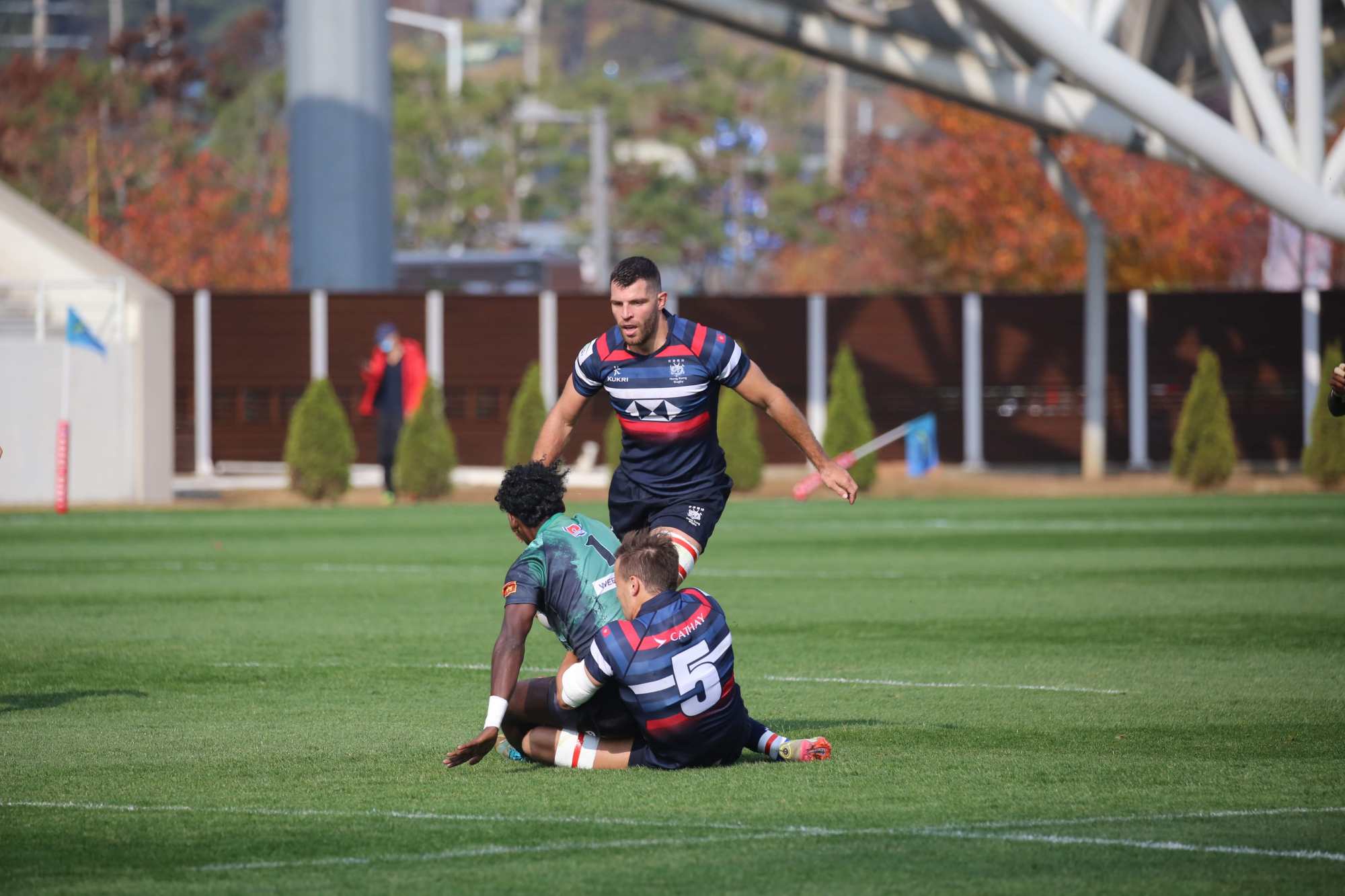 Hong Kong again trailed early against the UAE after a wet ball slipped through Brien's fingers and took a lucky bounce, handing their opponents a 7-0 lead after just two minutes.
But John's side pulled themselves back into it, and forced UAE to concede a professional foul on their try line. With their opponents down to six men, Brien capitalised on the extra space to put Hong Kong back in at 7-5.
A Mak Kwai-chung try put Hong Kong 12-7 up at the break, and Mak grabbed a second soon after the restart, putting his side 19-7 up.
But the errors that had plagued Hong Kong struck again, and UAE scored to bring it to 19-12, and when their continued pressure forced Pierce Mackinlay-West into a professional foul, they made use of the space and grabbed a deserved try to level things up.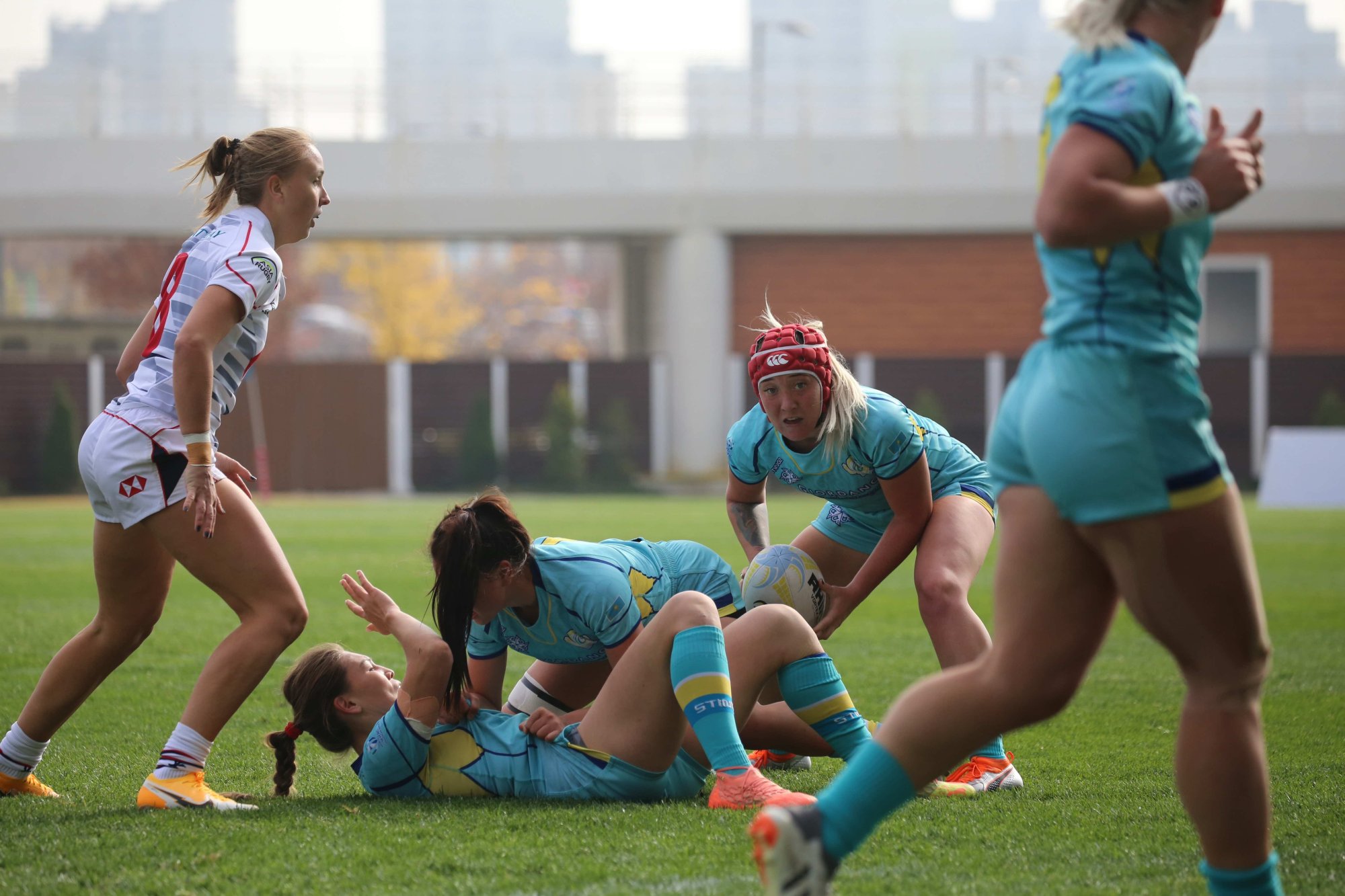 A cutthroat pool proved challenging for Hong Kong's women, as they lost 15-7 in a tense battle with Kazakhstan in a tricky opening match, with Nam Ka-man accounting for Hong Kong's only score.
The squad took out its frustrations with a nine-try demolition of Sri Lanka. Jessica Eden scored a first half hat-trick, with Georgia Rivers and Vivian Poon adding braces. Nam Ka man claimed her second of the day, with Stephanie Chan Chor-ki also getting on the score sheet as Hong Kong ran home 47-0 winners.
Hong Kong needed a win in their final run-out of the day against defending champions China, but in another heavy downpour they conceded a try after two minutes, and eventually lost 33-0.