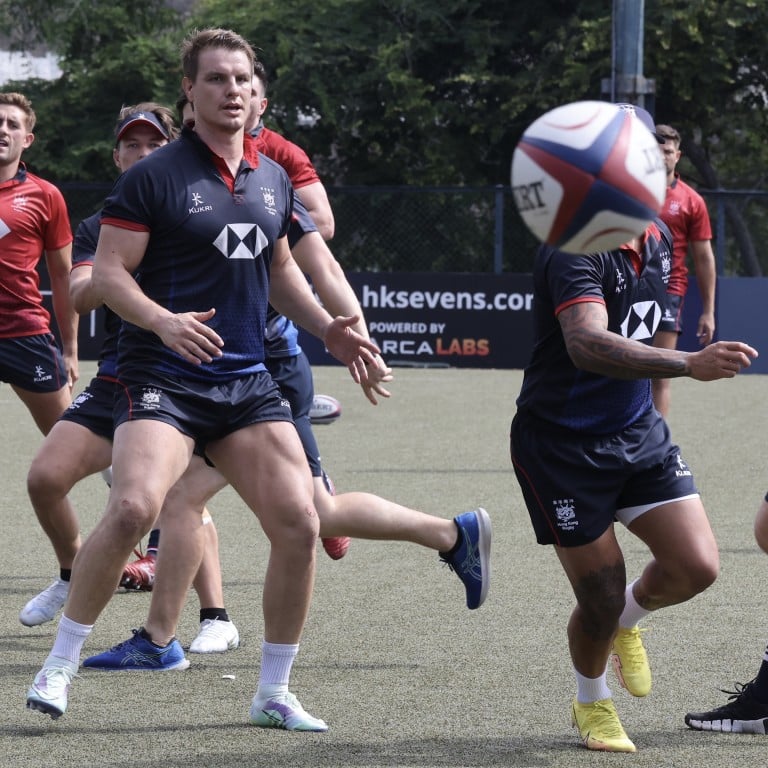 Hong Kong head to Dubai for Rugby World Cup repechage with stakes high, and for some it will be all or nothing
Hong Kong have never qualified for a World Cup, and face tough opposition in Portugal, Kenya and the US
Centre Tom Hill says he 'genuinely thinks' any of the teams in Dubai have the chance to cement their spot for Paris 2023
There is a lot riding on the next month for Hong Kong's rugby players, not least of which is the chance to make history as the first team from the city to qualify for a World Cup.
Lewis Evans' side flew to Dubai on Sunday ahead of the repechage tournament where they will take on Kenya, Portugal and the United States for the right to play at the main event in Paris next year.
For some of those in the 30-man squad, November represents a last chance, and in several cases, an only chance, to reach the pinnacle of the sport.
Tom Hill is among the latter, the Australian-born centre moved to Hong Kong five years ago with a specific dream in mind, and there are three games standing between him and that achievement.
"I'm in my 30s, I won't get another shot in four years time, this is it," Hill said. "I think most [of the squad] are like that, some of the younger guys might get another shot in four years, good luck to them, but this is it for me."
Given everything that is riding on the next few weeks in Dubai, those like Hill might be forgiven for allowing it to change how they view the games ahead.
But for the Hong Kong Football Club back, November represents the culmination of a plan and a tournament that has been "on the radar for a while".
"I moved to Hong Kong five years ago, I had the view to be here for three years, qualify for Hong Kong, go to the World Cup, that was my plan," Hill said.
"I think for most guys who are aspirational rugby players, this has been in the works for a long time, and would be the ultimate goal, it would be amazing. To do something that no Hong Kong team has done before would be unbelievable."
The overriding belief is that the United States go into the final qualifying event as favourites, meaning Hong Kong, who face Portugal in their first game on November 6, have to win that encounter a week later to stand any chance.
Hill though is not entirely convinced of that logic, and "genuinely thinks" any of the teams, who are all about the same level in the world rankings, could be going to Paris in 2023.
"We could win all three or lose all three," he said. "It has to be one game at a time. So, focus on Portugal, worry about the rest of it after.
"We can't worry about what might happen, who might beat who, all that kind of stuff, as cliched as it is, we just have to focus on the first game."
Being in Dubai should at least allow the players and coaches to have that focus, something captain Josh Hrstich acknowledged had been difficult over the past six weeks.
With club training, national training, families and jobs all vying for attention and time, those involved have found themselves dragged in multiple directions while trying to prepare for what lies ahead.
Hill, a lawyer for a tech firm, called the past month or so a battle, saying in an "ideal world you'd just focus on the national stuff", but as semi-professionals most of the players will be doing their day jobs while in the United Arab Emirates.
Despite the similarity in world rankings, Hong Kong probably enter the repechage as underdogs, simply because of their lack of rugby over the past couple of years.
But the game against Tonga in July, which represented a first opportunity to qualify for the 2023 World Cup, did infuse the squad with the knowledge that they could compete, despite the 44-22 defeat.
"We've proved to ourselves that we can do stuff against Tonga that perhaps we thought we couldn't do," Hill said. "It gives you that confidence, that self belief that we belong on this kind of stage, we're ready to role."
Hong Kong squad: Forwards – Zacceus Cinnamond, James Cunningham, Ian Etheridge, Ben Higgins, John McCormick-Houston, Josh Hrstich (capt), Ashton Hyde, Patrick Jenkinson, Lam Jak-shing, Jamie Pincott, Alex Post, Mark Prior, Gregor Ramage, James Sawyer, Callum McFeat Smith, Luke van der Smit, Faizal Solomona. Backs – Jack Combes, Nickolas Cumming, Tom Hill, Glyn Hughes, Jamie Lauder, Gregor McNeish, Jack Neville, Bryn Phillips, Charles Higson-Smith, Guy Spanton, Sean Taylor, Nathan de Thierry, Matthew Worley.