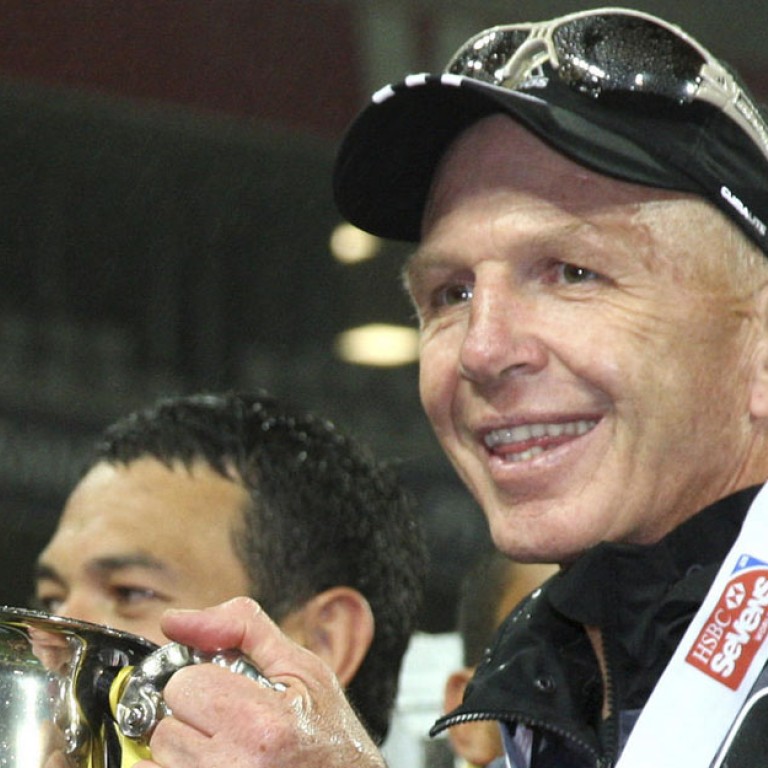 Beijing Sport Bureau to spend HK$1m for training tour to New Zealand
Players, coaches to learn from world's finest exponents of the game and their peerless handler Tietjens
Beijing is to invest more than a million HK dollars to send a group of players and coaches to New Zealand to learn the art of sevens from the world's finest exponents of the game, including mastermind Gordon Tietjens.
Thirty-five emerging sevens players - 18 women and 17 men - and 11 coaches will spend a month in New Plymouth, Taranaki, in November.
"The opportunity to train in New Zealand is a once-in-a-lifetime opportunity which every rugby player would die for," national sevens coach Johnny Zhang Zhiqiang said. "To learn skills and experience from the world's best will be a unique opportunity, and learning from the master, Gordon Tietjens, will be invaluable."
As China stake their claim at the HSBC Asian Sevens Series in Shanghai this weekend, the group from Xiannongtan Athletics School is looking much further ahead as part of a programme to develop high-performing international-class athletes.
The trip is being funded by the Beijing Sport Bureau and will cost one million yuan (HK$1.22 million). It follows the lead of provincial teams across China, all desperate to build viable sevens programmes as the Olympic superpower looks to the 2016 Games in Rio de Janeiro when sevens will be a medal sport.
Teams from Shandong, Jiangsu and Anhui have already been overseas for training (Shandong and Jiangsu to New Zealand, while Anhui went to Fiji), but the deal brokered between Beijing and the Taranaki Rugby Football Union is set to be the most significant, according to Zhang, a former sevens player who also captained China for many years.
"Beijing is a crucial hub of rugby in China with nearly 70 per cent of the national team coming from the capital," Zhang said. "It can start in Beijing and that experience can then be passed along to all the other provinces. This will help grow the game rapidly."
Tietjens, who spearheaded New Zealand to a 10th world series crown last season, said: "Sevens has been growing rapidly for the past few years and the game is now preparing itself for the next Olympics, which has led to awareness and interest levels increasing across the globe.
"Coaching tours like this with knowledgable and experienced coaches will hopefully inspire youngsters in China to consider rugby as their main sport and help to encourage the next generation of players as well."
Zhang agreed that while learning from the best was important, China must try to evolve its own game. "It is very important to learn the skills," he said. "The developed countries have such a long history and tradition, which is invaluable. However, we cannot just learn and do whatever other countries do. We should make it more adaptable, practical and suitable for China.
"Our players are smaller than New Zealand teams so it will be good to see how they do the physical training to improve strength and power."
China are ranked third behind Japan and Hong Kong in the HSBC Asian Sevens Series but Zhang is hopeful that will change as the game spreads. There are 11 professional provincial teams across China with over 2,000 players. Many are still at school.
"We are going through a generation change right now and I believe that in the near future we will have a more mature team where all the young players grow together," Zhang said. "I hope in the next five years we will be challenging the top teams like Japan and Hong Kong in Asia."
This article appeared in the South China Morning Post print edition as: Beijing to spend HK$1 m for training trip to NZ