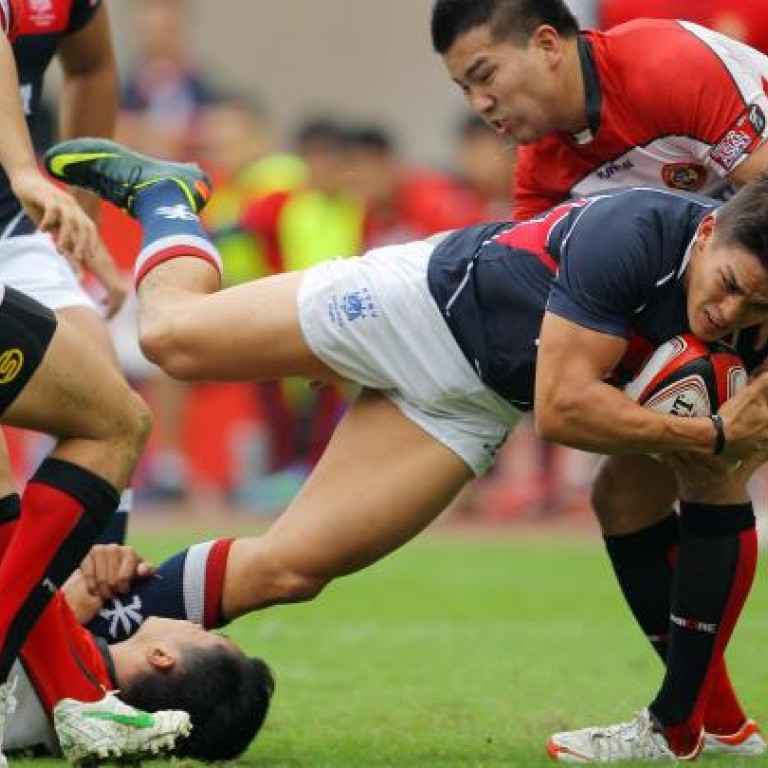 Hong Kong close in on first Asian Sevens Series title in Shanghai
Semi-final place guaranteed after group stage wins over Singapore, Sri Lanka and South Korea
Hong Kong are on track to win their first tournament in the HSBC Asian Sevens Series this season as they swept commandingly to a semi-final berth in the Shanghai Sevens yesterday.
With Japan missing the event because the team's safety could not be guaranteed, Hong Kong looked composed as they stayed unbeaten on the opening day of the second leg of the series, which has been given a boost by the International Rugby Board's announcement last week that the champions would earn an automatic berth at the Hong Kong Sevens and possibly the qualifying competition for core teams at the London Sevens.
Even though one pool game against United Arab Emirates remains this morning, three wins over Singapore, Sri Lanka and South Korea at a rain-swept and almost empty stadium in Shanghai yesterday have ensured Hong Kong their last-four position in the main Cup competition.
"It would be nice to think that we are halfway there [towards winning the tournament] but in sevens you cannot take anything for granted," Hong Kong coach Dai Rees said.
"At the end, it is what happens on day two that counts and we will be hoping to get off to a nice start by completing our pool unbeaten before focusing on the semi-finals."
Hong Kong began with a resounding 40-0 win over Singapore before brushing aside Sri Lanka 36-7. South Korea were expected to be the biggest hurdle but the Rowan Varty-led team looked composed as they rushed to a 24-0 lead at half-time before wrapping up the game 36-14.
"We denied Korea possession and it paid huge dividends," said Rees, who used his full squad as he attempts to build depth before the all-important Rugby World Cup Asian qualifiers in Singapore in November.
Valley pair, flyhalf Ben Rimene and centre Lee Jones, the two changes to the team who lost in the final to Japan at the Borneo Sevens earlier this month, slotted in seamlessly as Hong Kong laid down the law.
Winger Salom Yiu Kam-shing looked dangerous out wide while the McQueen brothers, Tom and Alex, Anthony Haynes and skipper Varty all made their mark.
"The good thing now is that I can make three or four changes to the starting line-up and it doesn't make any difference to the side.
"Everyone is starting to pull their weight," Rees added.
Hong Kong are likely to face Taiwan in the last four, with either China or South Korea awaiting them in the final if they are victorious.
This article appeared in the South China Morning Post print edition as: HK on course for Shanghai title