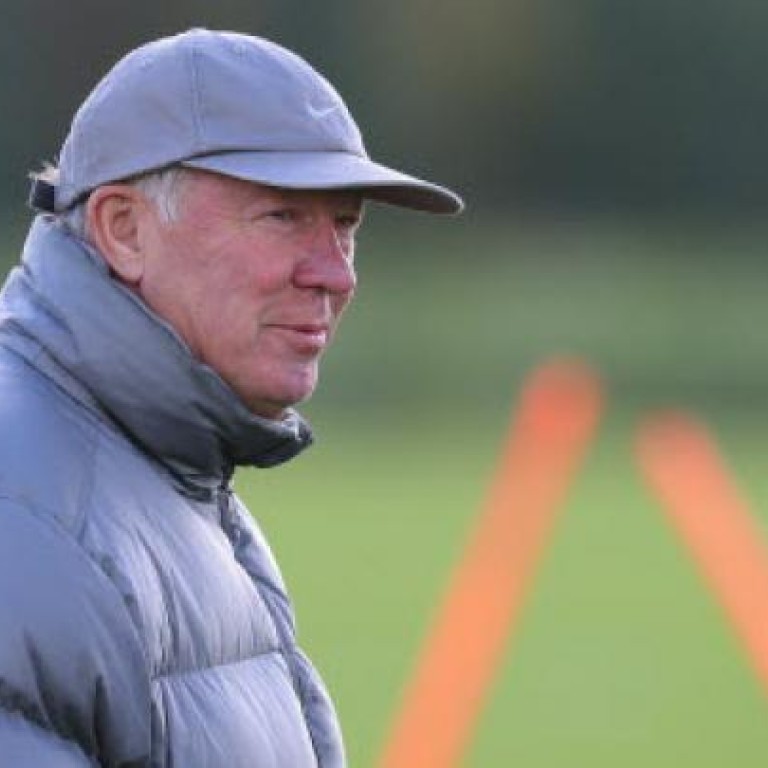 Fergie calls for calm ahead of Liverpool showdown
Sir Alex Ferguson has called for calm ahead of Manchester United's emotionally-charged clash against bitter rivals Liverpool on Sunday.
United manager Ferguson is well aware that the eyes of the football world will be on Anfield this weekend for the 186th instalment of the English game's most volatile grudge match.
The fixture marks Liverpool's first home match since the publication of an explosive report into the Hillsborough disaster which saw 96 Reds fans killed due to crushing at an FA Cup semi-final in 1989.
Hillsborough remains a hugely sensitive issue for Liverpool fans and feelings are still running high after the report proved that the authorities engaged in a cover-up in a bid to blame the tragedy on drunken supporters.
But United fans, who have often taunted their rivals about Hillsborough in the past, engaged in anti-Liverpool chants during last weekend's win over Wigan, raising fears they could do the same at Anfield and potentially spark serious crowd disorder.
There is also the potential for another ugly meeting between Liverpool striker Luis Suarez and United defender Patrice Evra.
Suarez served an eight-match ban for racially abusing Evra during a Premier League match at Anfield last October and the pair clashed again when the sides met at Old Trafford later in the season.
With such a tense build-up to the game, Ferguson has written a letter that will be distributed to all United fans at Anfield in which he warned them not to drag the club's name through the mud.
"Our rivalry with Liverpool is based on a determination to come out on top - a wish to see us crowned the best against a team that held that honour for so long," Ferguson wrote.
"It cannot and should never be based on personal hatred. Just 10 days ago, we heard the terrible, damning truth about the deaths of 96 fans who went to watch their team try and reach the FA Cup final and never came back.
"What happened to them should wake the conscience of everyone connected with the game.
"Our great club stands with our great neighbours Liverpool today to remember that loss and pay tribute to their campaign for justice. I know I can count on you to stand with us in the best traditions of the best fans in the game."
While Ferguson is keen to show respect to Liverpool's cause, he has no intention of allowing the occasion to distract him from the task of ending United's poor run at Anfield.
United have not won at Liverpool since 2007 and have picked up just a solitary point in their last four visits, as well as crashing out of the FA Cup there last season.
It is a record Ferguson is keen to improve so that his side can keep on the tails of early league leaders Chelsea.
"It's similar to when I came down here and we couldn't win the league but could beat Liverpool," Ferguson said. "The motivation leans on the side of Liverpool, particularly at Anfield.
"The crowd get behind them. They make it a real competition in terms of challenges and tackles."
Ferguson, who will be without injured forwards Wayne Rooney and Ashley Young, also called for Liverpool to be patient with new boss Brendan Rodgers even though they could fall into the bottom three this weekend.
"He's a young manager, any young manager needs time. In the modern world you don't get all that time," Ferguson said.
"We're in an age where patience is not a realistic thing. It's just not there."
Rodgers is confident the game will pass off without incident.
"There is respect in terms of the traditions of both clubs," he said.
"I am sure once we pay the tributes to the families we can get on with the football. A lot of work has been done and hopefully Sunday will pass off peacefully and well and we can talk about the tributes and football."
Meanwhile, Liverpool captain Steven Gerrard urged his side to get up for their biggest game so far this season and get Rodgers' first league win.
"For me, it's the biggest game in the world because the Premier League is the biggest league in the world and these are the two most successful clubs," Gerrard said.
"I'm not being biased when I say that - I think Liverpool versus Man United is the biggest game. Maybe Barcelona and Madrid is up there close to that, but for me it's still this one.
"It's a massive game – we're looking for our first league win of the season and there would be no-one better for us to get a win against."