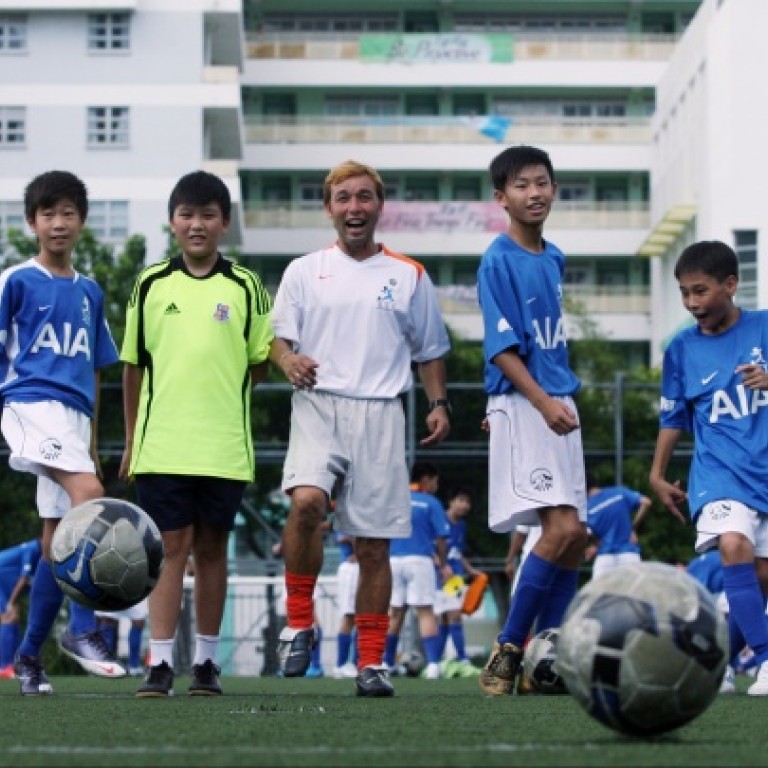 Opinion
The Rational Ref
by William Lai
The Rational Ref
by William Lai
Coaching and refereeing courses should be for all
The FA's short-sighted policy of conducting these programmes in Chinese only is hindering the game in Hong Kong
Last week Rational Ref identified the troublesome trio of over-competitive coaches, overprotective parents and underqualified referees that together can lead to pandemonium in youth soccer.
The solution is a dose of triple therapy to improve the training of youth coaches, impose effective guidelines for parents, and foster the development of referees. Furthermore, a strong support system from the Hong Kong Football Association, the game's guardian, would add credibility, consistency and clout to improving the game from the grass-roots level and up.
In short, we need best practice at all levels, from the top all the way down to the grass roots. To this end, the HKFA is restructuring under its Project Phoenix initiative. At the top level, there are some encouraging developments, such as the appointment of competent people with the right skills, who genuinely want to improve Hong Kong soccer.
However, inconsistency, inequality and double standards still pervade HKFA's practices. The education of youth coaches and referees are two examples that highlight the problems facing the game's development, especially at the grass roots.
There are many people from all walks of life who are passionate about and wholly dedicated to the game beyond just playing. Every weekend, Rational Ref sees these people guide, mentor, support, console, cajole, manage and ultimately improve players. They are the soccer coaches or team leaders. Yet only a handful are properly qualified. Many are not granted the opportunity to take up coaching qualifications in Hong Kong.
Only last month, the HKFA offered a youth coaching course. Its new Youth Football Leader Certificate Course is aimed at "individuals who are interested in a coaching career, school teachers, event organisers, [and] social workers who work with children".
Such a course is ideal for those who wish to become youth coaches and help develop young players. Unfortunately the course, which is advertised on the HKFA website in both English and Chinese, conducts classes only in Cantonese.
In Hong Kong, Cantonese-speakers and those who read Chinese are not the only ones who are passionate about soccer. There are plenty of people from Brazil, Spain, France, Italy, Germany, Algeria, Nigeria, South Africa, Japan, Australia and England who would also like to improve themselves and give back to the soccer community.
These include former First Division expatriate players and those who have played in overseas leagues who have now made Hong Kong their home. Unfortunately, they cannot become officially recognised coaches under HKFA's existing prejudiced practice.
At the grass-roots level, the HKFA discriminates against non-local Chinese even though at the top level they welcome a mix of overseas and local coaches. This inconsistency frustrates those who wish to become recognised coaches, but who cannot read or write Chinese.
Rational Ref has seen some excellent coaches in Hong Kong and not necessarily working at clubs competing in the HKFA divisions. There are foreign coaches in the amateur Yau Yee League who are inspirational role models and have noticeably improved players.
Eder Ferreira, player-coach of USRC, who are this season's runners-up in Division One, has previously worked under Jose Mourinho in Portugal and intuitively knows how to manage players. He encourages players and helps develop them to their best potential.
Steven Verhasselt, of the Division Two runners-up French Kiss, not only supports his players, he demands strict discipline and good behaviour. He uses a particularly effective strategy in that any player who receives a caution will be substituted off. Hence this season, French Kiss have one of the best disciplinary records in the YYL, while simultaneously remaining competitive and gaining promotion.
Yet, it is a huge shame that numerous coaches like Ferreira and Verhasselt are ineligible to attain HKFA coaching qualifications.
The situation is even worse for potential referees. The reason why there are only Chinese referees produced in Hong Kong is because the HKFA specifically targets the local Chinese community. Each year, the HKFA advertises their referee courses only in Chinese to recruit a maximum of 120 locals. It is nigh impossible for anyone from overseas who does not read or speak Chinese to become an official HKFA referee.
What is more appalling is the high dropout rate. From the 2011 intake of 120 new referees, only about 20 remain on the official list. That is a retention rate of less than 20 per cent. If the HKFA is serious about improving the quantity and quality of referees in Hong Kong, it needs to overhaul its eligibility requirements and entire support system for recruiting and nurturing referees.
These two critical examples involving the development of youth coaches and referees underscore the HKFA's pitiable practices. Ultimately, everyone suffers because best practice is not consistently applied across the board to help boost the quality of Hong Kong soccer.
This article appeared in the South China Morning Post print edition as: Coaching and refereeing courses should be for all