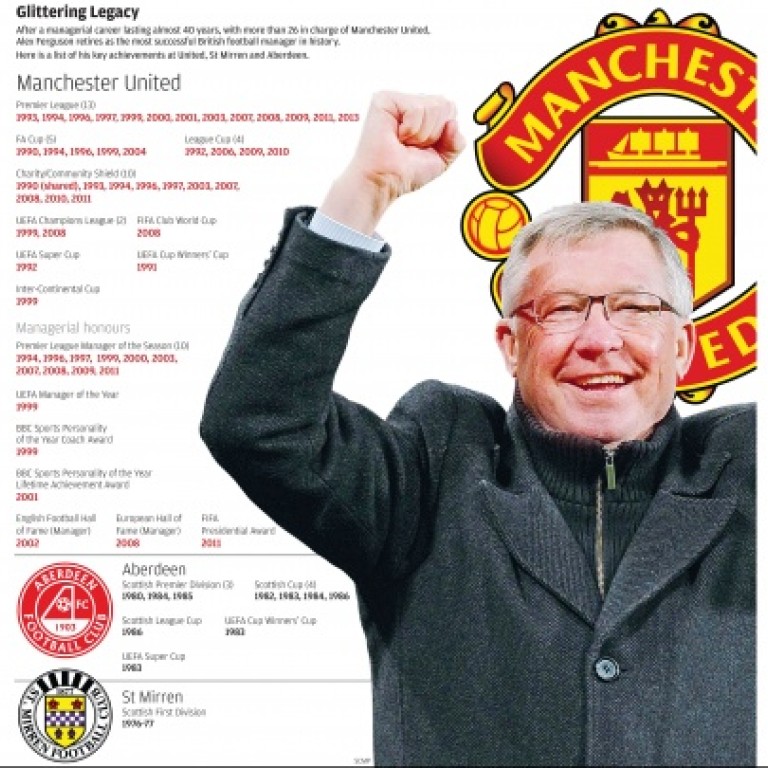 Alex Ferguson's legacy seems unlikely ever to be emulated following more than 26 years at the helm of one of the biggest clubs in world football
Alex Ferguson's successor as Manchester United manager will be reminded of the gargantuan size of the task facing him every time he looks across the Old Trafford pitch at the giant stand that bears the Scot's name.
Facing the dug-outs, The Sir Alex Ferguson Stand towers over the pitch in the same way that Ferguson's legacy will loom over the club, after dominating English football for over 26 years.
Old Trafford was a very different place when Ferguson arrived on November 6, 1986. Fourth from bottom in the old English First Division, they had gone 19 years without winning the league while hated rivals Liverpool swept all before them.
The son of a Glasgow shipbuilder, Ferguson arrived from Aberdeen with a reputation as an iron-fisted disciplinarian, having broken the Old Firm's stranglehold on the Scottish Premier Division.
His crowning glory at Pittodrie was a victory over Real Madrid in the final of the European Cup Winners' Cup in Gothenburg in 1983, but success at United initially proved elusive.
Ferguson's future at the club was reportedly at stake when United travelled to Nottingham Forest for an FA Cup tie in January 1990, but a Mark Robins goal took the away side through and the boss never looked back.
Victory over Crystal Palace in an FA Cup final replay gave the Scot his first trophy at Old Trafford and sparked an unprecedented run of success that has seen him amass a further 37 honours in his time at the club.
A spiky centre-forward as a player, which included a two-year stint at Glasgow giants Rangers, stories about Ferguson's temper were legion.
He was once reported to have ejected bemused revellers from a house party held by young United first-teamers Ryan Giggs and Lee Sharpe, while striker Mark Hughes famously likened a dressing-down from the manager to a blast from a "hairdryer".
Ferguson's intimidating reputation helped him nurture a group of talented young players who formed the backbone of his most successful teams.
Giggs, Paul Scholes, David Beckham, Nicky Butt, and Gary and Phil Neville emerged from United's youth set-up within years of each other. And "Fergie's Fledglings" continued the tradition of rewarding youth instilled at Old Trafford by United's first great Scottish manager, Matt Busby.
United ended a 26-year wait for the title by triumphing in the inaugural season of the Premier League in 1992-93, before claiming their first league and FA Cup double the following year.
A side of youngsters galvanised around inspirational Frenchman Eric Cantona claimed another double in 1996, before Ferguson's finest hour in 1999, when United won an unprecedented treble of league, FA Cup and Champions League.
In perhaps their most famous victory, United scored twice in injury time to overcome Bayern Munich 2-1 in Barcelona, prompting Ferguson to exclaim: "Football, bloody hell!"
After the victory, he was honoured with a knighthood.
Ferguson had to wait nine years for his next success in Europe's elite competition, following a penalty shoot-out win over Chelsea in the Moscow rain, and his one regret was that, for all their domestic dominance, United did not enjoy more success on the continental scene.
The 2008 Champions League success was the high watermark of a team that Ferguson assembled after a period of transition in which United were controversially taken over by American businessman Malcolm Glazer.
The move sparked protests from fans, at a time when United's dominance had been interrupted by Jose Mourinho's Chelsea, but Ferguson kept his eye on the ball with characteristic single-mindedness.
Great players including Hughes, Beckham, Paul Ince, Jaap Stam, Ruud van Nistelrooy and even inspirational captain Roy Keane were all released with surprising haste.
Only once did Ferguson sell reluctantly, when Portuguese superstar Cristiano Ronaldo left for Real Madrid in 2009, but the United bandwagon rolled on.
Ferguson has been cast as a Machiavellian schemer, setting traps for rival managers with carefully directed barbs.
He has had feuds with several opposition coaches, notably Kevin Keegan, Arsene Wenger and Rafael Benitez, as well as countless run-ins with the football authorities, but fellow managers often speak of his warmth.
"He is someone all the football managers look up to, they all respect him," said Everton manager David Moyes, who has been touted as a potential successor.
"Even when he's fighting them, he has the humility to have a drink with them at the end of the game. And he has the dignity to phone them if they are sacked or out of work. There's a lot of that from his Glasgow roots."
The club he leaves behind him is unrecognisable. Old Trafford's capacity has almost doubled, to 75,700. United are no longer a mere football team, but a global brand with an estimated value of US$3.17 billion (HK$23.98 billion).
Many of the millions of fans attracted to United by the club's success have only ever known Ferguson as manager, but although many will mourn his departure, the club is now imbued with his will to win to its very core.
This article appeared in the South China Morning Post print edition as: SIMPLY THE BEST