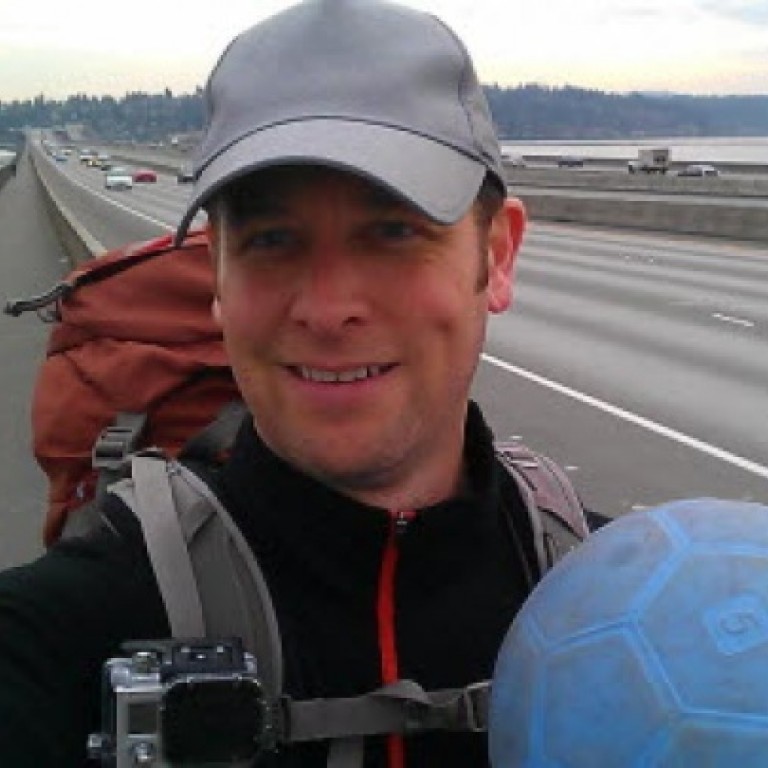 Footballer posted video before dying on highway
A final video of Richard Swanson shows him smiling and happy to be at the ocean as he prepared to dribble a ball along Oregon's coastal road on a planned 16,000km walk to the World Cup in Brazil. It was the same coastal road where he was fatally hit by a pickup truck, just an hour after posting the video on Facebook.
Swanson's trek began in Seattle on May 1. It ended on Tuesday near Lincoln City, Oregon when he was struck by a pickup truck on Oregon's busy US Highway 101 just a few days short of his 43rd birthday.
He planned to dribble a football all the way to Brazil in time for the next year World Cup for a charity.
When he arrived on Monday in Lincoln City, about 145km southwest of Portland, it was the first time he had seen the Pacific on his trip.
Tuesday morning, he posted a video on his Facebook page showing him walking along the beach, kicking a football.
He said he was looking forward to getting out onto US 101 and heading south with the football.
"Very exciting moment today," Swanson said. "I'm going to be on the ocean for thousands of miles. This is my first taste of it and I'm very excited about this."
In an earlier interview with Seattle TV channel Q13 FOX News, Swanson joked that he hoped he wouldn't be run over on the coastal road.
"I'll be on Highway 101, but I'll also try to utilise any of the trails that run along the coast, just trying to get off the beaten path, there's a lot of cars and just [try] not get run over," he said.
According to Lincoln City police, Swanson was declared dead at a hospital. The driver has not been charged and is cooperating with the investigation.
Swanson spent Monday night in Lincoln City, where he was able to soak in a hot tub, and eat a gourmet breakfast, Kristi Schwesinger, a Seattle interior designer and close friend of his, said on Tuesday. He posted photos and stories on a Facebook page, chronicling his journey.
Swanson set out on the intercontinental journey in part to promote One World Futbol Project, based in Berkeley, California, which donates durable blue footballs to people in developing countries. He embarked on the epic walk after being laid off from his job as a graphic designer, he said in an introductory video on his website breakawaybrazil.com.
He said he realised he was in a unique position to go on an adventure because his kids were grown and he didn't have a job to worry about.
"It felt like I was doing what I should be doing," he said in that video. "This was my next leg in life. I really needed to breakaway."
He figured it would take him more than a year to walk through 11 countries before reaching Sao Paolo, Brazil, where the opener of the World Cup tournament will be played on June 12 next year.
"One of the things I've always wanted to do was to go and see the World Cup," he said in the video.
Swanson said he picked up football just five years ago and played on club teams.
"He loved the game of soccer," Schwesinger said. "He stumbled on this great organisation, One World Futbol, and decided this would be his passion the next year."
People from all over the world have expressed condolences on the Facebook page of Swanson and his son.