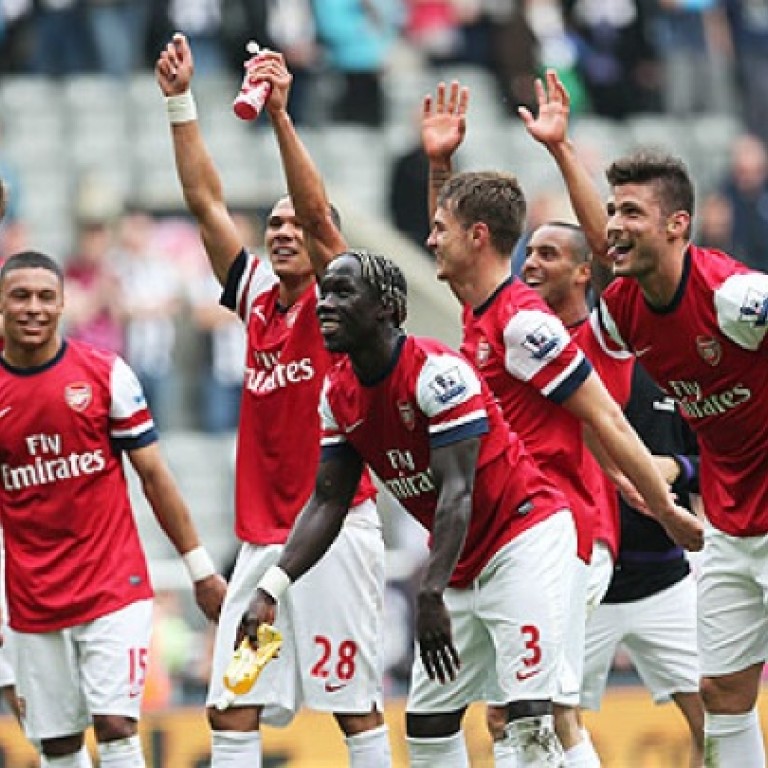 Wenger salutes players as Arsenal secure Champions League spot
Arsene Wenger admits he is delighted Arsenal have proved the critics wrong after his team secured their place in the Champions League with a 1-0 win at Newcastle.
The Gunners' chances of finishing in the Premier League's top four were written off by many pundits when they trailed Tottenham by seven points with only 10 games remaining.
But their victory over Newcastle on Sunday, secured through a 52nd minute goal from Laurent Koscielny, allowed them to finish fourth – one point ahead of north London rivals Spurs – and sealed a place in the Champions League for the 16th successive season.
"We have faced many storms and had some big lows against Bradford, Blackburn and at home to Bayern Munich," said Wenger.
"They lacked belief because we couldn't win the big games, but Bayern away changed our season."
That was a reference to Arsenal defeating Bayern 2-0 in their Champions League last-16 tie in Germany although they went out on away goals.
"They continued to believe when seven points behind Tottenham in mid-March. We had no room for error, but I couldn't see one sign of them giving in. They showed an exceptional mental attitude and have been rewarded," added Wenger.
"I am proud of the spirit and character of the team. They are special players and that is what I have told them many times.
"They have shown me in the last two months that they are exceptional. They have finished with 73 points, which is three more than last season.
"They are one of the best groups I have had in my life."
Wenger is determined to keep his current squad largely intact, but again stressed that he intends to strengthen ahead of yet another Champions League campaign.
"It means we play against the top teams in Europe and that's what we want," he said. "But it also makes it easier to bring in players
"Will it be a big summer? I don't know. It depends what you call a big summer. It can mean spending big money and buying many players.
"I want to make additions to the squad, but keep the structure, quality and spirit of the team.
"Let's not forget there are clubs with big money and maybe there is not enough talent to strengthen all the teams, but we will be out there in a very proactive way."
Newcastle have finished 16th, putting manager Alan Pardew under intense pressure to mastermind a major improvement next season when they will not have the distraction of Europa League games.
"We did terrific in the Europa League, but it really hurt us in terms of energy," said Pardew.
"It's been my toughest season in terms of workload because of the Europa League campaign and the stress it had on squad.
"I'm not foolish enough to think we don't have a couple of issues in the team. They are not major issues, but we need players to give us a different look."
Steve Harper played his final game in goal after two decades at Newcastle and made a farewell speech to his team-mates in the dressing room.
Harper was in tears at the final whistle and, wearing the No 37 shirt, received a standing ovation from the crowd in the 37th minute.
"I was wobbling. I had seen my dad just before we went out and he was a miner for 30 years. He's supposed to be as hard as nails, but he was wobbling too and that got to me," Harper said.