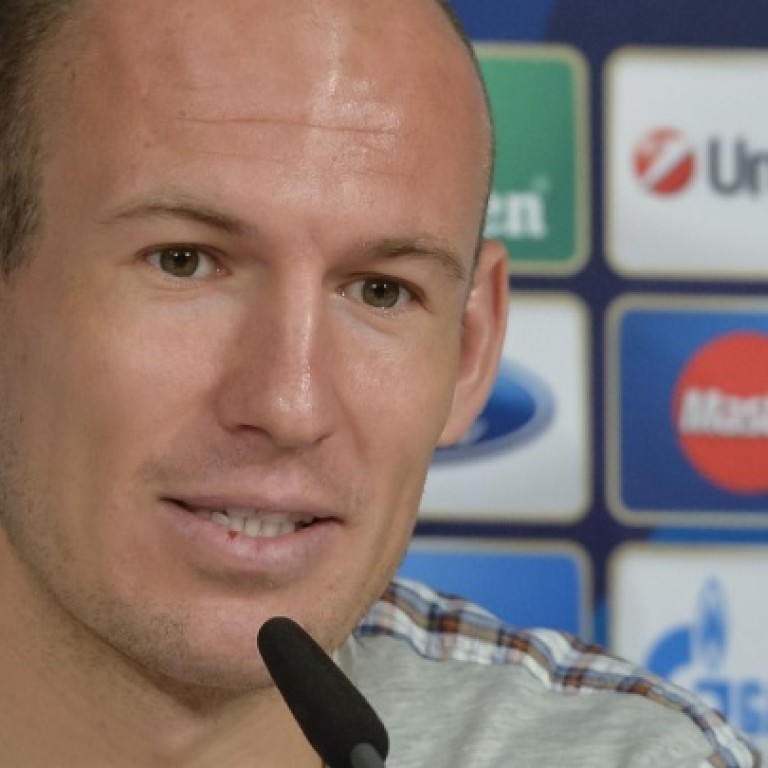 Bayern Munich's Arjen Robben hopes for charm in Champions League final
Bayern winger hopes to make up for disappointment of ending up on losing side in two European finals as Munich face Dortmund at Wembley
Despite having won league titles in four countries, Arjen Robben knows tomorrow's Champions League final against Borussia Dortmund may represent his last chance to prove he is not one of football's nearly men.
The 29-year-old Bayern Munich winger lacks neither silverware nor ability, but the recent stages of his career have been scarred by a series of traumatic missed opportunities.
In the past four years, Robben has played in two Champions League finals and one World Cup final, only to finish on the losing side on all three occasions.
Bearing down on goal in the 60th minute of the 2010 World Cup final in Johannesburg, he had a chance to engrave his name in Dutch football folklore, but his former Real Madrid teammate Iker Casillas saved his shot and Spain prevailed 1-0 in extra-time.
Last season, he stood over a penalty that would have put Bayern 2-1 up in the Champions League final against his former club Chelsea, but Petr Cech repelled his spot kick and the trophy went to Stamford Bridge.
It means that one of the most exciting players of his generation could end his career without any continental or international honours, but Robben hopes it will be third time lucky at Wembley. "It is nice to play in a final, but now we also have to win one," he said. "Last year, was a huge disappointment."
A slight, willowy winger described as a "tiny boy" by his coaches at local club Groningen, Robben rose to European prominence at PSV Eindhoven, with whom he won the 2002-03 Eredivisie title. In 2004, newly rich Chelsea won a bidding war with Manchester United to secure his services in a transfer worth £12 million (HK$140 million).
Despite early signs of the niggling injury problems that have bedevilled him throughout his career, he became a key figure in Jose Mourinho's confident, counter-attacking team who won back-to-back Premier League titles. Mourinho's decision to jettison wingers prompted Robben to leave Chelsea in August 2007 and he joined Real Madrid as a marquee signing for president Roman Calderon in a deal reportedly worth €36 million (HK$360 million).
Robben won the Spanish title in his very first season, but the return of Florentino Perez as president in June 2009 sparked a second era at the Bernabeu, and as Kaka and Cristiano Ronaldo arrived, Robben was ushered out. He quickly resurfaced at Bayern, where a superb first season saw him elected Germany's Footballer of the Year.
Bayern romped to a league and cup double, while Robben scored magnificent goals against Fiorentina and United as the Bavarians reached the Champions League final, only to lose to Mourinho's Inter Milan.
For all his quicksilver dribbling and jaw-dropping goals, Robben has occasionally proved a divisive presence.
He has had on-pitch scuffles with teammates including Thomas Mueller and Franck Ribery, while Bayern great Franz Beckenbauer accused him of being "selfish" last season.
However, as his trademark curling finish in the second leg of the semi-final against Barcelona demonstrated, there are few more capable match winners in world football. Bayern can only hope that his luck is about to turn.
This article appeared in the South China Morning Post print edition as: Robben aims for third time lucky